This pack of savories weighing 17.6oz contains 2 sets of fat free and cholesterol free Lucas Mango flavored Lollipop candies and Lucas Muecas Chamoy flavored Lollipop candies. These unique hispanic candy lollipops with its delicate sweetness, saltiness that makes your mouth dry after a while and amazing tinge of spice will make you forget about calories and keep on reaching the epic shaped candy container.
What does it taste like?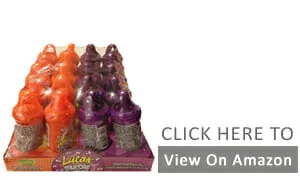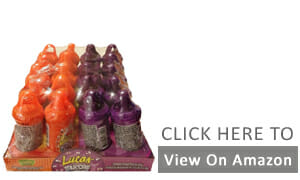 These succulent candies are basically sweet and sour to the mouth palate, but after a while the heavily spice dipped aspects kick in, enveloping your taste buds in a vicious spicy sweet tinge. Since the candies contain high amounts of salts, about 1410 mg per serving, they will leave your mouth uncomfortable and dry if you go on eating a lot more than the advisable amount of upto 2 candies per serve. While the Mango flavor is a safe go to choice for anyone without questioning twice, the Chamoy flavor is a bit different. The Chamoy is a special kind of condiment popular in the Mexican cities' belt made from pickled chamoy having the kicking tinge. The intense tangy flavor that sets in after consuming these won't leave you disappointed at all with your choice.
Who will enjoy it the most?
Folks with taste buds that are yet still being evolved and those who decline to constrict their taste buds to the regular, blanche and monotonous varieties of chocolates and candies readily available, will find the exclusive varieties Lucas Mango flavored Lollipop candies and Lucas Muecas Chamoy flavored Lollipop candies highly delightful because of its exotic indulgence. The person in question's age will also play a role although, as toddler kids will not necessarily find it appealing, owing to its unique flavors. These candies are better suited for adults. Also, folks who have spent their childhood in Mexican areas or are fond of the Hispanic culture will definitely fall in love with this mexican candy variety.
And when?
The best thing about Lucas candies are that they don't need an occasion to hop into your watering mouth and would readily do so any time of the day or year! Birthday parties or Halloween parties or a snack during office hours, these are pretty versatile.
Checkout The Following Mexican Candies As Well: