Although Mexican food is absolutely delectable in all its glory, we wonder what makes some of it such a memorable experience for our taste buds. It's a question worth pondering, and here's one of the many things that makes Mexican food such a wonderful trip down delicacy lane. It's the cheese. Mexican cheese is an addition to food that takes the food from great to excellent.
If you've ever found yourself wondering what types of Mexican cheese there are that could make your next dinner or lunch an unforgettable one, here's a list of some of the most popular Mexican cheese types to help you out. Check out the following amazing cheeses and get try your hand at some of the recipes mentioned below!
1. Queso Añejo Cheese
One of the most well-known types of Mexican cheese, Queso Añejo is an aged and firm cheese. It is traditionally created from skimmed goat's milk but generally now it is made from skimmed cow's milk as well. Once made, Añejo is rolled up in paprika which gives it that salty touch, not unlike that of Parmesan cheese and/or Romano cheese.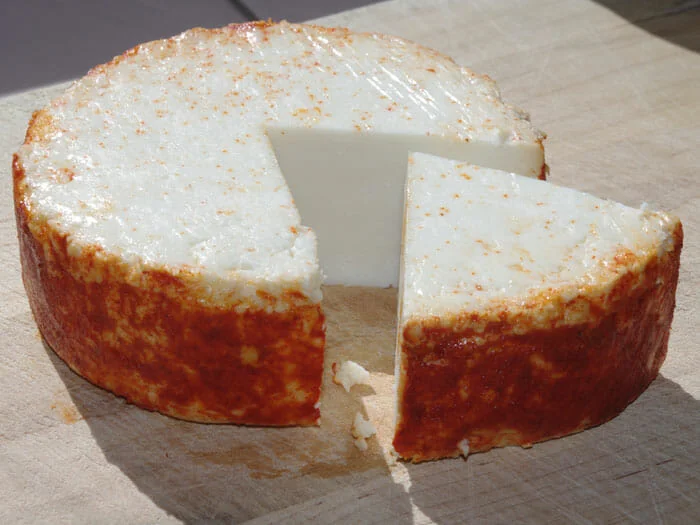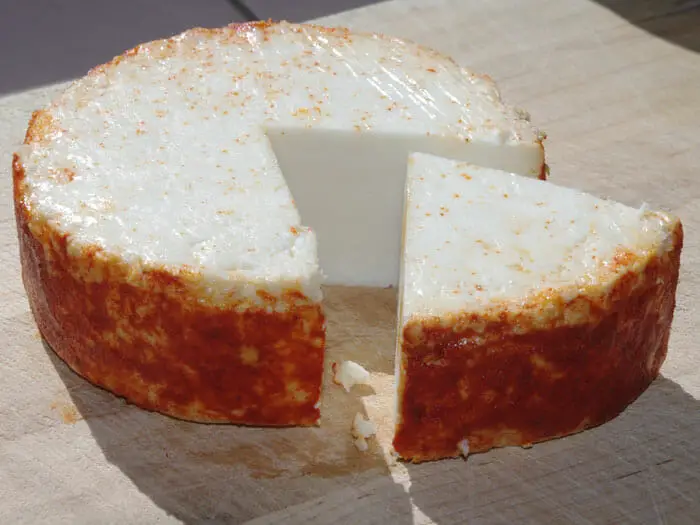 It is, however, not as strong in flavor and taste as the traditional Cotija cheese. Añejo is a fresh cheese that is crumbly and has the ability to break and scatter easily. The dry Añejo cheese will be easy to shred and grate. Normally used in grilling and baking, Añejo can also be sprinkled on dishes or stuffed into traditional Mexican food like tacos, burritos and enchiladas.
Popular dishes with Añejo cheese
Shredded beef tacos
Añejo enchilado
Red beans with cheese
Chicken chilaquiles
Flavor
Añejo cheese is salty and slightly spicy to taste. It adds to that authentic Mexican flavor that comes with most Mexican appetizers and dishes.
2. Queso Fresco Cheese
Traditionally made from goat and cow's milk, Queso fresco 'fresh cheese' has similar characteristics to Queso Anejo. Queso fresco compliments dishes in mild and milky flavors no matter what the dish be. Queso fresco is great for lighter dishes as well as the heavier ones like enchiladas or tacos.
It's perfect for snacks and a full scale dinner party as well. With its unique flavor, Queso fresco can make any meal unforgettable. It is one of the most widely used cheese types in Mexico and all over the United States. The creamy and salty touch of Queso fresco adds a sour taste to the food, which makes it authentically Mexican in its true sense.
It is made from acidified milk that is set aside to curdle. It is later strained and pressed in a cheesecloth.This prepared cheese can be left to age for a while or it can be sold immediately. Queso fresco can be used in substitution for goat cheese or feta cheese. It is generally used most in soups, salads and egg based dishes. Appetizers are great to make good use of Queso fresco.
Popular dishes with Queso fresco
Two cheese veggie nachos
Quesalupa
Butternut queso fundido
Chile con queso
Chili queso hot dog
Flavor
Queso fresco has a creamy, salty and sour flavor that's mild and sour to taste. It goes great with many Mexican cheese blend dishes.
3. Cotija Cheese
Named after Cotija, a Mexican town in the state of Michoacán, Cotija cheese is perhaps the most widely used Mexican cheese all over the world. It is made from cow's milk and is crumbly and hard in texture.
During the time it is being made, Cotija bears a stark resemblance to feta cheese, what with the fresh, white and salty appearance and aroma. However, it changes color and taste later on. Cotija belongs to the Parmesan family, and is fondly known as the 'Parmesan of Mexico'. Traditionally, the process of making Cotija cheese involved using milk that had aged between three to twelve months.
However, now in order to speed up the process of ripening, enzymes are added. This changes the flavor a bit but it doesn't take away from the true charm of Cotija. The most popular dishes that use Cotija cheese are soups, tacos, casseroles, salads, chili etc.
Various savoury delicacies are garnished with Cotija cheese in Mexico. The most popularity Cotija cheese has gained is on pasta dishes in the United States. This is a strong, hard cheese that doesn't easily melt, and is grated on dishes instead.
Popular dishes with Cotija cheese
Grilled corn on the cob with Chili-Lime Butter
Acorn squash wonder tacos
Enchiladas verdes
Tex mex quinoa salad
Mexican blackened corn
Lentils with chorizo
Chicken cotija
Flavor
Cotija cheese has a salty and strong flavor that is generally used to enhance the taste of milder dishes served in Mexico.
4. Queso Panela Cheese
Queso Panela is also known as queso canasta or queso de la canasta. Made from pasteurized cow's milk, this Mexican cottage cheese is fresh, white and smooth, bearing similarity to Indian paneer. Panela's texture is creamy and soft with a fresh flavor.
Upon being heated, it softens but doesn't melt, neither does it lose any of its original shape. Since Panela easily absorbs many flavors, it is often available in the market with the coating of pepper or garlic paste. Panela is soft and crumbly, great for appetizers and lighter dishes.
Popular dishes with Queso panela
Panela with chipotle cream
Seared queso panela with cilantro mojo
Baked panela cheese
Couscous with panela cheese
Pasta with tomato sauce and panela cheese
Flavor
Panela has a fresh and milky flavor and is mild to taste. When covered with any other flavor, it absorbs and creates a creamy texture that goes well when paired with any Mexican cheese dip or dish.
5. Asadero Cheese
This semi-firm Mexican cheese is off-white in color and is sold in a log shape that makes it more convenient to carry and slice later on. Asadero is one of the most preferred cheese types in Mexico for cooking. Upon melting, Asadero gets a creamy texture and does not emit oil, which maintains a creamy texture even on a high temperature.
Asadero tastes fresh and light, and is layered and creamy not unlike Mozzarella. Asadero is typically made in Northern Mexico. Many other types of cheese are made in this region known as Chihuahua. Asadero is most popularly used in Quesadillas.
Popular dishes with Asadero
Asadero cheese tacos with salsa verde
Tortilla omelette roll-up
Latin cheese bread
Asadero cheese and bean nachos
Tequila shrimp and asadero quesadillas
Flavor
Asadero has a fresh and milky taste that has a tangy touch to it, which enhances the spicy and creamy dishes it is generally used with.
6. Queso De Oxaca Cheese
In different regions of Mexico, Queso De Oxaca is known by different names like Queso Oxaca, Quesillo etc. This string-type, semi-white, semi-soft and Hispanic cheese is made from cow's milk. It belongs to the pasta filata family and has a similar texture and taste to Mozzarella.
Queso de oxaca is a curd cheese that is stretched, and kneaded into long ropes that are wound into soft balls. One of the most traditional kinds of cheese in Mexico, Oxaca is an artisanal one that is great as a melting cheese. Quesadillas are usually garnished or stuffed with Oxaca cheese in most parts of Mexico.
Oxaca is a great melting and stuffing cheese that is generally preferred for baking dishes. It is similar to Monterey Jack Cheese in color and texture. It is a mild cheese that compliments the more spicy dishes.
Popular dishes with Queso De Oxaca
Oxacan cheese sticks
Bagels with caramelized onions and jalapenos
Oxaca cheese pretzels
Pollo oxaca
Pork carnitas and oxaca cheese shooters
Choriqueso
Jalapeno poppers
Flavor
Oxaca has a savoury, mild, buttery and salty flavor that is a favourite with kids as it helps mellow down the spicier Mexican dishes that widely use this cheese.
7. Queso Chihuahua Cheese
One of the most authentic types of Mexican melting cheese, the Queso Chihuahua is pale yellow in color and semi-soft that mildly resembles cheddar. It is made by heating whole cow's milk at 149 degrees F for half an hour. Then the temperature is brought down to 95 degrees F before adding the bacteria.
Annatto is then added for the coloring. To curdle the cheese rennet is also added. This takes approximately 40 minutes. The process is rounded off with the curd being cut, salted and pressed into moulds. The prepared cheese is packaged and set to ripen for about a month. The shelf life of the finished product is another month post ripening.
Popular dishes with Chihuahua
Queso fundido
Chiles rellenos
Mexican white cheese dip
Stuffed tomatoes with brown rice and chihuahua cheese
Chihuahua cheese grilled sandwich
Flavor
Chihuahua cheese is mild, salty and slightly sour in flavor and gives that typical Mexican touch to your food in case you're not sticking to making a Mexican dish with it.
8. Queso Blanco Cheese
A creamy, white, mild, soft and unaged cheese, Queso blanco is one of the most popular types of cheese in Mexico. Queso blanco stands for 'white cheese' in Spanish but it resembles many different cheese types in the world and therefore cannot be designated as the English equivalent name of its Mexican counterpart.
Queso blanco is easy to make and doesn't need to be handled too carefully. Neither does it require bacteria or rennet culture. Queso blanco is made from fresh whole milk that is heated to near-boiling. It is then acidified and the curd is later strained into a cheesecloth before being set aside for about five hours.
This is easy to homecook as well and several traditionally Mexican families prefer not to purchase it. Queso blanco is a creamy cheese that can be directly mixed with cooked dishes. Empanadas are usually garnished with Queso blanco in most parts.
Popular dishes with Queso Blanco
Grilled steak tacos
Posole verde
International sliders
Spicy black bean and corn salsa
5 cheese taco lasagna
Flavor
Queso blanco has a creamy and mild flavor that is perfect to compliment the spicier Mexican dishes across the world.
9. Requeson Cheese
A particularly Latin cheese that is now adapted in Mexico, Requeson is known by different names in Brazil and Portugal. It is made from whey which has 10% milk added to it. The mixture is heated and skimmed before being placed into wicker baskets and drained later on.
This process is similar to the process of making Ricotta cheese. Requeson is therefore known as the Hispanic Ricotta. Requeson has a creamy feel and is spreadable, with a yellowish-white color.
Depending on what dish you use it with, Requeson changes its consistency. Requeson is a low fat and high protein cheese, making it ideal for the health freak people in the world. It is mostly used in salads, enchiladas, pastas, and some Mexican desserts.
Popular dishes with Requeson
Requeson revoluto
Spanish toasts with requeson cheese
Requeson quesadilla
Requeson appetizer
Flavor
Requeson has a strong, salty flavor that helps enhance the other ingredients and spices added in most Mexican dishes.
10. Crema Mexicana Cheese
Mexican Cream or Crema Mexicana is a sour, cultured cream cheese that is made with pasteurized milk. It is thick and rich in texture like Creme Fraiche, coupled with a sweet flavor like that of heavy whipping cream. The consistency of crema Mexicana is thick, which makes it perfect for savoury Mexican dishes.
Desserts are also a favourite of Crema Mexicana as many Mexican cream cheese based desserts make abundant use of Crema Mexicana. It is also used to increase the thickness of white sauces as it also adds a rich and creamier taste.
Popular dishes with Crema Mexicana
Rajas con crema
Flavor drenched pork sopa seca
Potato taquitos
Paletas de fresca con crema
Chipotle chilaquiles
Flavor
Crema Mexicana has a sweet and creamy taste attached to it like many other types of cream cheese in the world. Mexican desserts are a popular choice for using this cheese.
Now that you don't necessarily have to fly all the way to Mexico in order to taste these cheeses, you can rest easy and get your cooking skills on. Make use of some of the wonderful aforementioned cheeses from Mexico and let your loved ones get that authentic Mexican dining experience!