Are you worried about what you are using to fill up your piñata? Do not fret as it is time for tasty Mexican candies to fill up your heart and your piñata. This delicious assortment of amazing candies offers a sweet and tangy experience to your taste buds, while being a playful supplement for any joyful event.
How Does It Taste?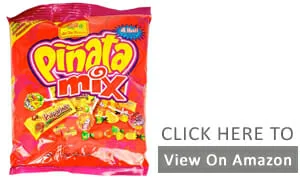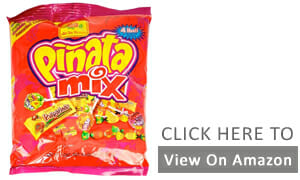 De La Rosa Dulces Mexican Candy brings mixed flavors to your piñata filler. Forget the old boring candies and sweets, as it is time for tasting complex flavors in the form of candies. Some of its delicate flavors include Pulparindo, Pineapple, Strawberry as well as Megagum and Milkaramel butter and cream. These assortments of authentic Mexican candies bring a sense of fun to any occasion.
Who will love It the Most?
There is no proper age to munch on a bag of candies – so this wonderful filler candies pack is available for both kids and adults, of all ages. Since this bag weighs around 4 lbs., you can imagine how much of piñata filler is available for people of all ages to enjoy. Let's fill our heart with these delicious candy. Celebrate the authentic Mexican tradition with this bag of candies and you would not be disappointed!
 And When?
You can enjoy this bag of assorted goodies any time you like. Since this bag of candies is used as piñata filler, so any special occasion is appropriate for it. If you are looking to celebrate your birthday or anniversary in true Mexican fashion, then having a piñata is a must!
If you are going to have a piñata present, why not fill it up with this assortment of wonderful and delicious candies that tastes of authentic Mexican flavors and brings a smile to everyone's face. The kids will absolutely love this unique treat.
You Can Also Check Other Mexican Candies: