The Limon 7 by Anahuac is a famous Mexican candy which is available on Amazon. The name of the candy says it all. It is a very salty candy with a lemon flavour to it. Limon 7 is just made up of six ingredients. The Limon 7 is available in a powder and lollipop form.
How does it taste?
The taste is probably saltier than the ocean water but it has that lemony taste to it. It plays with all the taste buds and is too good to be true. This Mexican Candy is pretty amazing for people who love that salty tickle to their taste buds.
Ways to Have Limon 7:
It is a candy, how can there be ways to have candy? Believe it or not, there are!
The lollipop is obviously just consumed like any other lollipop but the Limon 7 powder can be even used as a seasoning on a pickle or as salt seasoning.
You can even use Limon 7 and have it as a drink. Just add the powder in water, some sugar (according to your taste) and have yourself a lemonade. You can even add it to your sauces or dishes when low on salt and lemon.
The best part about this candy is that you can have it anywhere, anytime, any day.  So, order them now via Amazon for a hassle free delivery.
Who Will Enjoy It the Most?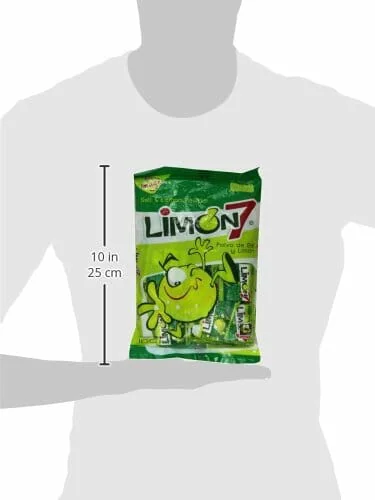 This candy is highly not recommended for people with high blood pressure and thyroid related issues. Apart from them, this candy can be enjoyed by all kinds of age groups-from children to adults.
You Can Also Try These Amazing Flavored Mexican Candies As Well: