This bag of Mexican Candy Assorted Flavour, Chili Rokas has all the flavours you will need. The assorted flavours are tamarind, mango, watermelon and pineapple. It is a hard candy so you can lick or chew it, whichever way you like to eat your hard candy. It is sweet and tangy like any other hard candy but also has a little chili surprise in the middle.
What is it made of?
The ingredients are pretty simple and out there. There is nothing to be double-checked about. The ingredients are corn syrup, sugar, citric acid, chilli, salt, artificial flavour and colours.
How do they taste?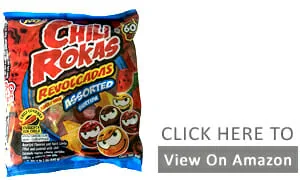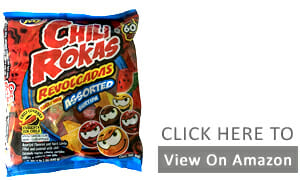 The assorted candies all have different fruit flavours but have one thing in common. They all have chilli filled inside of them in the middle. Stuffing of chiili, in these candies give them a perfect blend.
The hard candy is all sweet, tangy and fruity from the inside, but as you dig deeper you get a hit of chilli. Mexican candies are all spicy and sweet, and Chili Rokas is no different.
This packet of assorted flavoured candies is truly addicting and you won't even get to know when it has come to an end.
And When?
You can share it with your friends and family. Have it on Halloween or regular days. It all depends on your craving. This packet is a better deal as it all the flavours in one single packet. Chili Rokas is highly recommended for all the candy lovers. 
These Flavored Candies Mentioned Below Are Yummy as Well: