Slaps Cachepigui mixed flavor lollipops is a delicious and funky treat all the way from Mexico. These lollipop candies are a traditional Mexican candy which satisfies the taste buds of all ages.
How Does It Taste?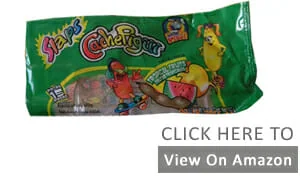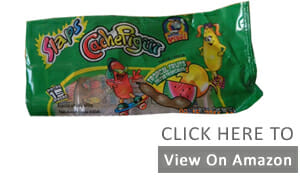 There are different flavors mixed in a pack of 10 candies. Out of 10, 3 lollipops taste of tangy tamarind blue flavor. Along with that, the pack includes 3 sweet watermelon flavored lollipops, and 2 each of mango and green apple flavors. They are quite tasty and delicious – making them perfect for a quick snack or taste cleanser. All lollipops are covered in sweet sugar powder to give that extra kick to the taste buds.
Moreover, these tasty packs of lollipops offer a great alternative to same old boring candies, and its traditional Mexican taste adds a unique flavor to it. You are certainly going to love this amazing pack of Slaps Cachepigui candy.
Who Will Love It the Most?
Anybody can enjoy these delicious lollipops. Age is just a mere number when it comes to food taste, and who does not want to taste something as flavorsome as these authentic Mexican candies? It is a much healthier alternative to sugar coated candies that most kids eat nowadays as it contains additional flavors and very little sugar in them.
More importantly, adults can also enjoy the trifecta of sweet, sour and spicy flavors from this pack of 10 lollipops. It can be a nice palette refresher as it clears up your tongue and makes your taste buds more active to new flavors. So, order these candies now by clicking here.
And When?
Let's be serious here – there is no wrong time to have candies, especially when they are traditional Mexican candies that reminds you of Halloween. It serves as a nice treat for small kids at bedtime, rewarding them for going to bed early, or adults can pop one or two lollipops in their leisure time as well.
Some tastier Mexican Candies To Try Out: