Exotic Mexican treats that are not willing to confine themselves to the conventional norms of a honeyed lollipop are precious to every kind of chocoholic around. The Alteno Super Pepino (cucumber) with Chili Lollipop is an extremely innovative and unique sucker candy that definitely becomes an all-time snack for all people who taste it once.
What does it taste like?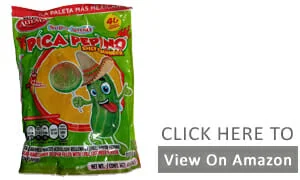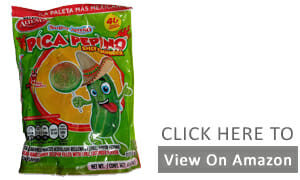 The candy is made from sugar corn syrup citric acid titanium dioxide with artificial flavor and color. It tastes like dashes of chili powder bursting in between dollops of cucumber sucky juice. There is a glint of corn too in it. It is just the right kind of spicy and contains enough spice to give a colorful twist to your regular cucumber flavor. It does not leave your mouth burning with hotness. As you bite through the hard candy, chilies, corn flavor, and cucumber juices explode to give you the best sucker candy you would have had in a while.
Who will enjoy it the most?
Firstly, this non-conventional kind of candies are not people with a sweet tooth. But, teens adolescents and adults will absolutely be addicted to these candies and love the right explosions of all the varied flavors. Finally, If there is a Mexican native among your friends or acquaintances that have settled far away from their home, make sure to gift one of these to them by clicking here.
And when?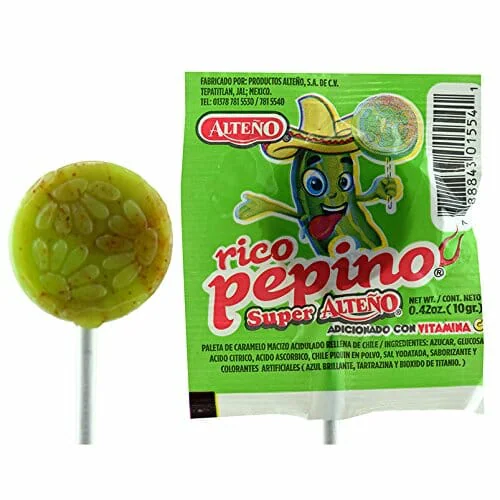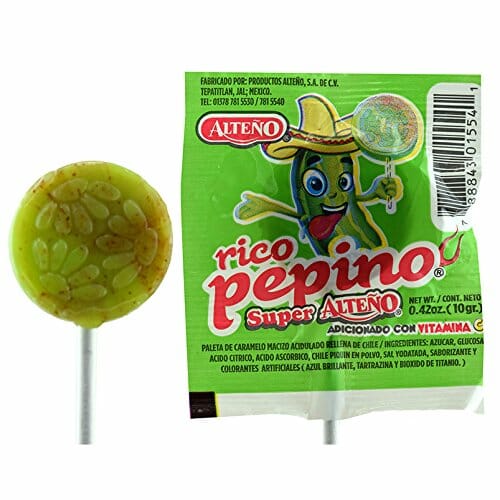 One of the most interesting things of this candy is that you do not need an occasion to consume these. Buy a pack of which there are 40 suckers in general. Birthday parties, Anniversary parties, Boring office conferences, Halloween and Christmas or Easter,  Alteno Super Pepino (cucumber) with Chili Lollipops! is for all occasions. 
Some More Tasty Mexican Candies To Try Out: