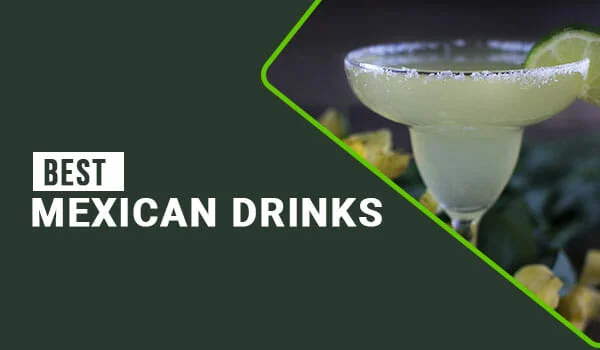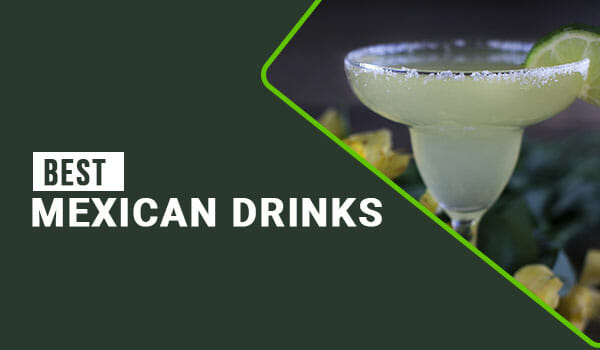 Need to host an unusual party?
Make sure you serve astonishing food and drinks to your guests. Whether you're looking for big juices for a funky party or warm beverages for a winter night, Mexican cuisine has them all.
They have a unique touch of spice that cheers up everyone and brings them to the festive mood.
We've compiled the 25 best Mexican drinks by keeping all your fiestas in mind. Check them out!
1. Agua Fresca de Pepino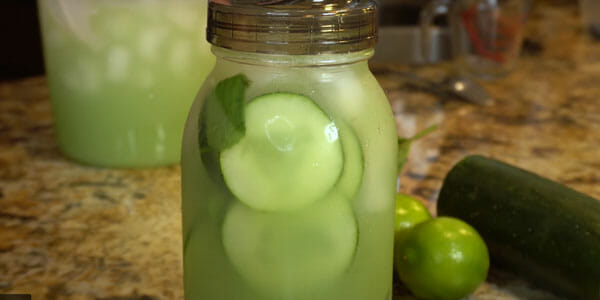 Mexican Agua Frescas are well-known and loved. One of them is Agua Fresca de Pepino made with fresh cucumbers.
Instead of cucumbers, you can use any fruits (like strawberries or apples ) or even hibiscus flowers (we will also cover that in this post). Agua frescas are the best drinks to keep your body hydrated and thus keep you fit.
Particularly, agua fresca de pepino is diet-friendly and aids in weight loss. Who said you can't party when you're on a diet?
Ingredients:
Cucumbers – 4
Water – ¾ cup (for the sugar syrup) + 5 cups
Freshly squeezed lime juice – ⅓ cup
Cane sugar – ¾ cup
Ice
Directions:
Heat a saucepan over medium heat. Pour water and add sugar.
Stir occasionally and simmer the syrup for 3 to 5 minutes.
Cool it down for at least 20 minutes.
Peel cucumbers and cut into pieces. You don't have to chop. Cut them small enough to go into the blender.
Blend the cucumbers with 2½ cups of water. This can take 5 minutes.
Strain the juice into a pitcher to separate the pulp. Pour the remaining 2½ cups of water.
Strain the juice for the second time. You can skip this step if you like your drink pulpy.
Add sugar syrup and fresh lime juice. Mix all of them to combine the flavors.
Drop in the ice cubes and top your agua fresca de pepino with thin cucumber slices and mint leaves.
Tip: Though lime juice gives a nice zest to the cucumber water, not all may like it. In that case, exclude it.
---
2. Bloody Maria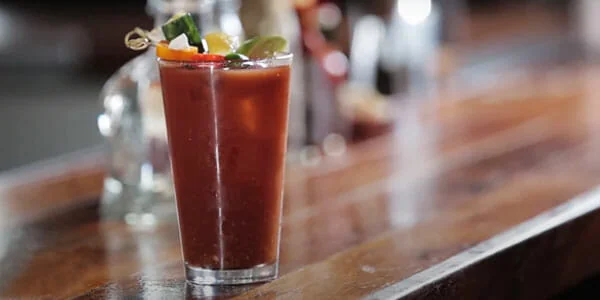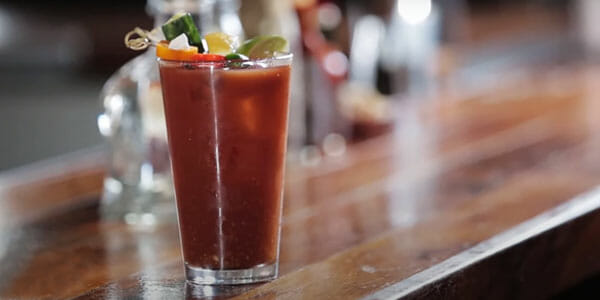 Bloody Maria is a Mexican alcoholic drink made with tequila and spicy sauces.
Before we jump into learning to make shots that can potentially give you a hangover, let's be ready with the cure.
Despite having tequila, bloody maria relieves you from hangover headaches. Hot sauces, celery salt, and black pepper give it a spicy touch.
There are many recipes for Bloody Maria, and a few of them use vodka instead of tequila. The vodka variant cannot help you with hangovers but makes a good drink for the party.
Ingredients:
Tequila – 2 oz
Tomato juice – 4 oz
Lime juice – ½ oz
Worcestershire sauce – 4 dashes
Tapatio hot sauce – 2 dashes
Tabasco sauce – 2 dashes
Celery salt – 1 pinch
Ground black pepper – 1 inch
Lime wedges – for garnish
Cucumber spears – for garnish
Sweet pepper slices – for garnish
Jalapeno slices – for garnish
Queso fresco – for garnish
Directions:
Add all ingredients (and obviously, not the garnishes) to a shaker and fill it with ice.
Fill a pint glass with ice.
Shake the ingredients for 10 to 20 seconds and pour it into the pint glass.
Garnish with a lemon wedge or with a skewer of pepper slices and queso fresco.
---
3. Ponche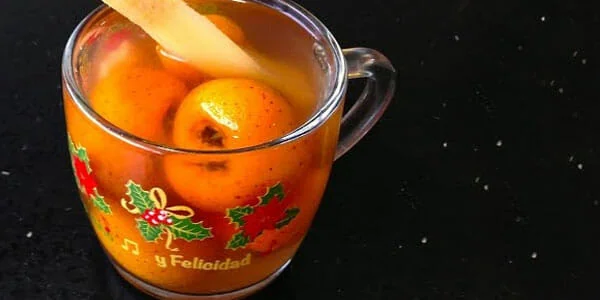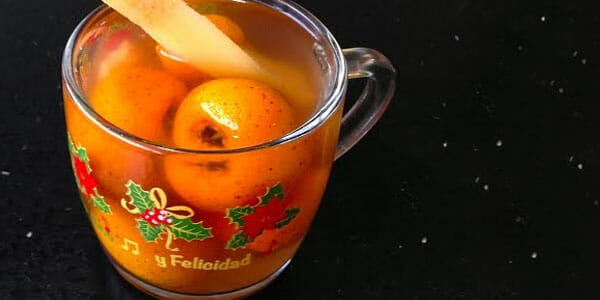 Do you think it sounds similar to 'punch'?
You guessed it right. Mexican fruit punch is called ponche.
It is usually served during the holidays, and its fresh taste is the result of the seasonal fruits (mostly tejocotes) used in it.
You can make it a day ahead of your party and reheat it before serving. Some like it cold too. Mexican ponche is great for family gatherings.
Ingredients:
Water – 10 liters
Hawthorn – 450 grams
Guabas – 450 grams
Apples (cubed) – 2
Sugar cane – 1 (chopped into 5-inch pieces)
Hibiscus flower – 6
Cinnamon sticks – 2
Tamarind – 4 sticks
Sugar – to taste (about 3 cups)
Directions:
In a tumbler of water, add cinnamon, hawthorns, sugar cane, tamarind, apples,  hibiscus flowers and a cup of sugar.
Bring it to a boil. This can take 30 minutes.
Simmer it for another hour.
Check if your ponche needs more sugar and adjust.
Serve it piping hot or warm.
---
4. Tepache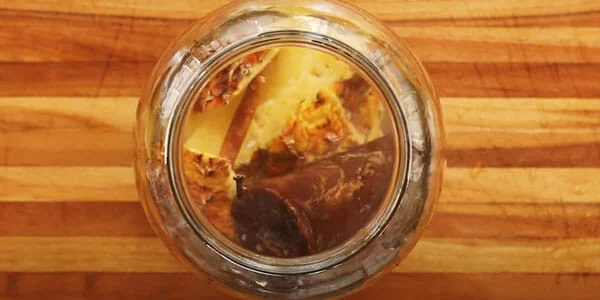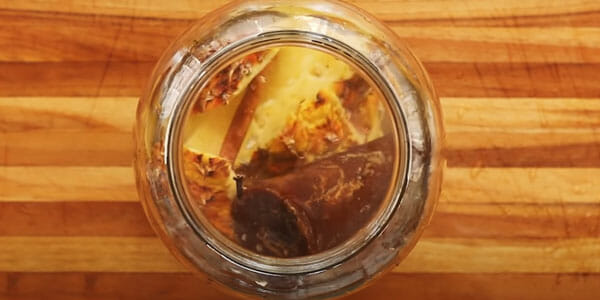 Tepache is a fermented yet non-alcoholic Mexican beverage made with the peel and core of pineapples (Yea, not the flesh. So, save your canned pineapple slices).
When you walk down the streets of Mexico, you can find street vendors selling tepache in plastic cups.
The fermentation involved in the making of tepache is quite basic and you need no complex equipment. A wooden barrel or a clay pot will do the trick.
As fermentation is an essential step to make authentic tepache, make it at least 2 or 3 days ahead.
Ingredients:
Peel and core of 1 pineapple (Save the fruit for some other recipe)
Piloncillo – 1 cone
Cinnamon stick – 1
Cloves – 4
Water – half-gallon (for stronger tepache) / full gallon (for a lighter version)
Directions:
To a fermentation jar, add pineapple core and peel, cinnamon, cloves, and piloncillo. The piloncillo will dissolve during the fermentation. So, don't stress it.
Cover the fermentation jar with a cloth and let it ferment for at least 2 days. Make sure you don't place it in direct sunlight.
Serve the tepache with ice.
---
5. Sangrita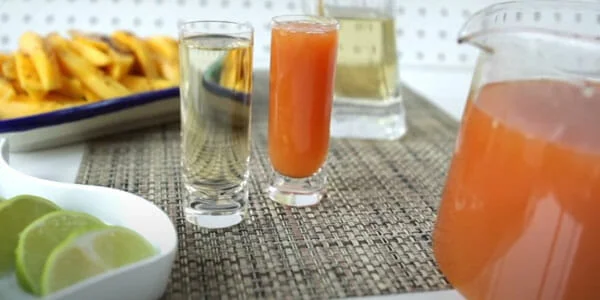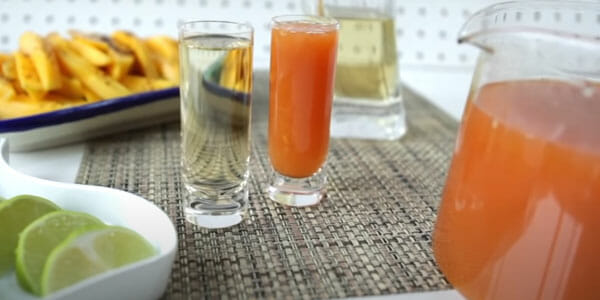 We didn't spell sangria wrong and will direct you to its recipe sooner in this post. But for now, let's learn how to make sangrita like an experienced drink-maker.
Those who experiment with tequila might have tried this sangrita with their shots.  Sangrita and tequila – a match made in heaven!
Though this non-alcoholic goes well with tequila, you can serve it alone as a drink and still win compliments.
The present-day recipe contains tomato juice, but the good old recipe focuses on citrus juices.
Ingredients:
Freshly squeezed orange juice – 1 liter
Freshly squeezed lime juice – 250 ml
Pomegranate juice – 60 ml
Thin onion slice – 1
Hot sauce – to taste
Salt – to taste
Directions:
In a glass jug, pour the lime juice and drop the slice of onion in it. Let it sit for 30 minutes.
Remove the onion, as we need only its flavor.
Add orange juice, pomegranate juice, hot sauce, and salt. Stir it
Serve it chill in shot glasses along with your tequila shots.
---
6. Michelada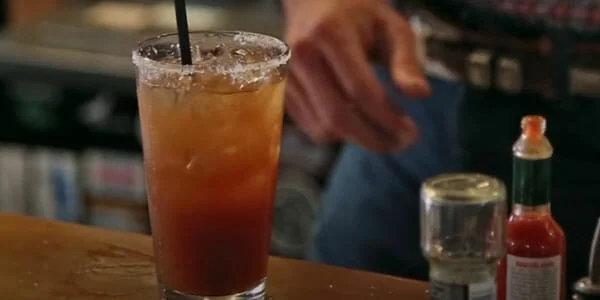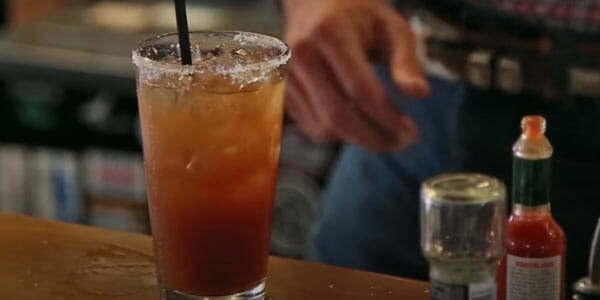 Michelada is a variant of Bloody Maria, a refreshing summer drink and is made differently throughout Mexico.
The standard recipe uses light beer, Worcestershire sauce, and lime juice.
You can balance the ratio as you like it.
Ingredients:
Mexican light beer – 1 bottle
Tomato juice – ¼ cup
Freshly squeezed juice of ½ lime
Worcestershire sauce – 3 dashes
Soy sauce – 2 dashes
Hot sauce – to taste
Freshly ground black pepper – to taste
Salt
Lime slices
Directions:
Pour salt in a plate wider than the rim of your pint glass.
Rub a slice around the rim of your glass and roll it in salt.
Put some ice in the glass and pour Mexican light beer.
Add tomato juice for color's sake and add lime juice.
Add Worcestershire sauce, soy sauce, and hot sauce. If you can't handle too much spiciness, be careful with the quantity of hot sauce you put in.
Sprinkle black pepper and stir it.
Garnish with the lime slice and serve immediately.
Tip: Omit tomato juice for a less acidic version.
---
7. Jamaica Agua Fresca / Agua de Jamaica / Hibiscus Water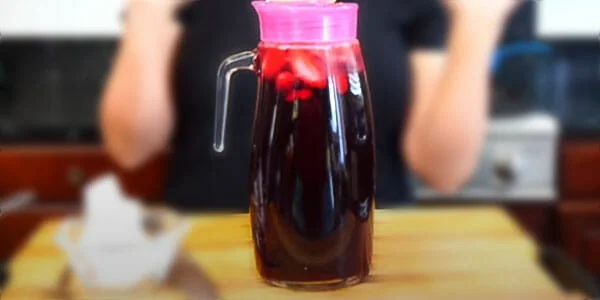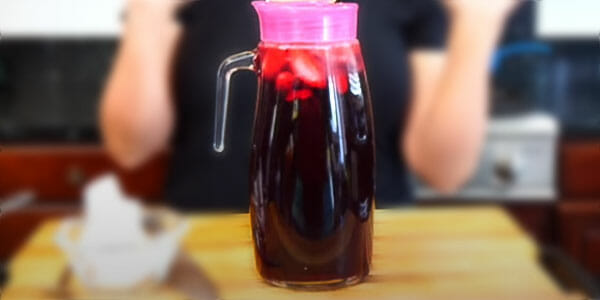 Agua de Jamaica (pronounced hah-my-cah) is another Mexican agua fresca made with hibiscus.
You can use either dry or fresh hibiscus flowers based on availability. This is a non-alcoholic drink served as an accompaniment to Mexican lunch.
It tastes similar to cranberry juice in terms of strength.
Addicted to soda? Try drinking this healthy hibiscus water instead.
Ingredients:
Hibiscus flowers – 1 cup
Hot water – 3 to 4 cups
Sugar – ½ cup
Directions:
Pour hot water in a pitcher, and drop in your hibiscus flowers.
Let it sit for at least fifteen minutes. You can let it sit beyond that if you want a tarty flavor.
Strain the hibiscus water into another jar.
Add sugar and stir it.
Drop in the ice, and add some hibiscus flower chunks to your Jamaica Agua Fresca.
---
8. Chavela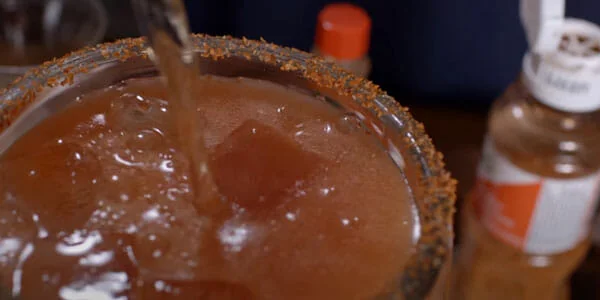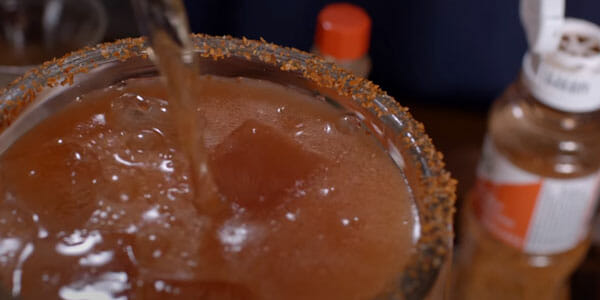 Chavela is the Mexican way of teaching you how to level up your beer game. Beer is flavored with tomato juice and hot sauce.
If you can find Mexican light beer, you're halfway close to making the perfect chavela. This drink doesn't need any stirring.
In fact, stirring is bad for it. This is why you should pour the beer from a height so that the contents get combined on their own.
Chavela is also served as a Mexican appetizer with a garnish of carrots or shrimp in many restaurants. Remember this for the next Mexican food quiz you're going to compete in.
Ingredients:
Tomato juice – 3 ounces
Tabasco – 6 dashes
Mexican light beer – 12 oz
Tequila – 1½ ounces
Lemon wedge
Directions:
Pour Tajin on a plate wider than the rim of your glass.
Rub the lemon wedge around the rim of the glass. Roll the rim in Tajin.
Add ice into the glass.
Fill it with tomato juice, hot sauce, and beer. Drop the lemon wedge into it.
Serve immediately with a tequila shot.
---
9. Jalapeno Margarita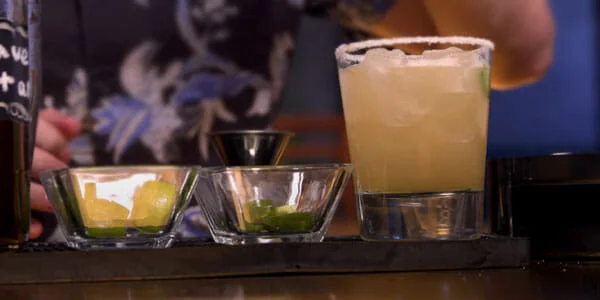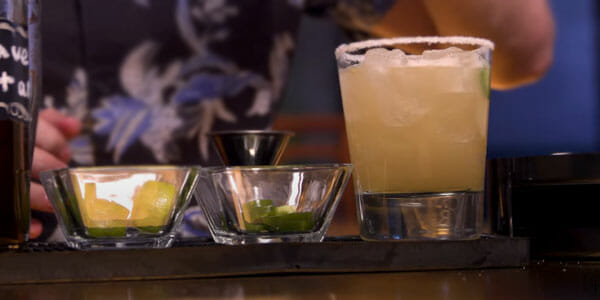 Gear yourself up for a super spicy margarita!
Jalapeno margarita is made by infusing your drink with jalapeno when it's being processed in the shaker cup.
Before the spiciness can get awkward, sweet agave nectar balances it and gives your tongue an apt burn without overdoing.
Ingredients:
Triple sec – ½ ounce
Silver tequila – ½ ounce
Sweet agave nectar – 1½ ounces
Lime juice – 1 ounce
Jalapeno slices
Lime wedge
Salt
Directions:
Rub the lime wedge on your glass' rim, and roll the rim in salt.
Fill your glass with ice and set it aside.
Add more ice to your shaker cup and pour in the silver tequila.
Add Triple sec and agave nectar.
Add a few jalapeno slices, and pour the lime juice.
Shake them for a few seconds and strain your drink into the ice in the glass.
Garnish with a jalapeno slice and a lime wedge.
---
10. Paloma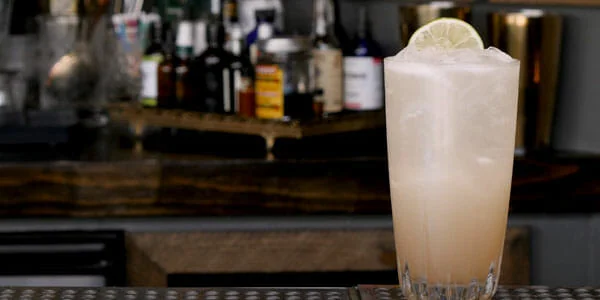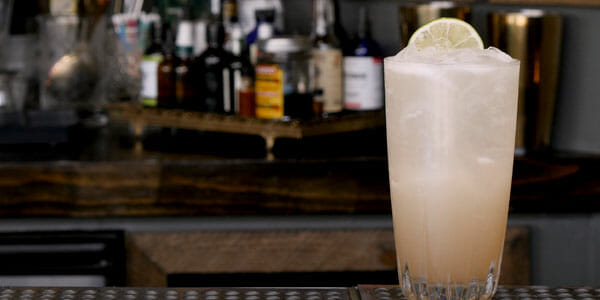 This Mexican tequila-based cocktail is very popular in Mexico and is sold in soda cans too.
You can make it at home if you have a shaker cup and a few ingredients.
Ingredients:
Tequila – 45 ml
Lime Juice – 20 ml
Simple Syrup – 15 ml
Grapefruit Juice
Soda Water
Lime slice – to garnish
Directions:
Add lime juice, simple syrup, and tequila to the shaker cup.
Fill with ice and shake it up for 10 seconds.
Fill your glass with ice, and double strain your paloma into the glass.
Give a dash of grapefruit juice and two ounces of soda to your drink.
Garnish with a lime slice, and your paloma is ready to be served.
---
11. Sangria Natural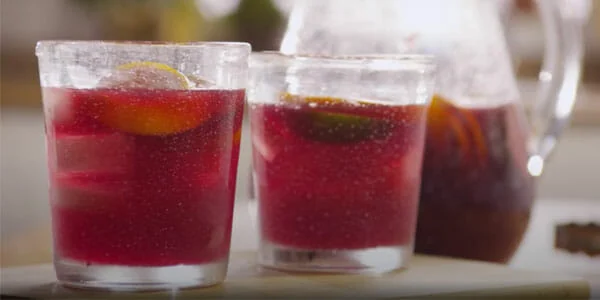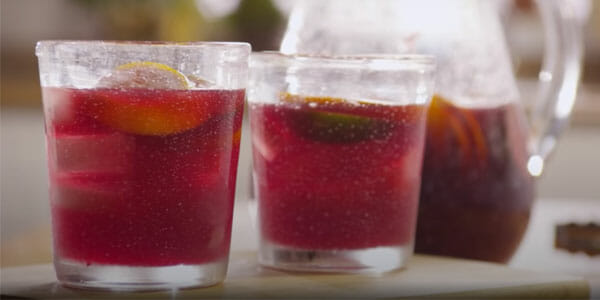 The famous sangria!!!
Sangria is of Spanish origin and the Mexican adaptation is called Spanish Natural. Sangria gets its flavor from the wine used in it. If you're not careful about the quality of the wine you're pouring in, the sangria can get spoiled.
Back in the day, the wine was believed to be a bacteria-killer which made it stand a step above water. Eventually, the wine was flavored with fresh fruit and that's how we got this awesome drink.
The maroon drink surely looks classic and mouth-watering. Make this a day ahead for all the flavors to blend. Mark that sangrita is different from sangria.
Ingredients:
Dry red wine – 750 ml
Brandy – ½ cup
Lemon juice – ¼ cup
Triple Sec – ½ cup
Frozen lemonade concentrate – ⅓ cup
Orange juice – ⅓ cup
Carbonated water or club soda – 2 cups
White sugar – ¼ cup
Orange (sliced into rounds) – 1
Lemons (sliced into rounds) – 1
Directions:
In a large bowl, mix brandy, lemonade concentrate, orange juice, lemon juice, red wine, triple sec, and sugar.
Add lemon slices, orange slices, and maraschino cherries.
Chill it in the fridge overnight.
Before you serve, add club soda to keep it fizzy.
Tip: Get a traditional sangria pitcher to add color to your party. Decor that stores the party drink!
---
12. Virgin Margarita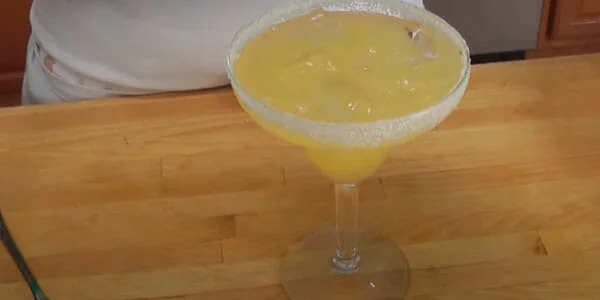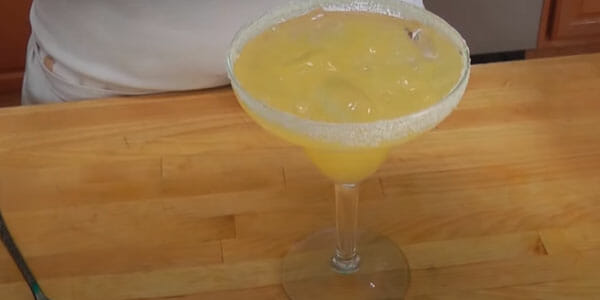 The classic margarita minus the alcohol is the virgin margarita. This non-alcoholic drink resembles the alcoholic version without limiting you to one drink.
As it is alcohol-free, you can drink to your heart's content. But don't forget to save space for food.
Made with healthy citrus fruits, virgin margarita is a popular party-choice among teetotallers. To please your guests, serve the virgin margarita in salt-rimmed glasses to make it feel as authentic as possible.
If you don't drink margarita, it doesn't mean you can't have the signature glass when drinking the non-alcoholic version.
Ingredients:
Frozen limeade (thawed) – 1 can
Fresh orange juice – ⅓ cup
Lemon (juiced) – 1
Lime (juiced) – 1
Superfine sugar – to taste (about 2 tbsp)
Directions:
Add thawed limeade, lemon juice, orange juice, lime juice, and superfine sugar.
Mix well to combine.
Add ice and stir for a minute.
Serve in rimmed glasses.
---
13. Strawberry Horchata/Orxata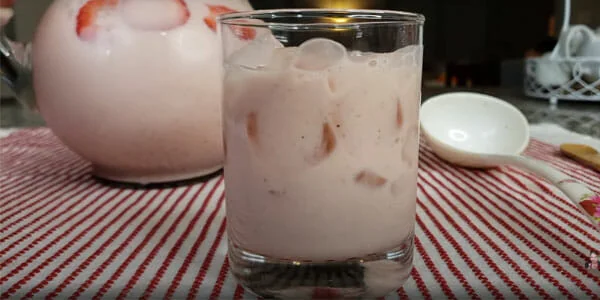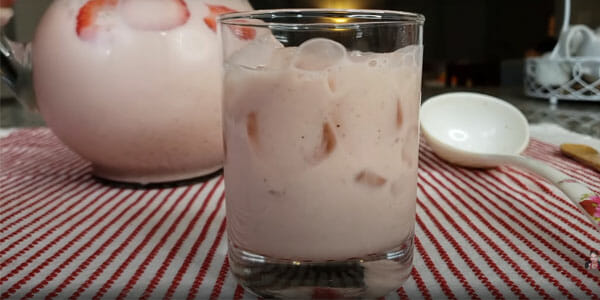 Horchata, also called orxata is a Mexican traditional drink that energizes the body in no time.
It is made of rice and is creamy in texture. In the olden days, it was homemade but now, there are horchata syrups and packaged horchata drinks in the market.
It isn't very tough to make this delicious drink from scratch and this twist of strawberries makes it a yummy and nourishing summer drink.
Strawberry horchata tastes nothing less than strawberry milk. Should say "Pretty in pink!".
Ingredients:
Long grain rice (uncooked – washed and rinsed) – 1 cup
Vanilla extract – 2 tsp
Evaporated milk (or whole milk) – 350 ml
Sweetened condensed milk – 400 g
Frozen strawberries – 450 g
Water – 2½ cups (for soaking rice) + 2 cups (for strawberry puree)
Cinnamon stick – 1
Ice – 500 g
Directions:
Soak one cup of rice in 2½ cups of water. Soak overnight for best results or at least for 6 hours.
Break a cinnamon stick to half and add them to the rice.
Blend soaked rice along with water and cinnamon.
Strain it into a pitcher.
Make strawberry puree by blending in the strawberries with 2 cups of cold water and vanilla extract.
Strain the puree into another bowl.
Add evaporated milk and condensed milk to the rice water.
Add the strawberry puree and check the sweetness to adjust it. Add more condensed milk if needed.
Fill a glass with ice cubes and pour the strawberry horchata. Top with a strawberry slice and serve.
Tip: For a dairy-free version, omit evaporated milk, and use sugar instead of condensed milk. The dairy-free version turns out less thick but tastes fine.
---
14. Flaming Lime Drop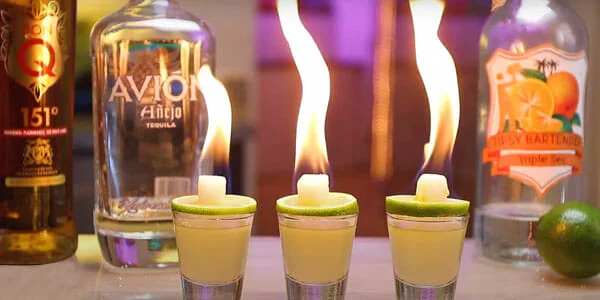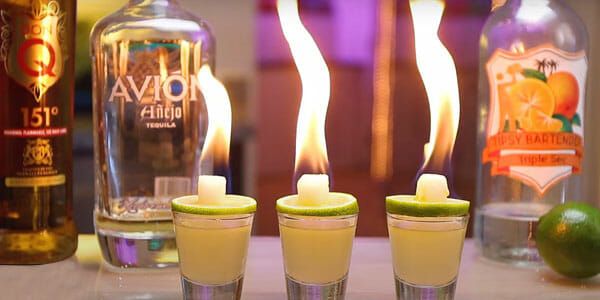 The name explains the recipe for this drink. The lime along with the sugar cube is dropped to the bottom of the glass.
Making the flaming lime drop is fun and you'll probably love watching it. To place on top of the lime slice, you'll have to use sugar cubes and not sugar. Sugar cubes are partially caramelized with flame (that is hot enough to almost burn sugar crystals into charcoal) before they're dropped.
Keep in mind that you have to be careful while working with flame. Except for that, it is easy to set a shot.
Ingredients:
Tequila – 90 ml
Triple sec – 45 ml
Bacardi 151 – 15 ml
Agave syrup – 1 tsp
Salt – ¼ tsp
Lime slices
Sugar cubes
Directions:
Fill a shaker cup with ice.
Add tequila, triple sec, agave syrup and lime juice to it and shake.
Strain it into the shot glasses.
Dip lime slice in salt (don't coat in salt, though) and place it on top of your glass.
On the center of the lime slice, place a sugar cube.
Give that sugar cube a dash of Bacardi 151.
Caramelize the sugar cube and fold the lime slice sending both the caramelized sugar cube and lime slice into the shot to finish.
Tip: If you want your shots sweet, add granulated sugar to the shaker cup along with other ingredients.
---
15. Daiquiri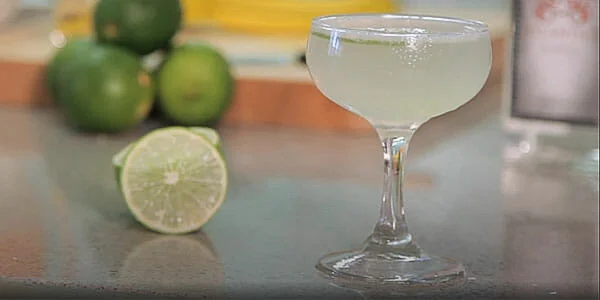 Daiquiri is a versatile Mexican drink and comes in various styles.
The main ingredients of an authentic Mexican daiquiri are rum, citrus juice, and a sweetener. There are fruity variants like the banana daiquiri and avocado daiquiri as well.
Another style uses pulverized ice to make a frozen daiquiri if you're looking for something different from a liquid cooler. Frozen daiquiris use liqueurs of different flavors.
The drink is easy to make and if someone tries to keep you away from daiquiris, calling it a girly drink, ignore them as you may miss out on the refreshment this classic gives you.
And no, daiquiris aren't girly as long as there are no strawberries.
Ingredients:
White rum – 2 oz
Freshly squeezed lime juice – 75 ml
Simple syrup – 75 ml
Lime slices
Directions:
Add all the ingredients to a shaker cup and shake it for a few seconds.
Pour it into a frozen glass (chill empty glasses in the refrigerator) and garnish with a lime slice.
---
16. Mexican Candy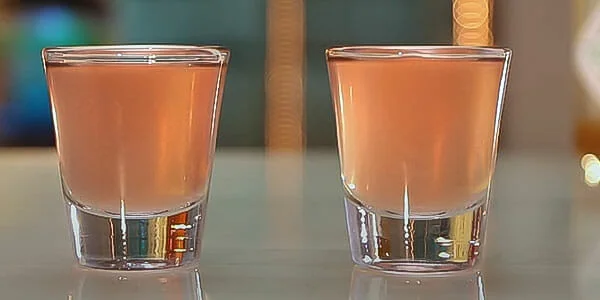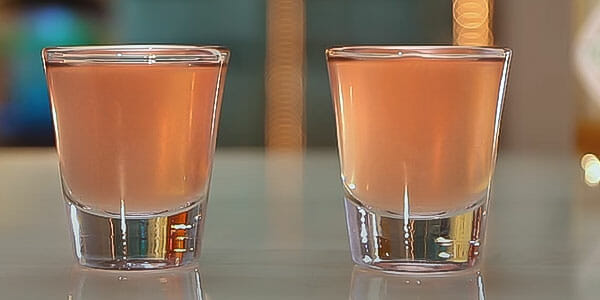 No, we didn't accidentally add candy to this list of party drinks. Not many have heard of the Mexican candy shots that are fruity and moderate in strength. You can take more than one shot as they're not heavy.
Tequila, watermelon juice and a dash (many dashes if you can take the spiciness) of hot sauce are all you need. Shake them well with ice and the shots are good for a shoot. The sweetness of watermelon and the spiciness of hot sauce create a bi-dimensional taste.
Though shots are the common way of serving Mexican candy, you can enjoy it as a drink in a pint glass too. There are no rules to serve a drink!
Ingredients:
Directions:
Add ice to a shaker cup.
Fill it with tequila, Watermelon Pucker, and hot sauce. Shake for a few seconds.
Strain this into a small glass.
Tip: You can replace tequila with rum/vodka and use blended watermelon instead of Watermelon Pucker.
---
17. Melon Apple Fizz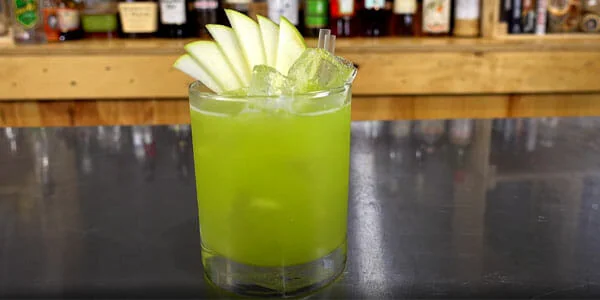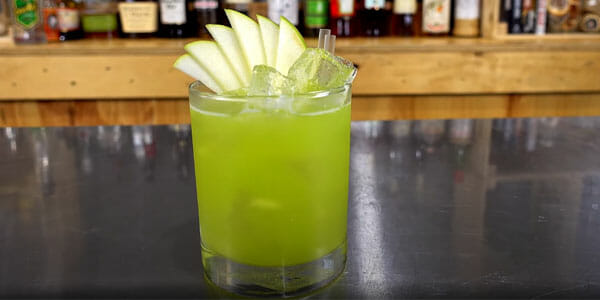 If spicy Mexican alcoholic drinks are not your thing, we have a sweet treat for you.
This green fizzy drink is a combination of cloudy apple juice, Midori, lemon juice, and tequila. Midori gives the correct flavor and sweetness of melon which is well-received by tequila.
Midori is an underrated addition to any cocktail, as every true cocktail-fanatic knows.
Serve your melon apple fizz in an old fashioned glass topped with green apple slices for aesthetics.
Ingredients:
Cloudy apple juice – 30 ml
Tequila – 30 ml
Midori melon liqueur- 30 ml
Fresh lemon juice – 15 ml
Sugar syrup – 15 ml
Soda water
Directions:
Add tequila, Midori, apple juice, lemon juice, and sugar syrup to a shaker.
After shaking, give it a dash of club soda.
Fill your glass with ice and strain your drink into it.
Garnish with a few apple slices to serve.
Tip: You can make cloudy apple juice at home by boiling apples in water for 30 minutes and straining the hot apple juice into another container. Adding cinnamon is optional.
---
18. Cherry Limeade Margarita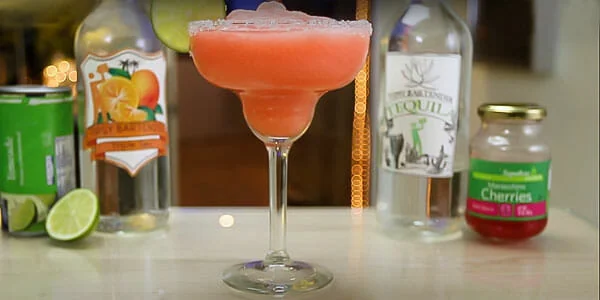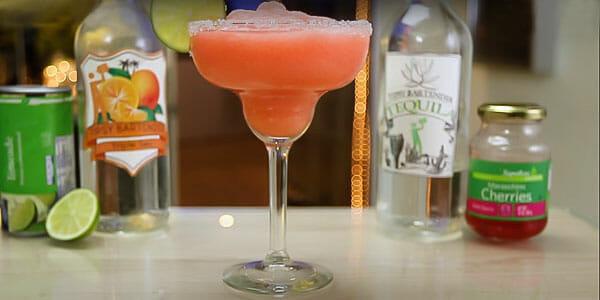 Frozen coolers are a level above the routine drinks when your mouth needs that touch of ice as in a smoothie.
Frozen cherry limeades are kids' favorite and margarita is the best adult version of it. Some tequila and triple sec really do the magic.
A summer pool party is incomplete if you don't get to sit back and drink this cherry limeade margarita.
Ingredients:
Maraschino cherry juice – 60 ml
Tequila – 60 ml
Triple sec – 45 ml
Frozen lemonade concentrate – 12 oz
Coarse salt
Ice
Lime wedge
Lime wheel
Cherries
Directions:
Rub a lime wedge to the rim of your glass and roll the rim in coarse salt.
Blend cherry juice, tequila, triple sec, and frozen limeade into a smooth texture.
Pour the blend into the glass.
Garnish the rim with a lime wheel and top your margarita with a cherry.
Tip: For a non-alcoholic version, mix cherry juice, lemon juice, and limeade. Pour it in ice-filled glasses. Top with soda and garnish with lime slices and a cherry, 'cause your kids deserve an exclusive version for their summer needs.
---
19. Blueberry Mojito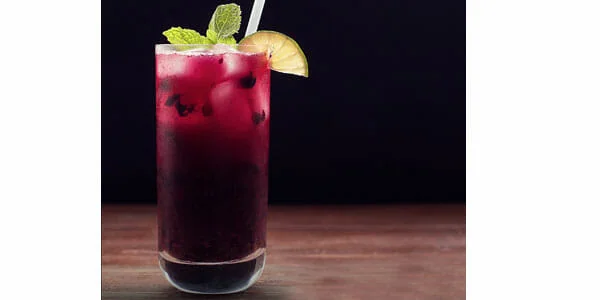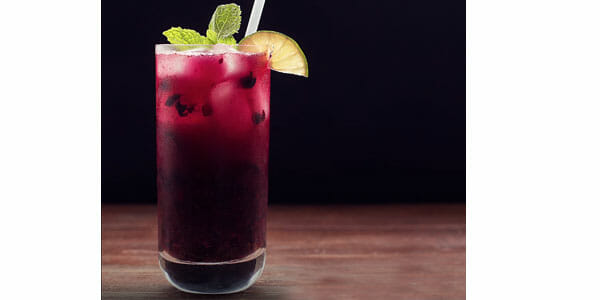 Blueberries are one of the most-loved summer gifts to mankind. Mexican cuisine has a lot of blueberry recipes like salsas, pies, and chimichangas. It didn't forget mojitos too and that's how we're blessed with this blueberry mojito.
Sip this Mexican non-alcoholic drink at any time of the day in summer and cool your body with its minty flavor. Well, you can use basil or pretty much any nice smelling herb.
Traditionally mojitos are made with rum and it is still in style. Use white rum of good quality and your mojitos will turn out wonderful.
Ingredients:
Blueberries – ½ cup
Sugar – 1 tsp
Rum – 2 oz
Club soda – 3 oz
Lime juice – 1.5 oz
Lime wedge
Mint leaves – 5
Ice
Directions:
Muddle blueberries in a shaker cup. Don't make a puree, though.
Add sugar, rum, lime juice, mint leaves, and ice to it.
Shake for a few seconds and strain it into a glass.
Fill the remaining space in the glass with club soda. Give it a good mix.
Garnish with a lime wedge and mint leaves.
Tip: If you're making this a day ahead, let the mojito stay carbonated. Add soda and ice before you serve.
---
20. White Wine Citrus Sangria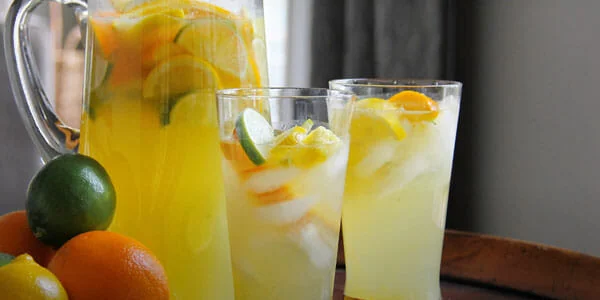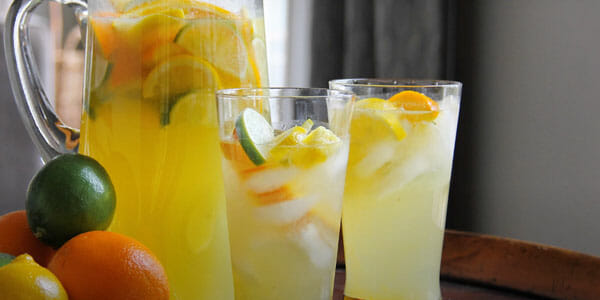 Traditional sangria is made of red wine as you already saw it in the classic recipe. Add a twist by replacing red wine with white wine and enjoy this cocktail. You can make it in bulk and store it in the refrigerator without making haste on your big day.
This white wine citrus sangria is light and can be served in style. Pineapple makes it extra-fruity but you can use just any fruit you love. But make sure the fruits are fresh and follow the quantities suggested in the recipe.
This recipe shows that brandy can be a good addition to wine cocktails.
Ingredients:
Oranges (cut into quarters) – 1
Pineapples (peeled and chopped) – 1 cup
Limes (sliced into small pieces) – 1
Lemons (sliced) – 1
Organic pineapple juice
Freshly squeezed lime juice
Freshly squeezed lemon juice
Triple sec – 1½ cup
Brandy – ¾ cup
Dry white wine – 750 ml
Citron vodka – ¾ cup
Directions:
Take oranges, limes, pineapples, and lemons in a jug.
Pour triple sec, brandy, citrus vodka, pineapple juice, lime juice, lemon juice, and white wine in it.
Stir it to combine well.
Fill a glass with ice cubes up to half and pour in your drink to run a taste check.
Let it chill in the refrigerator for at least a day for an improved flavor.
Serve in glasses filled with ice.
Tip: You can add club soda to make a sparkling cocktail. Ginger ale accentuates the sweetness.
---
21. Pomegranate Mimosa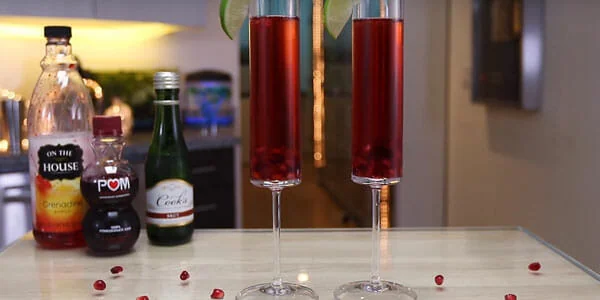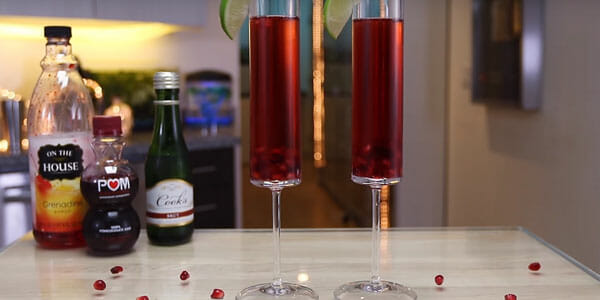 What comes to your mind when you think of champagne? Celebration!
They're cool for parties and so are mimosas. Though mimosas are made with citrus fruits, you can try making them with pomegranate. Pomegranates are healthy and rich in oxidants. Pomegranate mimosas are beautifully red in color to brighten your party. What else do we have to consider when choosing a drink?
The recipe has just 4 ingredients that combine into a tart flavored drink. This cocktail can be the signature dish of any Mexican brunch. Cheers to good health!
Ingredients:
Champagne – 120 ml
Pomegranate juice – 45 ml
Grenadine – 1 dash
Pomegranate seeds
Directions:
Drop in a few pomegranate seeds into the champagne flute.
Fill half of the flute with champagne.
Give it a dash of grenadine and fill the remaining half with pomegranate juice.
Garnish the rim with lime wedges and serve.
---
22. Cafe de Olla / Mexican Coffee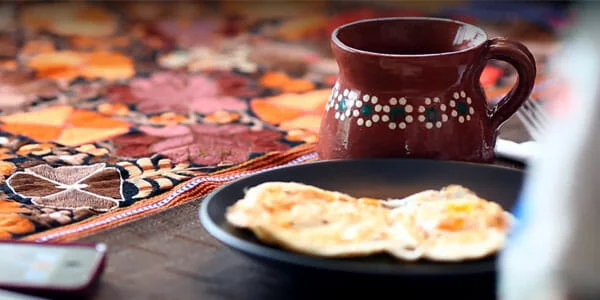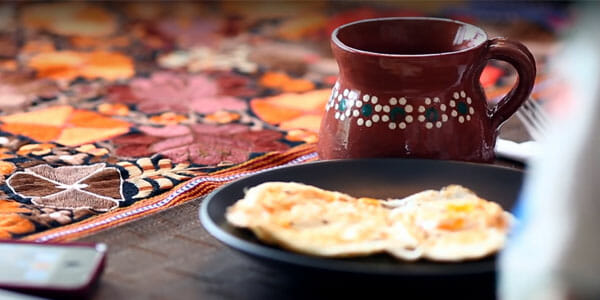 Cafe de olla means pot coffee as it is traditionally made in a clay pot giving it a unique flavor that is impossible to achieve in metal or wooden pots.
If you don't have a clay pot, it's fine. You can still make a good Mexican coffee to relish. The traditional recipe uses piloncillo which is raw and dark. If you can't find piloncillo, replace it with brown sugar or cane sugar.
This coffee is regularly consumed by people in rural areas of Mexico. No wonder you can find it on the menu of all Mexican coffee shops. Relax yourself with this Mexican coffee by serving it alongside breakfast.
Ingredients:
Water – 6 cups
Cinnamon sticks – 2
Cloves – 2
Anise star – 1
Freshly ground dark roasted coffee – 6
Piloncillo – 6 ounces
Directions:
Bring water to a boil in a saucepan.
Add piloncillo, cinnamon sticks, anise star, and cloves.
Stir it until the piloncillo dissolves. This can take 5 to 10 minutes.
Add coffee and stir.
Lower the heat and cover the pan with a lid.
Simmer for 5 more minutes.
Strain the coffee and serve hot.
---
23. Mexican Firing Squad Special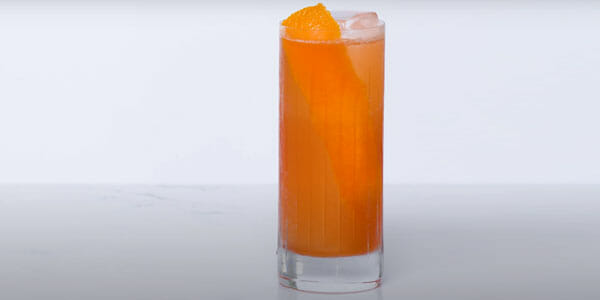 True to its name, Mexican Firing Squad Special is indeed special. It is lighter than margaritas and you can take a few extra shots without worrying about hangovers.
If you've read the book "The Gentleman's Companion Volume II: Around The World With Jigger Beaker and Flask." by Charles H. Baker, you'd know that Mexican Firing Squad Special was first created in 1937. The traditional version doesn't use soda.
In the modern version, the splash of soda keeps this cocktail cold for long, and grenadine adds a slight sweetness to the spicy Angostura bitters. Use vanilla flavored tequila for best results.
Ingredients:
Tequila – 60 ml
Lime juice – 75 oz
Grenadine – 75 oz
Angostura bitters – 2 dashes
Orange twist
Soda water
Directions:
Add lime juice, a few dashes of angostura dashes, grenadine, and tequila to a shake cup.
Fill it with ice and shake for 10 seconds.
Fill the serving glass with ice and strain your mix over the ice up to half.
Pour a little soda for effervescence and fill with the mix till the top. Serve immediately. Skipping soda is not advised.
Tip 1: You can serve it with a garnish of orange peel as a spear.
Tip 2: Make another variant of Mexican Firing Squad Special by including pomegranate seeds or molasses along with the other ingredients.
---
24. Apple Cider Margarita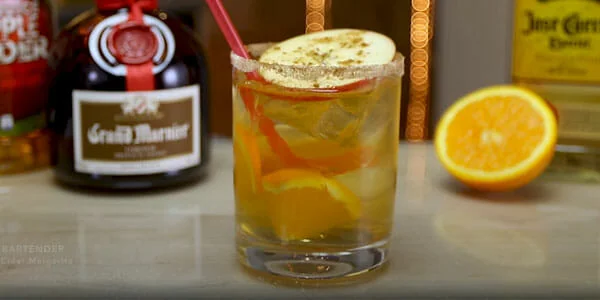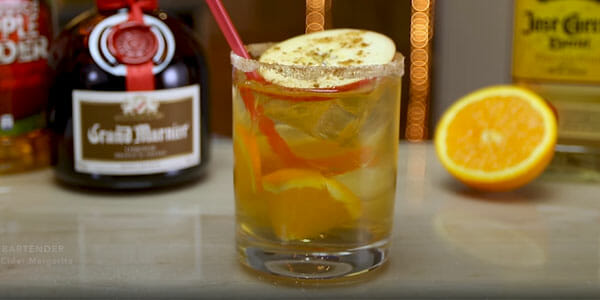 We get that you're judging it already, thinking apple cider in cocktails is crazy. What if we tell you, this is the best smoky companion for your autumn parties?
Silver tequila is a common ingredient in cocktails. But apple cider margarita is made with gold tequila as it gets along well with the warm touch of apple cider and the spicy cinnamon. If you're bored with traditional margaritas, this is the one for you.
Ingredients:
Apple cider – 120 ml
Gold tequila – 30 ml
Grand Marnier – 30 ml
Ground cinnamon
Orange slices
Apple slices
Sugar
Directions:
On a plate, mix cinnamon and sugar.
Rub the rim of your glass with orange and roll it in cinnamon sugar.
Fill a shaker cup with ice and orange slices.
Pour tequila, Grand Marnier, and apple cider over the ice. Shake well.
Fill the serving glass with ice and orange slices, and pour the mix.
Garnish with an apple slice and cinnamon.
Tip: If you find tequila too smokey for your throat, feel free to replace it with mezcal. Just like tequila, mezcal is agave-based. So, you wouldn't have to compromise with the taste even at the light flavor.
---
25. Rompope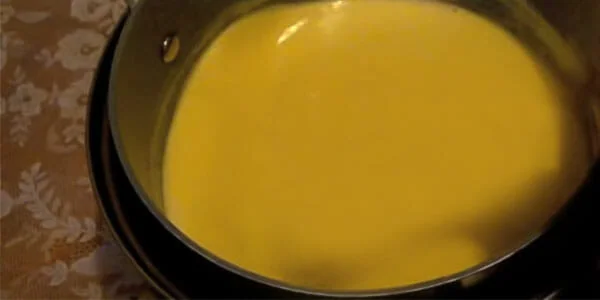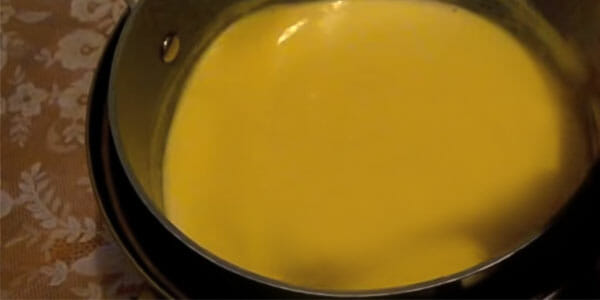 There's no way we're ending this post without telling you about the scrummy Mexican rompope. It is similar to egg-nog and is made primarily of eggs and milk. Yeah, another Mexican milk drink.
The first-ever rompope was prepared in Santa Clara convent in a Mexican city named Puebla back in the 17th century.
In the present day, rompope is available in Mexico throughout the year and there are well-known commercial brands that sell it. However, locals make this at home often.
Though rompope is described as a holiday drink, Mexicans serve this at family gatherings and small celebrations. This drink's consistency makes it includible in desserts too.
Coquito is considered a Puerto Rican relative of rompope.
Ingredients:
Milk – 2 cups
Brandy – ⅓ cup
Egg yolks – 6
Sugar – 8 tbsp
Cinnamon stick – 1
Baking soda – a pinch
Directions:
Bring milk to a boil along with cinnamon and sugar in a medium saucepan over low heat.
Simmer for 20 minutes. Remove the cinnamon stick and let the milk cool down completely.
In a mixing bowl, take the separated egg yolks (save the whites for another recipe) and beat them with a mixer till then turn smooth.
Turn the mixer to slow speed and pour the boiled milk. Mix it for a minute.
Prepare a large pot with water and ice. Set aside.
Heat another pan and pour the eggs and milk mixture. Stir it continuously. The temperature should not exceed 180° F. Check with a thermometer.
When you see bubbles, turn it off.
Shift the hot pan onto the ice water in the large pot. The drink will cool down.
Pour the brandy slowly and mix well.
Serve cold.
Tip 1: If you love vanilla flavor, add a few drops of vanilla extract to the milk before boiling.
Tip 2: You can top your rompope with nuts like pecans and walnuts.
Tip 3: You can use rompope as a topping to gelatin cheese cakes.
---
These famous Mexican drinks are refreshing and keep up the spirit of your party. You can also try alternatives as stated in the bonus tips.
Anyway, you'd surely hear "La fiesta estuvo buenísima." from your guests.
Do let us know which of these is your party elixir.