Breakfast is the most important meal of the day, but eating the same breakfast every day, makes it quite boring.
A great breakfast should not only fill your tummy but also your soul. And for that, what's better than a diverse cuisine like Mexican?
If you think Mexican cuisine is all about burritos, tacos, and tortillas, you are mistaken. We know it is a pain to find a place that serves authentic Mexican breakfast.
Try these 25 delicious Mexican breakfast recipes at home and devour something new every morning.
You won't ever want to skip breakfast again.
1. Huevos Rancheros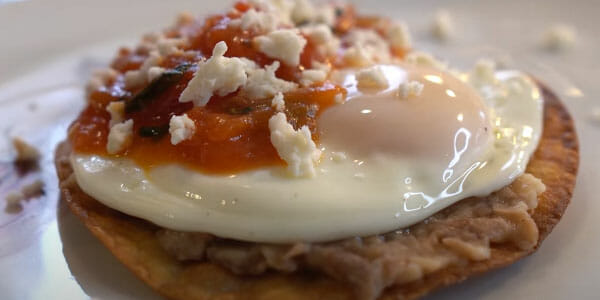 True fans of Breaking Bad know this well. Maybe not the recipe, but the dish. In Spanish, huevos rancheros mean 'eggs in ranch-style'.
This dish consists of fried eggs served on tortillas topped with a salsa coating.
Usually served on rural Mexican farms, huevos rancheros' is found in every Mexican cookbook.
Ingredients:
Oil – 2 tbsp
Eggs – 4
Corn tortillas – 4
Chopped onions – ½  cup
Chopped Roma tomatoes – 2 cups
Tomato sauce – 4 oz
Sliced jalapeno chiles – 1
Sliced red capsicum – 1
Chopped cilantro – ½ cup
Bay leaves – 2
Garlic salt – 1 tsp
Cumin – ¼ tsp
Oregano – ¼ tsp
Directions:
Heat oil in a pan, add chopped onions and jalapenos and cook for 3 minutes.
Add tomatoes, garlic, and salt. Cook for 2 minutes.
Add tomato sauce and mix it. Now, drop some cilantro and a bay leaf. Reduce the flame to the lowest and cover it with a lid and simmer for 5 minutes.
After 5 minutes, check the salt and adjust. Remove the bay leaf and transfer your salsa to a bowl.
To the same pan, add oil and after it's hot, add beans. Mash them and set aside.
In a pan, add a tablespoon of oil and fry tortillas in it.
On each tortilla, spread a generous amount of beans and set them on a plate.
Make a fried egg in the pan and put it on top of the beans on each tortilla.
On top of the egg, place a spoonful of salsa and top it with queso fresco.
Tip: You can serve them alongside refried beans.
---
2. Red Chilaquiles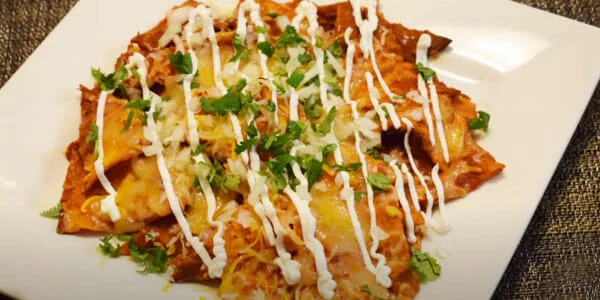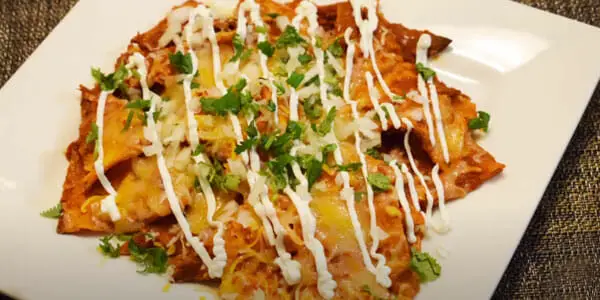 Chilaquiles are considered a traditional Mexican breakfast option and a favorite to many.
You can find them anywhere in Mexico (and also at your home because now you'd know how to make them in 20 minutes). If you have leftover tortillas, they're welcome to this chilaquiles party.
Ingredients:
Corn Tortillas – 2 lbs
Dry chilies – 15
Tomatillos – 6
Garlic Cloves – 1
Chopped onion – ¼ cup
Cilantro – ¼ cup
Mexican cream
Water
Salt and pepper – to taste
Directions:
Preheat the oven to 400 degrees Fahrenheit and bake tortilla chips for 10 minutes. (Spread them on a baking tray and brush them with oil). You can also fry them in oil and follow this recipe.
For the salsa, roast dry chilies and transfer them to a bowl. Soak them in hot water for 10 minutes.
Roast tomatillos till they become soft. Blend the roasted tomatillos, dry chilies, cilantro, garlic, half an onion, dry chili water, clean water, salt, and pepper.
Pour this sauce in a preheated pan and bring it to a boil.
When you see the bubbles, add tortilla chips and toss them together without breaking the chips. Add cheese and close the pan with a lid.
Wait till the cheese melts, and turn the flame off.
Top it with onions, cilantro, and a good drizzle of Mexican cream. Dig in!
---
3. Mexican Breakfast Casserole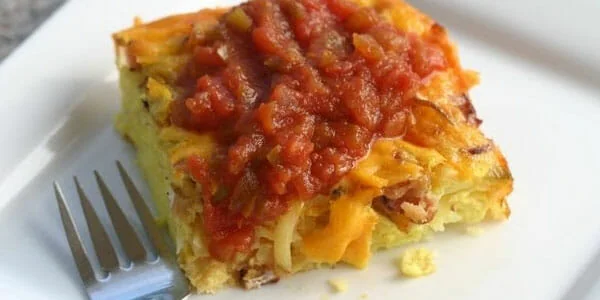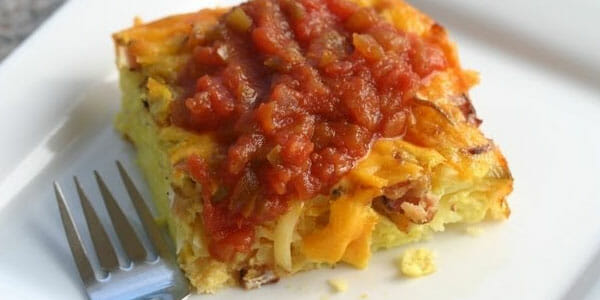 If you think Mexican breakfast casserole is hard to make, naaaah. You can make it in minutes and give it some time to get baked.
If you're running out of time in the morning (which is also why you're skipping breakfast), make this casserole a day ahead.
Ingredients:
Frozen hash brown potatoes – 1 box
Eggs – 12
Water – ½ cup
Mild cheddar cheese – 11/2 cups
Diced green chillies – ½ cup
Salt and pepper – to taste
Directions:
Grease the baking tray with butter.
Make the bottom layer by covering the tray completely with hash browns. Sprinkle salt and pepper if your hash browns aren't seasoned.
Add chiles and ¾ cup of cheese.
In another bowl, whisk eggs, water and ¼ cup of chiles.
Pour this mixture in the baking tray evenly.
Cover it with a foil and bake at 350°F for 45 minutes. Check that the toothpick comes out clean when inserted.
Cut it into pieces with a spatula and serve with salsa.
---
4. Mushroom Shakshuka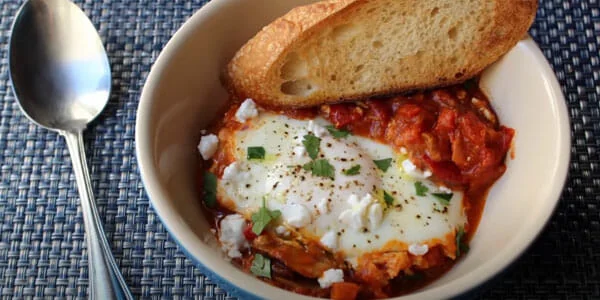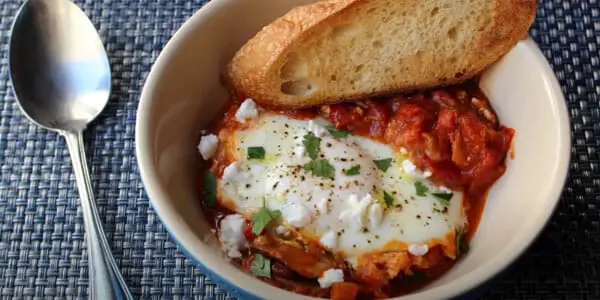 Mexican mushroom shakshuka. That sounds a mouthful, but this is a one-pan breakfast that you can make without messing up your kitchen. Have to make more servings? Pick a large pan to bake this beauty. Though the traditional recipe omits mushroom, adding it gives your shakshuka a nice touch.
Oh, by the way, this goes well with the next Mexican brunch you're planning.
Ingredients:
Oil – 2 tbsp
Eggs – 6
Crushed plum tomatoes – 3 cups
Chopped onion – 1 cup
Sliced mushrooms – ½ cup
Chopped red bell peppers – 1 cup
Deseeded and sliced jalapeno pepper – 1
Cumin – 1 tsp
Paprika – ½ tsp
Cumin – ½ tsp
Turmeric – ½ tsp
Black pepper – ½ tsp
Cayenne – ¼ tsp
Water (or broth) – ½ cup
Salt and pepper – to taste
Crumbled feta cheese – for garnish
Directions:
Add oil to a preheated pan.
Add onion, mushrooms and salt. Cook them for 10 minutes. The mushrooms should start to brown.
Add peppers (both Serrano and Jalapeno) and cook till they are softened.
Add cumin, paprika, chili powder, turmeric, cayenne and black pepper. Stir in those spices for 2 minutes.
Add crushed tomatoes and simmer for 20 minutes. When it starts to get thick, add water. Simmer on medium heat for 15 minutes.
Time to add eggs! Make dents in your shakshuka and drop an egg in each.
Cover with a lid and keep a check on the eggs.
When they're about to be done, do the final touch-up of topping with crumbled cheese and cilantro, and drizzling a few drops of oil.
Turn the flame off and let it sit for 2 minutes. The cheese will melt and the eggs will get done.
---
5. Quesadillas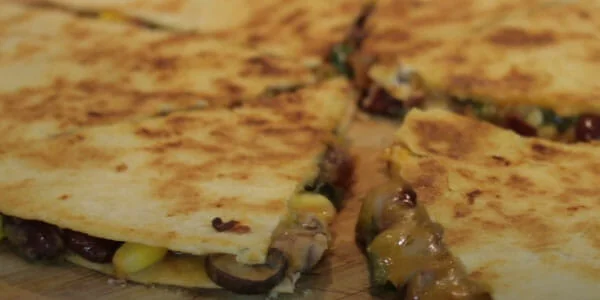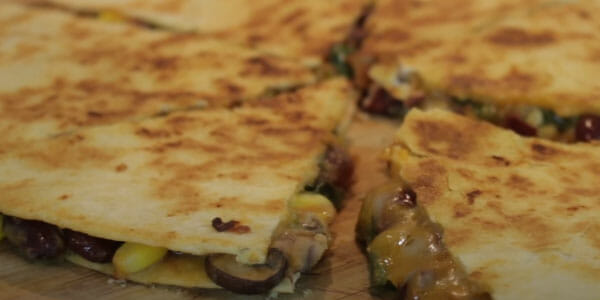 Wanna go cheesy? Quesadillas have it in their name. Queso means cheese, and this ingredient is the reason we drool over the thought of a quesadilla.
Ingredients:
Butter – 3 tbsp
Chopped onion – ½ cup
Chopped garlic – 2 cloves
Spinach – ½ cup
Mushrooms – ½ cup
Frozen corn – 1 cup
Kidney beans – 16 oz
Shredded Mexican cheese – 1 ½ cups
Tortillas – 4
Salsa – ½ cup
Salt – to taste
Directions:
Melt a glob of butter in a preheated pan.
Fry onions and garlic. Add mushrooms, kidney beans, corn, and salsa. Give this quesadilla mixture a nice stir and add salt to taste.
Heat a tortilla with butter. When it's still on the flame, spread cheese and quesadilla mixture. Add more cheese (because it's a quesadilla) and cover with another tortilla.
Press the edges so they stick together.
Cook evenly on both sides.
Cut into quarters and serve hot with salsa.
---
6. Mexican Breakfast Burritos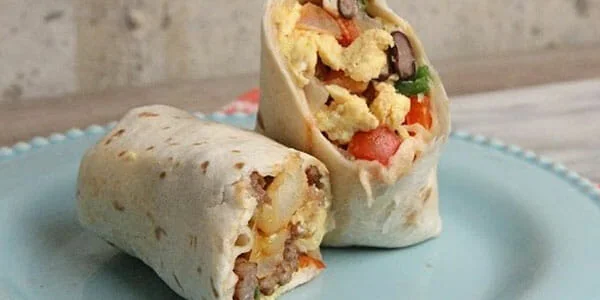 Many fast-food restaurants sell breakfast burritos but nothing beats the taste of a proper homemade breakfast burrito. All you need to do is follow the authentic recipe.
You can also get a little creative with what you want to stuff inside the wrap. Mexican breakfast burritos are easy to make and scrumptious to eat.
Ingredients:
Oil – 2 tbsp
Tortillas
Eggs – 6
Milk – ½ cup
Breakfast sausage – 8 oz
Cooked black beans – 1 cup
Shredded cheddar cheese – 1 cup
Chopped onion – ½ cup
Chopped red bell pepper – 1 tbsp
Chopped baked potato – ½ cup
Chopped cilantro – ¼ cup
Salt and pepper – to taste
Directions:
In a preheated pan, add oil and cook sausage in it. Break it into small chunks while it's getting soft and set aside in a bowl.
Clean the pan with a paper towel and add a tablespoon of oil. Cook onions and peppers until they are soft.
In a mixing bowl, whisk eggs, milk, salt and pepper. Pour this liquid into the pan and stir continuously.
When the eggs are done, add cilantro and keep stirring.
Now assemble your burrito. Heat tortillas on a pan or in an oven. On each tortilla, place the eggs in the center and put sausage, onion and peppers. Drizzle some hot sauce and sprinkle shredded cheese.
Fold the tortilla to the center making sure it is tight. Send them into the oven for 5 minutes and serve hot.
---
7. Breakfast Enchiladas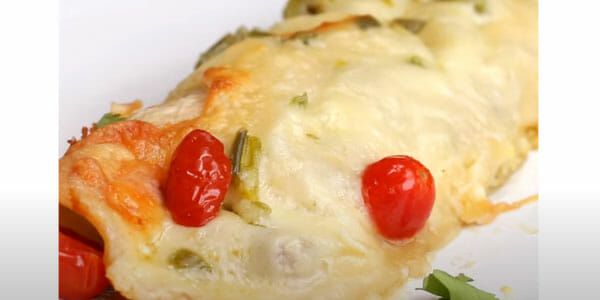 Enchiladas are a versatile breakfast dish from Mexico. Originally, enchiladas began as tortillas dipped in chili sauce.
But soon, they evolved and now they are filled and topped with a wide range of ingredients.
Ingredients:
Hot ground pork sausage – 1 lb
Tortillas – 5
Beaten eggs – 7
Chopped onions – 2 cups
Chopped green pepper
Chopped jalapeno
Halved cherry tomatoes
Butter – 2 tbsp
Chopped cilantro – 2 tbsp
Directions:
In a preheated thick-bottomed pan, melt butter and add the floor. Add milk, whisk it and bring it to a thick consistency. Add shredded cheese and jalapeno. (You can use store-bought cheese sauce but making it is not a huge task.)
In another pan, melt butter and add onions, bell pepper, and cilantro. Fry them for 5 minutes and pour the beaten eggs. Cook it like scrambled eggs and season with salt and pepper. Add ground pork sausage and some cheese sauce. Mix them well.
Spread this mixture on heated tortillas. Roll each tortilla to the center.
Transfer the stuffed tortillas to a baking tray. Pour the remaining cheese sauce and top them with cherry tomatoes and bell pepper. Bake this at 350°F for 25 minutes.
---
8. Pan Dulce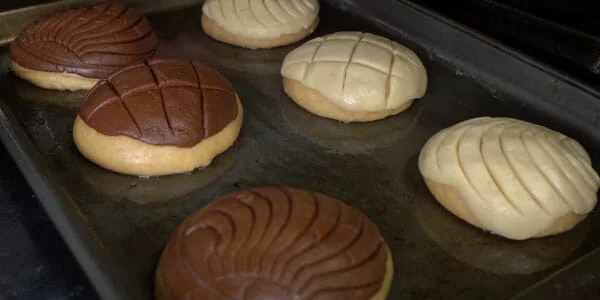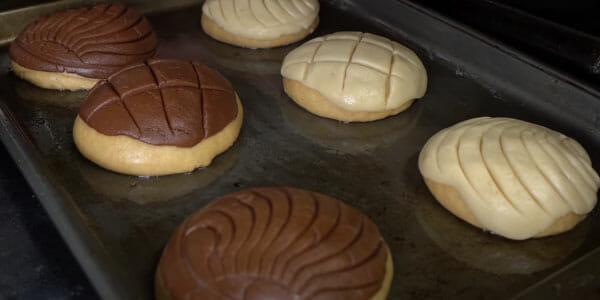 Sweet bread, that's what pan dulce means. When Europeans and the French brought baked goodies to Mexico, Mexican chefs took things into their own hands and created many baked foods and one of their yummy creations is this pan dulce.
The shop versions of pan dulce have a shell-shaped top, hence called conchas. You can recreate the shape with a kitchen knife if you don't have a cutter. Pan dulce goes well with a cup of hot coffee.
Or, have it with a hot chocolate, if you're feeling fancy.
Ingredients:
All-purpose flour – 4 cups
Sugar – ¾ cup
Salt – ½ tsp
Eggs – 1
Melted unsalted butter – 8 tbsp
Evaporated milk – 1 cup
Active yeast – 1 tbsp
Cinnamon – 1 tbsp
Anise extract – 1 tbsp
Vanilla blend – 1 tbsp
Butter
Directions:
Melt butter, warm up the evaporated milk and beat the egg.
Take flour in a large bowl and add sugar, cinnamon, yeast, and mix them.
Add the beaten egg followed by butter and vanilla blend.
Knead the dough until it loses stickiness by adding evaporated milk in steps.
Grease the dough with butter and seal it with a plastic sheet. Rest it for an hour.
For the vanilla topping, add butter, sugar, flour, and vanilla blend into a fine paste. Wrap it in a plastic sheet and set it aside.
Grease the baking tray with butter. Make small balls of dough, place them on the tray, and press them a little.
Time to top our bread! Make a flat sheet of vanilla toppings and press it on the pressed dough balls. Use a cutter or a knife to carve the shell-shape.
Let them sit for 30 minutes to allow them to rise.
Send the tray into the preheated oven at 320°F and bake for 20 minutes. Your pan dulce should be golden brown and smell appetizing.
---
9. Horchata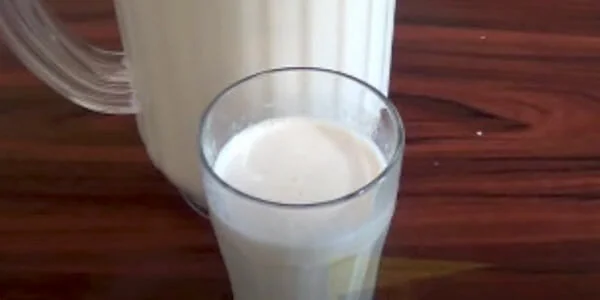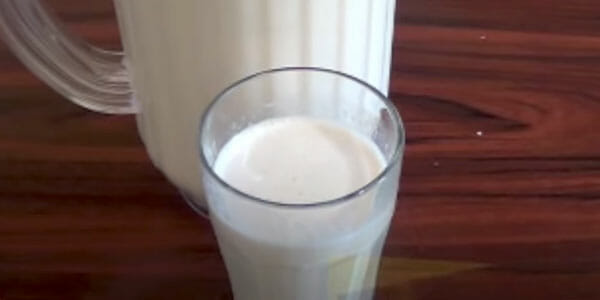 If you've sweated a lot in the gym, have a glass of horchata for your breakfast to recharge your body. Mexican horchata is a beverage and there are syrups to make horchata by simply adding water.
But making it from ingredients available in your kitchen is easier too. It tastes like dessert, but all the natural ingredients make it healthier than you think.
Ingredients:
Rice – ¾ cup
Water – 3 liters
Ground cinnamon – 1 tsp
Vanilla essence – 1 tsp
Evaporated milk
Condensed milk – to taste
Directions:
Soak rice in warm water for 2 hours.
Drain the rice and put it in a blender. Add vanilla essence, evaporated milk, condensed milk, and cinnamon. Blend it for 2 minutes.
In a large jar, take water and add ice cubes to it.
Transfer the blended liquid into this cold water jar. Give it a little mix and pour yourself a glass of authentic horchata.
If you want it sweeter, add another cup of condensed milk.
---
10. Churros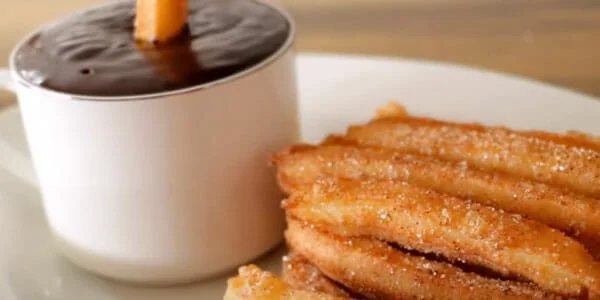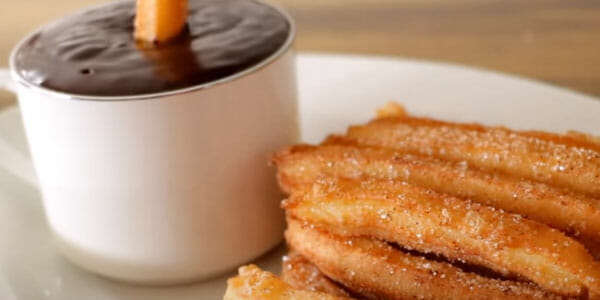 C for Cravings. C for Churros.
Churros are sweet treats that shouldn't be confined to desserts. Many cafes sell them for breakfast or you can eat them as a day-snack. A dab of oil to your palms will make you a best friend to the dough and you can make a crispy yet chewy breakfast.
Like beauty, churros too can come in all shapes and all sizes.
Ingredients:
Water – 240 ml
All-purpose flour – 125 g
Butter – 110 g
Dark chocolate – 200 g
Heavy cream – 1 cup
Eggs – 3
Oil – 1 tsp
Cinnamon – 1 tsp
Salt – ¼ tsp
Sugar – 1/4 cup for coating
Directions:
Take water in a preheated pan, add sugar, salt and butter. Reduce the flame after it hits a boil.
Add flour and mix it, avoiding lumps. Gotta be real quick. Add eggs to your dough.
Fill this in a pastry bag with a star nozzle.
Heat oil enough for frying in a deep pan.
Pipe strips of dough in piping hot oil, and fry them till golden brown.
Transfer them to a paper towel to drain excess oil.
In another bowl, mix powdered sugar and cinnamon. Roll the churros in this while they're still hot.
To make the chocolate dip, mix dark chocolate with hot heavy cream. Keep stirring till it looks smooth and glossy.
Serve churros with this chocolate dip by their side.
---
11. Breakfast Tacos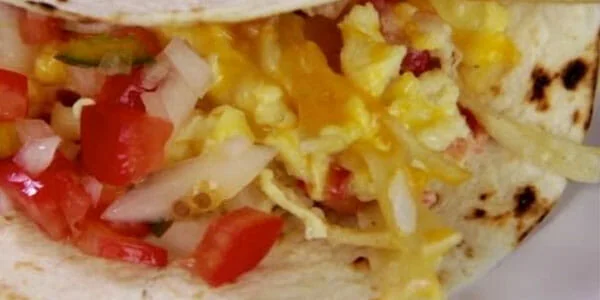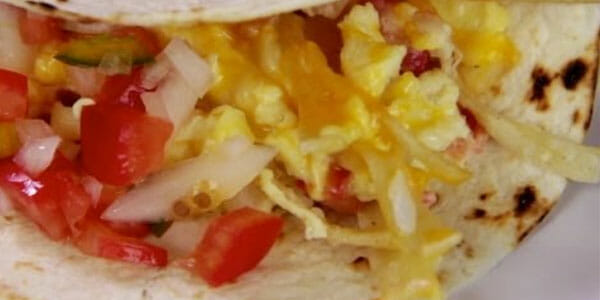 When talking about Mexican food, tacos can't slip our minds. Make them with vegetables or meat, you can do it all.
You can find tacos in any store, and this recipe is easy to make. Do we have to convince you more to try this?
Ingredients:
Corn tortillas (cut into strips) – 3
Flour tortillas – 4
Eggs – 4
Cheddar cheese – ½ cup
Diced Roma tomatoes – 1
Minced onions – 2 tbsp
Minced jalapeno – 1 tbsp
Butter – 1 tbsp
Directions:
Add tomatoes, onions, and jalapenos in a bowl.
Preheat a pan and melt butter.
Fry the corn tortilla strips till golden and transfer them on to a paper towel. Sprinkle some salt to season.
To a pan, add a glob of butter and pour the beaten eggs.
When they're half-cocked, add in your veggies.
As they're set, add tortilla strips and cheese.
Toast a flour tortilla and place the eggs scramble on it. If you like it cheesy, top with more grated cheddar cheese.
---
12. Huevos a la Mexicana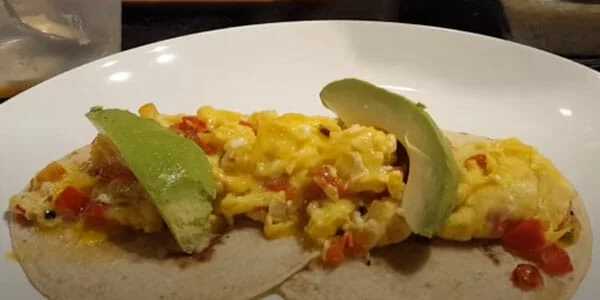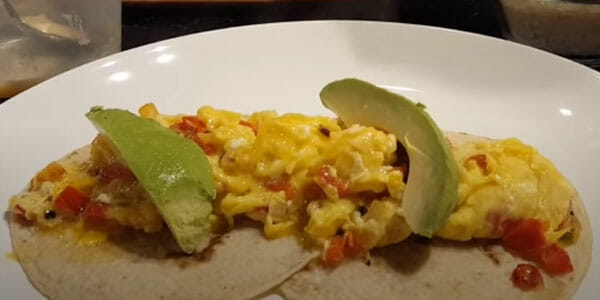 Huevos a la Mexicana, which means "eggs in Mexican style", is another breakfast featuring eggs. This is served in Mexican homes and is available almost in every Mexican restaurant.
You can make these jalapeno chiles if you don't have serrano chiles at hand. If you see any dish with the name 'a la Mexicana' take it for granted that serrano chile is one of its ingredients.
Ingredients:
Eggs – 8
Chopped tomatoes – 1
Chopped Serrano peppers – 3
Chopped onions – ½ cup
Butter – 3 tbsp
Salt and pepper – to taste
Directions:
Melt butter in a preheated pan.
Add tomatoes and cook them for 5 minutes.
When the tomatoes are soft, add the onions and Serrano peppers. Cook till the onions are golden brown.
Time to add your eggs. Crack them open into the veggies and stir it. Season more if needed.
Serve warm.
---
13. Tamales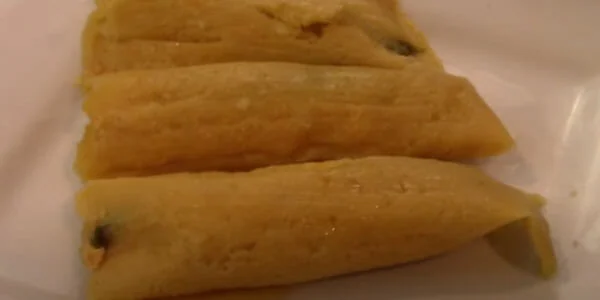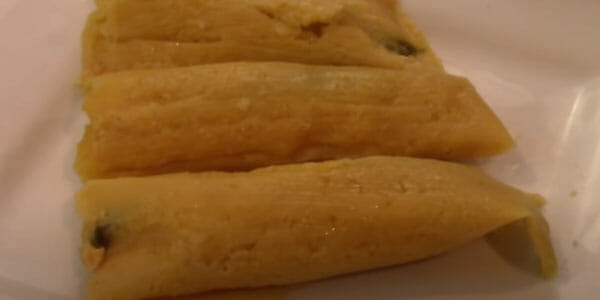 Who knew that unwrapping a plantain leaf (or a corn husk) can open your doors to a flavorful blast? We're talking about tamales. These are one of the ancient Mexican foods, well, older than Mexican breakfast 1969 (pun intended).
There are innumerable variations even in the traditional tamales recipe and it is hard to call only one a favorite. Sweet, spicy, tangy, you name it!
Ingredients:
Corn kernels – 2 cans
Yellow cornmeal – 2 cans
Corn husks
Coconut oil – 7 tbsp
Baking powder – 1 tsp
Quesadilla cheese – 8 oz
Sliced Pickled Jalapenos – to taste
Vegetable (or chicken) broth – ¼ cup
Salt – to taste
Directions:
Soak corn husks for 30 minutes in warm water.
Make masa by blending corn kernels with broth.
Season masa with salt. Add baking powder and cornmeal and blend it again. The dough should be thick and non-sticky.
Spread 2 tablespoons of the dough on half of the corn husk's surface without touching the edges.
Place a strip of cheese and pickled jalapeno slices in the center.
Fold the corn husk into half vertically and roll it toward the center.
Wrap a thin strip of corn husk around the tamale. (Aesthetics!)
Place tamales in a steamer and cook for 1½ hour. That's quite long, but worth it.
Let the tamales cool down for 10 minutes and unwrap your delicious presents.
---
14. Breakfast Entomatadas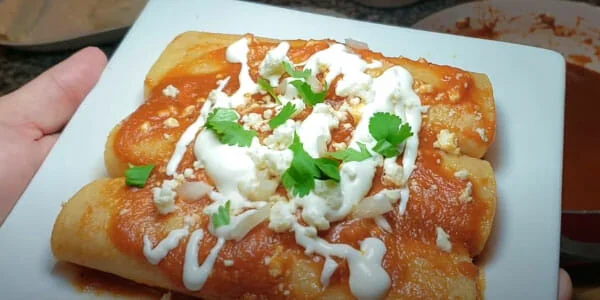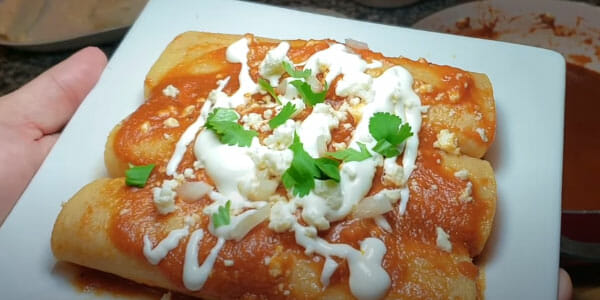 Breakfast Entomatadas go well as a weekday's breakfast or weekend brunch. The dish consists of tortillas dipped in tomato sauce.
These are slightly similar to enchiladas in base preparation. If you think a mere sauce can't make a difference, try entomatadas to change your view.
Ingredients:
Yellow corn tortillas – 14
Roma tomatoes – 4
Crushed (pureed) tomatoes – 18 oz
Chopped Onion – ¼ cup
Crushed garlic cloves – 3
Chicken bouillon powder – 1 tbsp
Black pepper – ¼ tsp
Ground cumin – ½ tsp
Onion powder – ½ tsp
Garlic powder – ½ tsp
Queso Fresco – 14 oz
Fresh (or sour) cream
Avocado
Lettuce
Directions:
Add tomato puree to a preheated pan and let it sit on the flame for a while. As it thickens, add cumin, onion powder, garlic powder, chicken bouillon powder, and salt to taste. Set it aside.
Shallow fry the tortillas till they're slightly crispy.
Spread the tomato sauce on the fried tortilla. Place a strip of cheese and some onions and roll the tortilla.
Top it with more cheese, sauce, and cream.
---
15. Mexica Style Quiche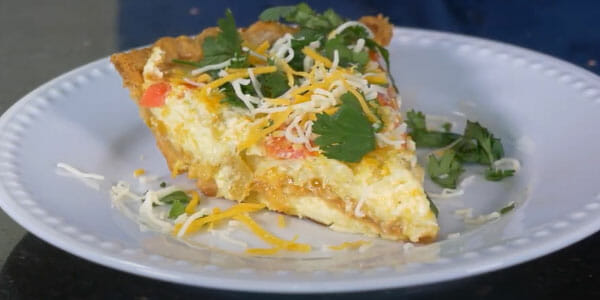 Quiches are French, but what if we tell you can make a Mexican quiche? This differs from the conventional quiche in the usage of green chilis and other Mexican cheese.
Well, you can follow this recipe to achieve that quiche with a spicy Mexican twist.
Ingredients:
Frozen pie crust – 1
Eggs – 3
Chopped onions – ¼ cup
Chopped Roma tomato – 1
Mexican cheese – 1½ cups
Green enchilada sauce – 3 tbsp
Flour – 2 tbsp
Salt – to taste
Directions:
Poke holes in frozen pie crust and place it in a preheated oven at 375 degrees F for 10 minutes or until it turns golden brown.
In a preheated pan, melt butter and saute onions and add green chilis.
Add a layer of cheese in the browned pie crust and bake for 10 minutes to make the pie crust sog-proof.
Lay half of the green enchilada sauce in the crust. Follow it with some cheese and then tomatoes.
Pour beaten eggs and add another layer of tomatoes. Drizzle the remaining enchilada sauce (and optionally some cheese).
Cut the third tortilla in quarters and use them around the sides. Coat them with egg wash too.
Bake for 35 minutes and season it when warm.
Cool for 5 minutes and serve.
---
16. Vegan Tostadas with Guacamole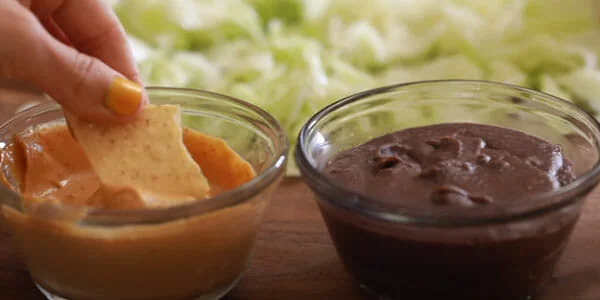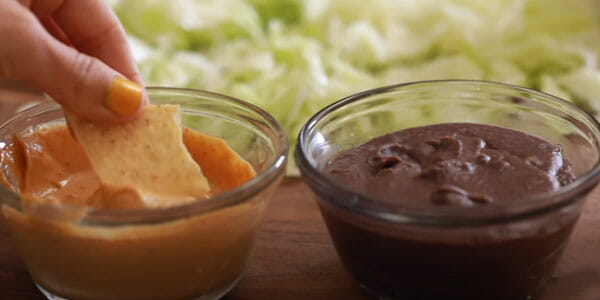 Have a guilt-free (more guilt-free if you choose low carb tortillas, but regular tortillas are fine if carbs have nothing to do with you) breakfast.
Besides, these are vegan and take less than 20 minutes to make. You can eat the tostadas with guacamole or save the guacamole for another breakfast.
Ingredients:
Tostada chips
Black beans
Cashews – ¾ cup
Yeast – 3 tbsp
Cumin – ½ tsp
Chili powder – ¼ tsp
Garlic powder – ¼ tsp
Chipotle in adobo – 1 tbsp
Chopped tomatoes – ½ cup
Chopped red onion – ½ cup
Diced yellow peppers – 2
Ripe avocados – 3
Lime – 1
Chopped cilantro – 2 tbsp
Salt – to taste
Directions:
Blend cashews, nutritional yeast, salt, cumin, chili powder and garlic powder. Reserve a small portion of this powder for sprinkling in the end.
To the remaining powder in the blender, add chipotle in adobo and olive oil. Blend it by adding little water until it gets to nacho cheese consistency.
For the guacamole, take a large bowl and add the flesh of avocados. Squeeze in the lime juice, add onions, yellow peppers, cilantro and salt. Give that a good mix until it is smooth.
Time to plate your tostadas.
Spread a spoon of black beans on the tostada. On that, spread a layer of vegan nacho cheese. Add a few long slices of avocado. Top with onion, tomato, lettuce and some vegan nacho cheese again.
Sprinkle the reserved powder to finish.
---
17. Traditional Mexican Molletes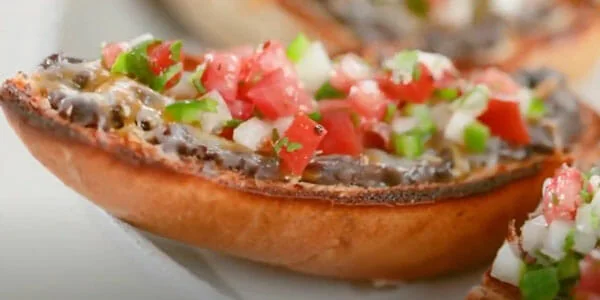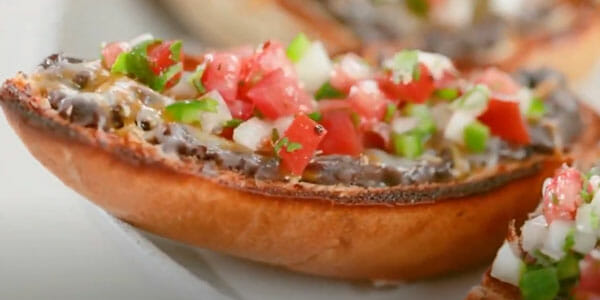 Ask a Mexican about their popular breakfast choices and you would surely hear 'Molletes!'. These are inexpensive and require less prep.
A mollete is an open Mexican sandwich usually made with French bread and toppings like cheese and jalapeno. There is also a sweet version of mollete made by sprinkling sugar before broiling.
The next you think of making a sandwich for breakfast, make molletes for that Mexican touch.
Ingredients:
Black Beans – 15 oz
Shredded pepper jack cheese – 1 cup
Shredded cheddar cheese – 1 cup
Horizontally sliced bread rolls – 3
Cotija cheese – ½ cup
Black beans with liquid – 15 oz
Garlic powder – ½ tsp
Onion powder – ½ tsp
Cumin – ½ tsp
Chipotle powder – ½ tsp
Oregano – ½ tsp
Kosher salt – ½ tsp
Black pepper – ¼ tsp
Seeded & diced plum tomatoes – 2
Diced white onion – ½
Seeded and diced jalapenos – 1
Like juice – 5 spoons
Chopped cilantro – ¼ cup
Kosher salt – ½ tsp
Directions:
Heat a pan and add black beans to it
Add ground cumin, chipotle powder, onion powder, garlic powder, and Mexican oregano. Stir it until the water evaporates.
After the water level is down, mash this mixture with a spatula or a masher.
For pico de gallo, marinate chopped onion with lime juice. Add plum tomatoes, jalapenos, and cilantro. Give it a mix and let it sit for 15 minutes.
Toast the bread roll halves, fill each with beans and top with shredded cheddar cheese. Broil till the cheese melts.
Finish by topping with pico de gallo and cotija cheese.
---
18. Mexican Migas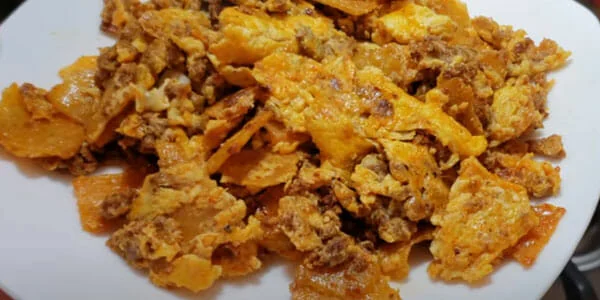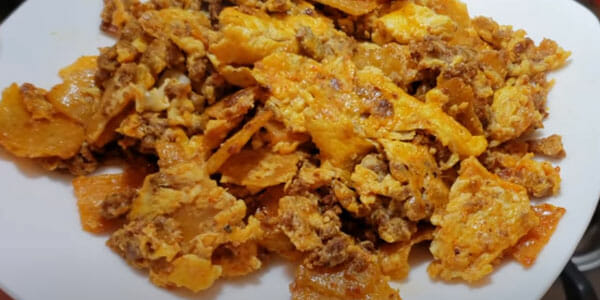 Calling it by its complete name is important as Mexico City Migas and Tex-Mex Migas are different dishes. Keep this in mind while ordering at a restaurant and thank us later.
Remember, we talked about chilaquiles being a traditional breakfast dish? Mexican Migas also belongs to the same category and is relatively cheap. Eggs and tortillas can't be together in a simpler way than this.
Ingredients:
Corn tortillas – 4 (cut them into small pieces)
Eggs – 2
Butter
Oil
Salt and pepper – to taste
Directions:
Pour oil in a preheated pan.
Toast tortilla chips until they are crispy.
Add a small chunk of butter, followed by beaten eggs.
Let your eggs cook like a scramble.
Season your Mexican migas with salt and pepper.
Tip: You can top these with hot sauce or cheese if you like to.
---
19. Gorditas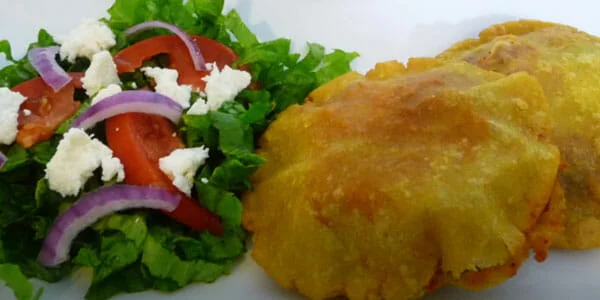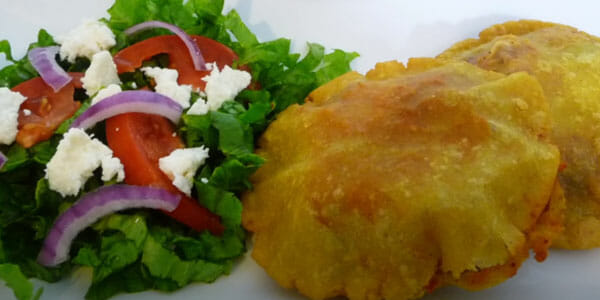 In Spanish, Gorditas means 'little fatties' or 'chubbies'.
Gorditas look like your everyday breakfast until your taste buds get a hold of their characteristic flavor. They are filled with spicy stuffings, but like most of the recipes, you can customize it.
We would recommend you to stick by spicy filling to get their authentic taste. If you're on a diet, make the stuffing with low-carb vegetables. But don't miss gorditas.
Ingredients:
Maseca (Corn Flour) – 2 cups
All-purpose flour – ¼ cup
Baking powder – 1 tbsp
Salt – 1 tsp
Water – 1½ cups
Oil – enough for frying
Directions:
Combine the dry ingredients in a large bowl.
Knead it into a soft and non-sticky dough by adding warm water slowly.
Make small balls with the dough and roll them slightly thicker than a tortilla.
Heat oil in a pan and fry the gorditas till they puff up. It takes 1-2 minutes for each gordita. Be quick to make sure you don't burn them.
Slice them till halfway and stuff them with fillings of your choice (refried beans and cheese/ beef and potato/chorizo and eggs). This is how you eat leftovers in style.
---
20. Mexican Omelette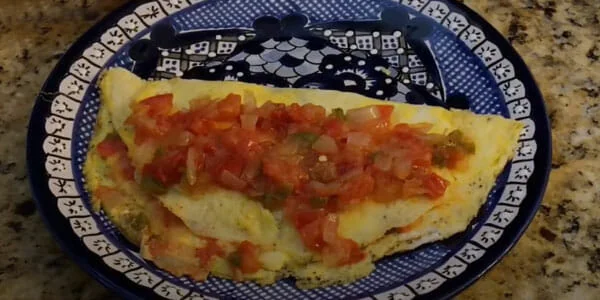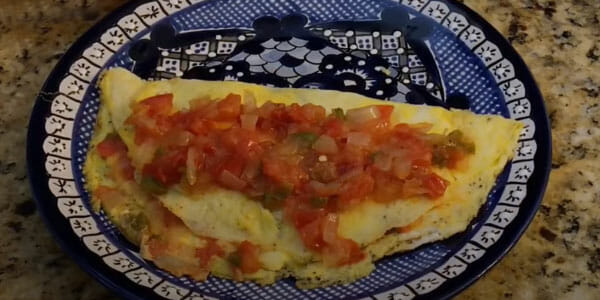 Omelette is a perfect meal for any time of the day. It boosts your body with protein and calcium. Plus, it's super easy to make one.
Eggs, veggies, and some generous amount of cheese are all it takes. Well, there are many ways to make an omelette. So why not go Mexican with it?
A Mexican omelette topped with salsa must be on your breakfast menu.
Ingredients:
Whole eggs – 3
Chopped red tomatoes – 1
Chopped Onions – ½ cup
Chopped Peppers – ½ cup
Oil – 1 tbsp
Salt – to taste
Pepper – to taste
Directions:
Start by heating oil in a pan over medium heat.
Add in your veggies and let them cook till they lose moisture. Season them with salt and pepper.
Whisk the eggs in a bowl, pour it on a heated pan and cook it for 5 to 8 minutes.
Top it with some cooked veggies, and fold it to half with a spatula.
Finish by topping the loaded omelette with the remaining veggies mixture and dig in.
Tip: You can also top the Mexican omelette with Mexican cheese or salsa.
---
21. Sopaipillas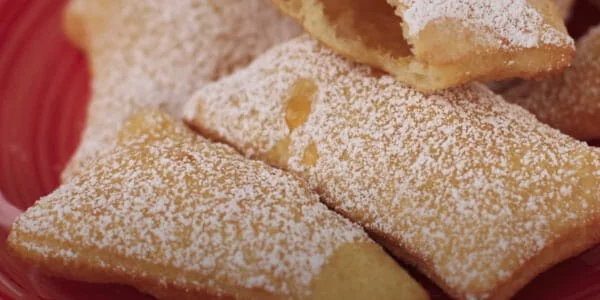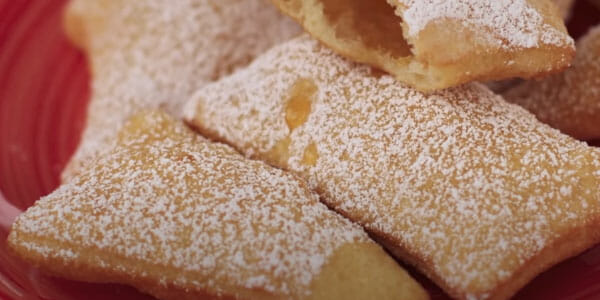 Ever craved something sweet for breakfast? This post wants to bring not just new recipes but different tastes to your breakfast table. So, presenting you, Mexican sopaipillas.
These appetizers are also one of the best desserts from Mexico, and they're acceptable for breakfast. Serve them with a scoop of vanilla ice cream or honey, or eat them as they are.
Ingredients:
Flour – 1 cup
Baking powder – ¾ tsp
Oil – 1 tsp
Salt – ½ tsp
Warm water with a spoon of oil – 3 oz
Powdered sugar
Honey
Directions:
Add salt and baking powder to the flour and knead it to a smooth texture with warm water and oil mixture.
Cover it with a damp cloth for 20 minutes.
Heat oil in a pan for frying your sopaipillas.
Roll the dough on the kitchen counter and cut it into 2 inch thick rectangles (well, any shape you'd like).
Fry them till they turn golden brown on both sides
Transfer them on to a paper towel to remove excess oil.
Dust with powdered sugar and serve warm with honey. Sopaipillas are best eaten hot.
---
22. Huaraches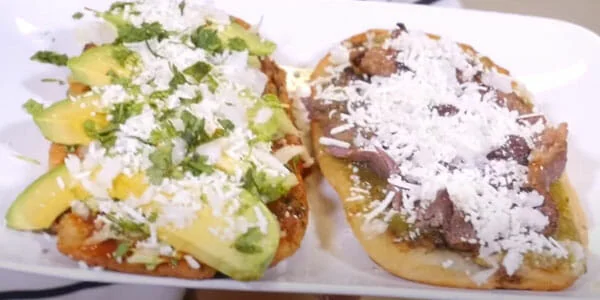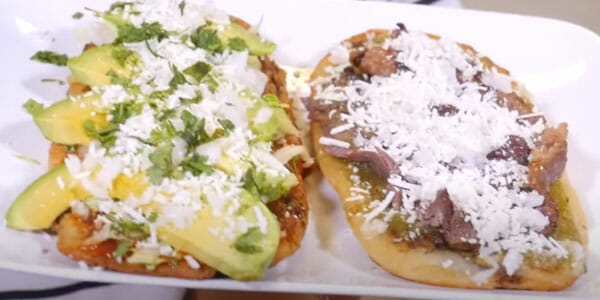 No, not the sandals. Huaraches get their name from the peculiar sandal shape, though. This dish consists of an oval-shaped tortilla topped with a variety of vegetables and mushrooms.
Huaraches are sometimes paired with fried cactus but we think they're awesome in any way. According to history, huaraches evolved from tlacoyos. We love them both.
Ingredients:
Maseca ( or cornflour) – 1½ cup
All-purpose flour – ¼ cup
Boiled (not refried) black beans – 1 cup
Crumbly cheese – ¼ cup
Oil – 5 tbsp
Lard – 3 tbsp
Salt – to taste
Green salsa
Red salsa
Vegetarian Toppings: Avocado, lettuce, chopped onion, cheese, and cilantro.
Meat toppings: Steak (or meat of your choice, chopped onion and cheese).
Directions:
Boil beans, drain water and mash them. Set aside.
 Take cornflour, all-purpose flour, a pinch of salt in a mixing bowl and knead them into a soft dough by adding warm water.
Wet your palms and shape it into an oval. Make a dent in the middle and place beans paste and cheese in it.
Seal the edges and make it flat. (You can do this by wrapping it in an oiled plastic sheet.)
Brush a pan with oil and cook the huarache for 5 minutes by sprinkling water in between.
Heat lard on another pan and fry the cooked huaraches in this.
Time to plate. Place your huaraches and top each with green salsa or red salsa followed by a topping of your choice. (Green salsa goes well with meat toppings and red salsa tastes best with vegetarian toppings like avocados and lettuce).
---
23. Chorizo Tlacoyos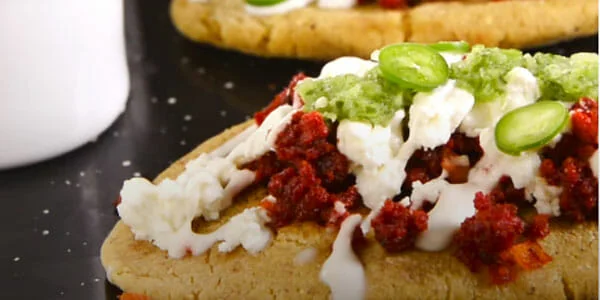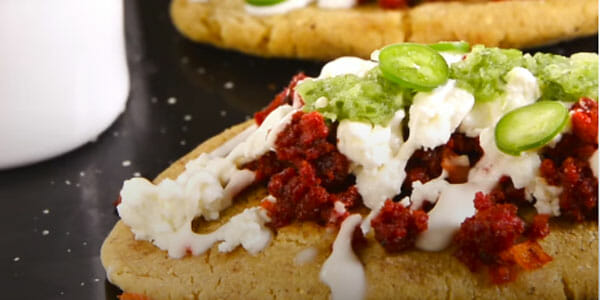 Tlacoyos are known by other similar-sounding names like clacoyos, tlayoyos, tlatloyos, okay, we'll stop the confusion. Let's go with tlacoyos.
Tlacoyos are considered an alternate version of the Huaraches as they are stuffed heavily and topped with fresh salsa.
Though tlacoyos are sold with other toppings, the traditional version swears by salsa. Masa is its key ingredient.
Ingredients:
Masa flour – 1 cup
Warm water – ½ cup
Refried beans – ½ cup
Chorizo – 2 cups
Onion – ½ cup
Grated cheese (optional)
Oil
Directions:
In a pan, fry chorizo and onion for 5 minutes.
Mix flour and water in a bowl to make the dough.
Take a small portion of dough and press it into a slightly thick tortilla.
Put a spoon of refried beans and seal it like a taco. Press it a little to make it flat.
Brush a pan with oil on medium heat
Place your tlacoyo and let each side get cooked for 5 to 8 minutes.
Add enough oil for deep frying in another pan and deep fry the cooked tlacoyos.
Place them on the serving plate and top them with cooked chorizo and onions. Sprinkle some cheese and let them sit for 2 minutes for the cheese to melt.
---
24. Mangonada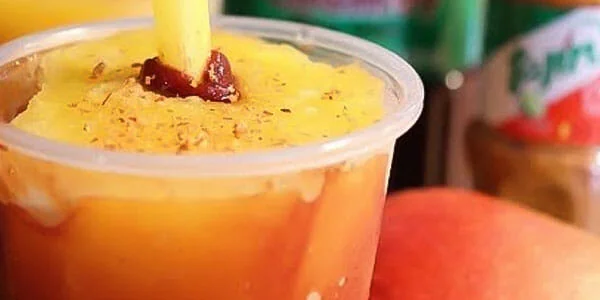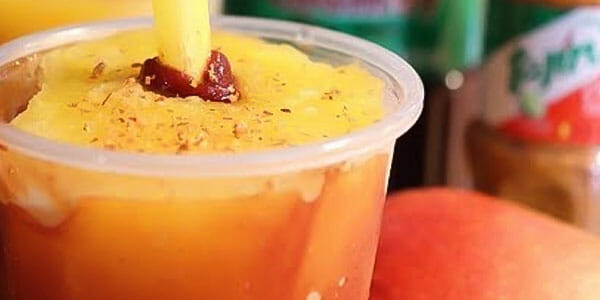 Looking for something cool and healthy? Some drinks energize you and that's exactly what you need in the morning. After all, you have a long day ahead.
Mangonada is also called a chamoyada as it is often flavored with chamoy (a pickled fruit sauce). Learn how to make this slushie and spice up your breakfast game.
Ingredients:
Mangoes – 3
Water – 2 cups
Sugar – ½ cup
Tamarind candy sticks
Directions:
Peel the mangoes and dice them. Set aside a few cubes.
Add sugar and water and blend them into a juice.
Make a layer of chamoy followed by mango cubes. Add a little bit of fruit seasoning.
Pour the mango juice gently to make sure you don't disturb the chamoy mix at the bottom of the glass.
Insert a tamarind stick in the center of the drink and let it chill in the freezer.
You can have it as a cold slushie for breakfast or let it deep freeze like a popsicle and have it as a treat.
---
25. Huevos Endiablados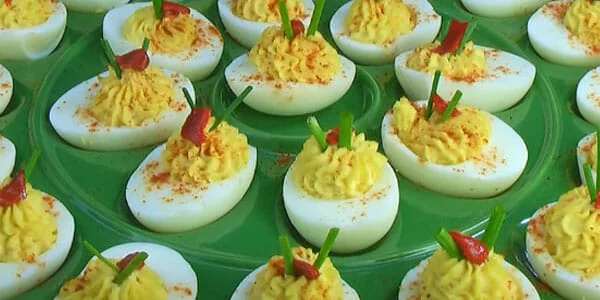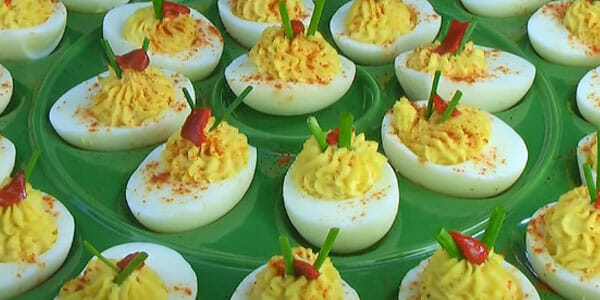 Huevos Endiablados a.k.a deviled eggs! The spiciness in the dish justifies the title 'deviled'. You can adjust the spice level according to your taste.
Huevos endiablados is one of the most common dishes in a Mexican brunch. But you can eat them for breakfast too.
Ingredients:
Hard-boiled eggs – 12
Mayonnaise – 1 cup
Mustard – 1 tsp
Salt – to taste
Pepper – to taste
Hot sauce (optional)
Chives and paprika – for garnishing
Directions:
Cut the eggs into half, vertically, and separate the yolk into a bowl.
Mash the yolks and add mustard, salt, pepper, hot sauce (if you don't want them spicy, skip hot sauce), m1and mayonnaise.
Mix them into a smooth texture.
Take it into a piping bag and fill it into the cut egg whites. (Now, if you don't have a piping bag, don't stress. You can fill them up using a spoon.)
Sprinkle paprika and chopped chives to garnish.
---
You can customize these recipes to suit your taste and even create new dishes with a twist or two. What's your favorite Mexican breakfast? Let us know in the comments section.