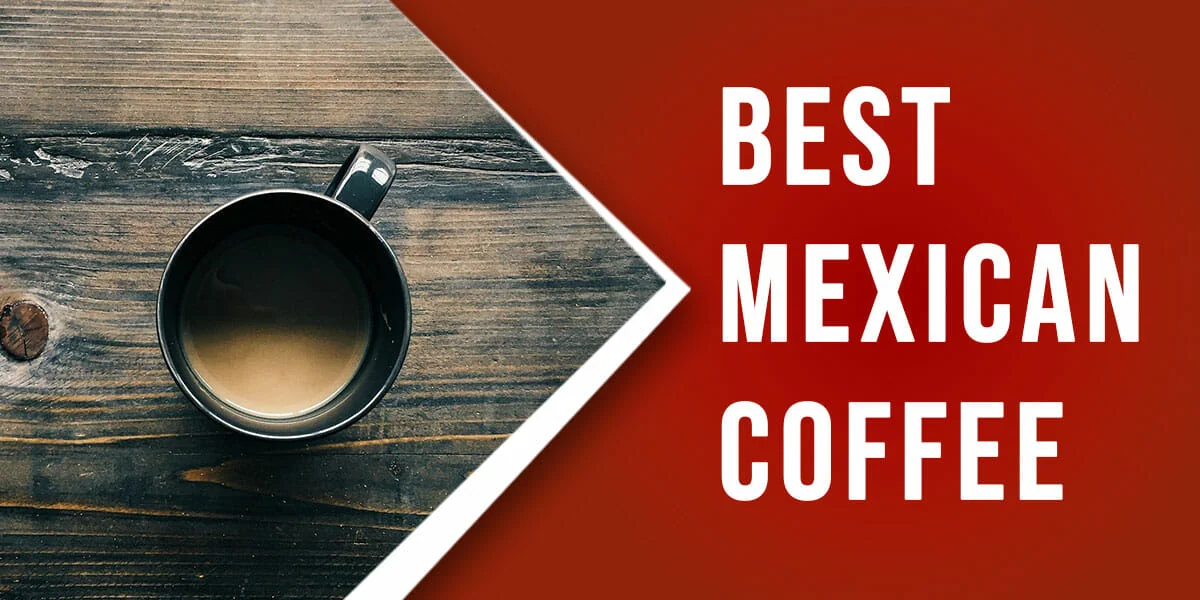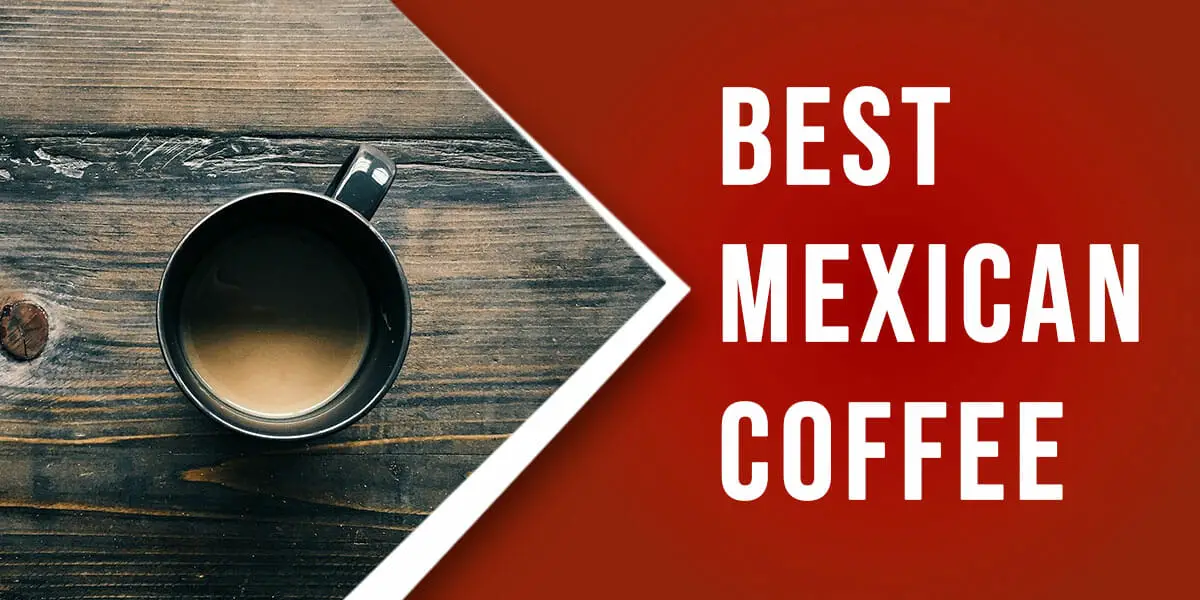 If freshly ground heaven had a smell, it would be coffee.
Out of the many types of coffee, the one from Mexico deserves special attention.
Mexican coffee is not just about coffee but the other flavors blended in it. It has an ounce of spiciness too. But, that doesn't make it any less lovable.
Finding the best Mexican coffee beans (or ground coffee) is all you have to do. We've compiled the 15 best Mexican coffee to keep you refreshed all day. Meet your caffeine needs (or cravings) with these delicacies.
Fresh Roasted Coffee LLC is a renowned brand established in 2009 with more than 75 types of coffees to its name.
They use eco-friendly yet highly advanced roasting technology to enhance the flavor of coffee beans. Their organic Mexican Chiapas coffee is perfect for anyone entering the world of Mexican coffee. It has a balanced taste with moderate acidity and feels smooth in the throat.
Though the coffee is roasted dark, it does not have any bitterness. Its sweetness is attributed to the addition of brown sugar and pears while roasting the coffee beans.
You can grab a pack of delicious coffee at an affordable price. This is probably why Fresh Roasted Coffee's organic Mexican Chiapas coffee has remained as one of the best-selling Mexican coffees for years.
Make a cup of this bold coffee, top it with a pinch of nutmeg or cinnamon and enjoy!
Highlights:
A nutty flavor with the sweet touch of pear.
Mild acidity.
Reasonably priced.
Limitations:
Not for those who love bitter Mexican coffee.
Coffee beans are carefully selected from the vast farms within a height of 800-1000 meters above sea level in Oaxaca, Veracruz, and Chiapas for this ground coffee. They are then roasted to the medium using eco-friendly methods. The roasting gives the coffee a robust flavor, hence the name 'intense'. Well, the packaging is intensely blue too.
The taste of Mexican Los Portales Intense Ground Coffee focuses on the authentic flavors without any additional touches. There are no chemical preservatives too. They manufacture ground coffee only in small batches to ensure superior quality and freshness.
The coffee resembles hot chocolate in appearance but has a great aroma. You can have it either hot or cold at any time of the day. The coffee is strong by nature, but you can make it extra strong by adding another heaping spoon. And, there's no catch of bitterness. A highly recommended gourmet Mexican coffee, for sure
Highlights:
Freshly roasted to medium darkness.
No additional flavors to keep it as traditional as possible.
Strong aroma and taste.
Limitations:
A bit on the expensive side.
The brand Allegro has been active for the last 40 years and has gained a reputation for its choice of excellent coffee beans. Their list of products includes blends, organic coffees, whole beans, ground coffee, and decaf.
They pick premium Chiapas coffee beans grown by small-holder farmers who use wet processing methods. Coffee beans are dried in the tropical sun and roasted until dark (though the pack says 'light roasted', it is considered dark by normal coffee-drinkers) to give an earthy aroma even to the last sip of your morning coffee.
Cold brewing is the best method to relish this coffee. Allegro Organic Mexican Ground Coffee tastes like dark chocolate leaving a burnt aftertaste. Despite being dark, it has moderate acidity.
Some may consider it bitter, but what else do you expect when ordering a dark roasted Mexican coffee?
Additional notes of pecans are our favorite part of this Mexican coffee.
Highlights:
Creamy coffee with a nutty pecan flavor.
Sweetness by milk chocolate.
Dark roasted.
Limitations:
Bitter aftertaste may not be everyone's favorite.
These coffee beans are certified organic and are grown in the tropical regions of Mexico. Caffevo's Mexican coffee is of single-origin sticking to only one species from Chiapas.
Coffee beans generally have a lot of healthy antioxidants (in the form of polyphenols) and they are a natural shield against cancer. Conventional roasting methods use high temperatures and reduce these antioxidants in the beans. But Caffevo uses HEALTHYROAST technology to put the green coffee beans through water extraction before roasting and preserves their antioxidants. In water extraction, the beans re-absorb the antioxidants.
The coffee beans are roasted dark but do not have any bitter taste. If you like black coffee, Caffevo Mexican Dark Roast Certified Organic Antioxidant Coffee Whole Beans offer you a true taste without having to add any cream. This is brought to you by the sweet chocolate bits added to flavor the coffee beans while processing. As the beans aren't grounded, the flavor lasts longer.
Highlights:
Rich in antioxidants compared to other roasted Mexican coffees.
Sweet chocolate notes.
Single-origin Chiapas coffee beans.
Whole beans hold the flavor for longer periods.
Limitations:
Mexican coffee beans grown in the high mountains of Veracruz are collected and roasted until dark to bring you an exclusive Mexican touch. It is darker than other Mexican coffees but has a sweet taste without any trace of bitterness. The roast is perfect and has a rich chocolatey flavor. Don't worry about acidity as it is almost negligible. You can use this as an ingredient in Mexican coffee ice creams.
Cafe La Parroquia de Veracruz – Mountain Grown Mexican Gourmet, Roasted, Ground Coffee works fine in a French press or through hot and cold brewing techniques.
Who said you cannot have gourmet coffee at home? Add some cinnamon and nuts to your coffee for extra-punch.
Highlights:
Sweet chocolatey taste.
Negligible acidity.
Dark roasted to perfection.
Limitations:
It is coarse in texture, but the package doesn't clearly describe how it is ground.
Another gourmet Mexican coffee on the list! Gourmet beverages aren't boring anyway.
Cafe Garat carefully selects coffee beans grown in the four primary coffee belts of Mexico. Veracruz, Chiapas, Oaxaca, and Tabasco, to be specific. The arabica beans are medium roasted and do not acquire bitterness. The acidity is low.
It doesn't really have any minuses and is addictive to every epicure coffee drinker. Many prefer to have Mexican coffee once in a while due to the acidity and spicy taste. But you can have 2 cups of this coffee a day without upsetting your tummy. Serve this coffee alongside sweetbread like conchas.
Highlights:
Medium roasted until it gets a nice aroma.
Low acidity.
Gourmet taste.
Limitations:
Costly when purchased outside Mexico.
This coffee is perfect for the holiday season. When you're serving it for a family gathering, pair it with classic Mexican desserts or snacks. The beans are medium roasted and sweet.
In a drip coffee maker, add 2 spoons of Cafe De Olla Mexican Ground Coffee for each cup of water and give it a twist with cinnamon or an orange slice before serving. For great results, do not exceed filling halfway up the filter.
For the traditional cafe de olla, follow the same ratios as those for the drip coffee maker and serve in a clay cup for aesthetics.
The package includes Tesadorz resealable bags bundle. You can pack a few spoons of coffee in a bag and take it to your workplace. Portable coffee for those who don't like the taste of coffee in a K-cup!
Or, store the day's leftover powder in the resealable bag for the next day. This way, you don't have to stain and wash containers regularly.
Highlights:
Sweet notes of brown sugar and cinnamon with aniseed powder.
Resealable bags included, for storage.
Instructions to make it in a coffee maker or by the conventional method.
Limitations:
Not for dark coffee cravings.
Cafe Legal Mexican Ground Coffee comes in 2 separate foil pouches in the same packet. The foil maintains its freshness until you finish one pouch and open the other.
Coffee beans are roasted until dark and sweetened with caramelized sugar. This gives it a tangy flavor but doesn't leave bitterness in your mouth.
Outside Mexico, this ground coffee is a little costly but is worth the price. To a large cup of water, a spoon and a half of Cafe Legal Mexican Ground Coffee would suffice. Low on acid and high on the caramel, there's no reason you shouldn't try this.
Highlights:
Value for money.
Tangy flavor with no bitterness.
Persistent quality.
Limitations:
Expensive outside Mexico.
Beans from the highlands and mountains situated in the Mexican border are roasted until dark to make this ground coffee. The beans are given a shot of rich chocolate that makes the coffee creamy. Additional nutty flavor only makes it better.
Do you like strong coffee? Yeah, but do you wish it is more creamy? Would you like it to be soft yet strong? Cafe De Altura Mexican Coffee Ground is probably the best one that can tick off all your boxes.
The manufacturer is so confident about this product that they're willing to give a 100% money-back guarantee when you purchase it from their site. We guess you won't have to request a refund, but revisit their site to order this again.
Highlights:
Dark roast mountain coffee.
Creamy and smooth.
Chocolate and nut tones.
Limitations:
Not an exact Altura coffee.
Pluma Hidalgo is a town in Oaxaca where you can smell fresh coffee beans as soon as you enter it. The coffee beans in the other Oaxacan regions are fine as well. But, Pluma beans are never mentioned particularly on any package of Mexican coffee.
Blason's Mexican ground coffee not only exploits their flavor completely but also gives it enough credit. Pluma beans are blended with other Oaxacan beans and roasted to medium and coarsely ground with sweet chocolate.
The package comes with Tesadorz resealable bags for storing small quantities.
Highlights:
Resealable bags to store coffee in small quantities.
100% premium Arabica beans from Pluma Hidalgo.
Limitations:
Delivery is delayed at times.
"Instant coffee is not as great as freshly ground coffee. Duh!"
Well, we agree with you, but Cafe Bustelo Mexican Style Instant Coffee proves you otherwise. It has a smooth and strong flavor due to the full-bodied blend.
Add a teaspoon of this coffee powder to a cup of hot water or milk. Stir and enjoy it!
Highlights:
Instant coffee.
Strong and smooth.
Perfect for a Mexican espresso.
Limitations:
If you think single-serve coffees taste the worst, gear up to get your mind blown with Cafe Mexicano single-serve Coffee. Rich coffee beans are flavored with sweet and spicy Mexican chocolate, Mexican cinnamon, and crunchy hazelnut tone.
Mexican chocolate gives it a traditional fragrance resembling hot chocolate. The smoothness is perfect to begin your day with or refresh yourself midday.
Highlights:
Flavored with spicy Mexican chocolate, Mexican cinnamon, and toasted hazelnut.
Traditional aroma and taste.
Limitations:
Not for those who hate hazelnuts.
Chiapas coffee beans from the Jaltenango area in Mexico are roasted to medium. They have a fresh aroma which is enhanced by the roasting. Light to medium roast makes sure the essential qualities of the Chiapas coffee beans are preserved.
There is significant acidity but it doesn't disrupt the smell or taste of your coffee. The coffee is soft without deep darkness. For an amazing taste, put 1½  spoon of Cafe Punta del Cielo Mexican coffee in a cup of hot water.
The coffee is vacuum-sealed to ensure freshness for a longer period.
Highlights:
Acidity, yet on a pleasant level.
Perfectly balanced taste.
Vacuum packed for long-lasting freshness.
Limitations:
Dark coffee is unsatisfactory.
We didn't want to include K-cups but Van Houtte's Mexican coffee in the Keurig is too good to be ignored.
This bold coffee has a fruity flavor with pungent notes. It is made by roasting Mexican coffee beans until medium in small batches. Use the strong brew option on your coffee maker for a dark and burning coffee. There is a slight bitterness included in the taste, but it is not unpleasant. The acidity is moderate.
We don't call it cheap, but there's no loss in spending a few extra bucks to try this delicious and festive Mexican coffee. Who said you can't experience all the flavors in strong coffee?
Highlights:
Fruity flavor with some notes of pungent spices.
Bold and robust taste.
No unpleasant aftertaste.
Moderate acidity.
Limitations:
Works perfectly only if you have a Keurig brewer.
Pricey for a K-cup.
This coffee is made from coffee beans cultivated in the highlands of Chiapas. The beans are shade-grown and handpicked which makes them more organic. No pesticides and fertilizers are used either. So, these Chiapas beans are chemical-free.
The whole beans are picked by Maya Indian farmers and are medium roast giving them enough smokiness. Grind them fresh in the morning and you'd have amazing Mexican coffee to energize you for the day.
Highlights:
Full-body roasted whole beans for a roastery feel at home.
Organic shade-grown coffee beans that are free of chemicals.
Smooth and chocolatey taste.
Limitations:
Tastes better with milk than black.
Buying Guide
Flavors: Though the raw taste of Mexican coffee is good, look for flavorings like cinnamon or hazelnut for your daily coffee.
Price tag: Mexican coffee can be expensive if you don't want to compromise for an average flavor. You don't have to spend a fortune but accept the fact that spices are costly.
Beans are better: Flavored Mexican beans are better than ground Mexican coffee. Beans store flavor for a longer duration than ground Mexican coffee.
Roasted beans: Choosing the level of roast for your coffee beans can be tricky. Darkly roasted beans may give a bitter touch. Select light roasted and medium roasted Mexican coffee beans if you want to sip a cup every day. For occasional treats, darkly roasted beans are great.
Instant coffee: Do you overtake coffee in a day? We'd suggest you try instant coffee as it has less caffeine. Instant Mexican coffee doesn't have to be served as morning coffee alone. You can add a Mexican twist to your desserts (like tiramisu) by sprinkling a spoon of instant Mexican coffee on them. And there's no hard work involved!
Frequently Asked Questions About Mexican Coffee
1. Which type of Mexican coffee has the richest flavor?
Out of the four major types of Mexican coffee, coffee beans from Chiapas have a deep and rich flavor with high acidity. Oaxacan is the next richest. Veracruz is the smoothest of all with almost zero acidity and tastes nutty.
2. How are Arabica beans different from Robusta beans?
Robusta beans have more caffeine than Arabica but are inferior to Arabica in terms of quality. Harvesting Arabica is tougher than harvesting Robusta. So, Arabica is costlier than Robusta.
Most of the Mexican coffee beans and all Mexican coffee suggestions in this post are Arabica.
3. How do I store Mexican coffee beans?
Store whole beans in a tinted air-tight container away from sunlight. They will last for about 9 months. You can freeze them if they aren't roasted yet.
4. I don't want to grind the beans every morning. Can I do it ahead of time?
You can make ground coffee from beans and keep it handy in your kitchen cabinet for a week or two. Post that, homemade ground coffee loses its flavor and tastes bland.
If making ground coffee from beans seems way too tedious, check out some great Mexican ground coffees in this guide.
5. How long does packaged ground Mexican coffee stay fresh?
If you've bought a pack of ground coffee, it will last for 3 months unopened.
6. Can I store ground coffee in the freezer?
Yes, you can. Frozen ground coffee lasts for more than a year.
7. What containers are ideal to store ground coffee?
Metal air-tight containers are ideal to store ground coffee and even roasted beans. Glass containers work just fine. Avoid transparent containers as they will make your coffee go stale quickly. Remember to put the container in a cool and dark place.
8. What are some great recipes with Mexican coffee?
Mexican coffee is often flavored with nuts, fruits, and spices. You can make cocktails, horchata latte, mochas, and spiked coffee instead of regular coffee. A spoon of instant Mexican coffee blends excellently with smoothies.
Picking the right Mexican coffee for your taste buds can be tricky, but not anymore. We hope this buying guide with detailed reviews has helped you and gave you what you're looking for.