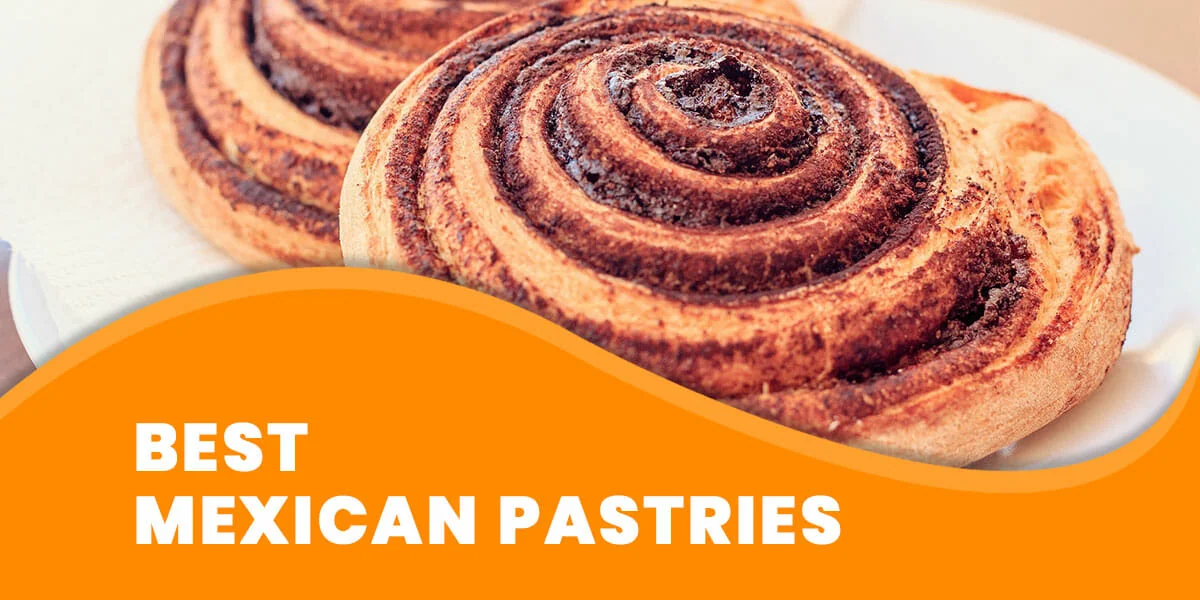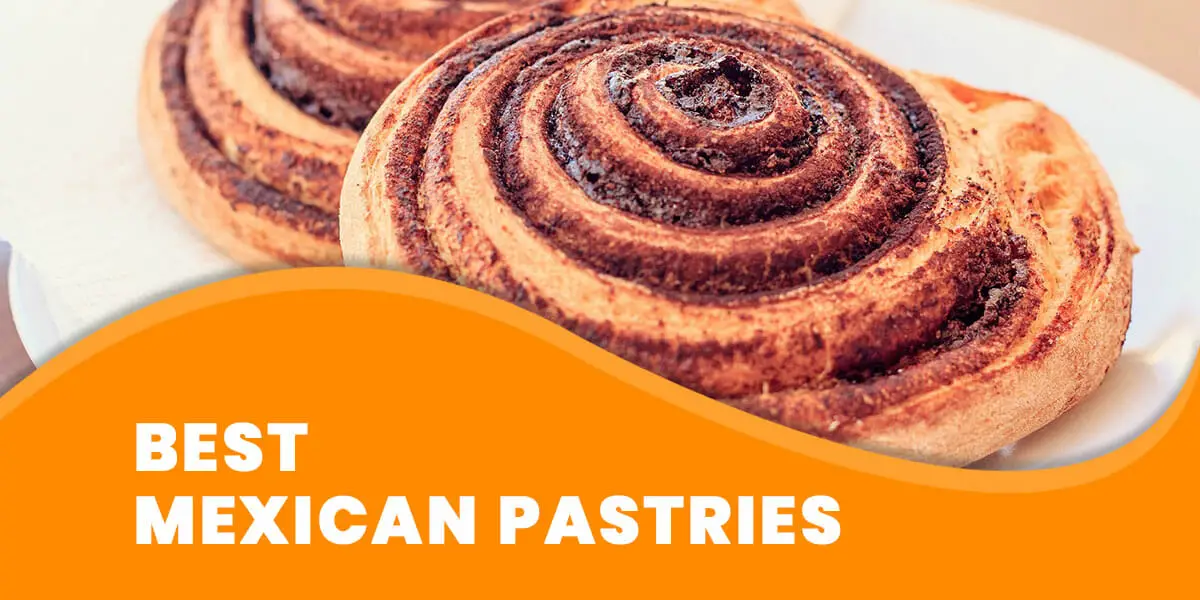 The struggle to satisfy your sweet tooth is real.
There are several types of Mexican pastries, and we've picked 7 best ones out of them.
You are sure to make these again and again, 'cause they're toothsome.
1. Mexican Flan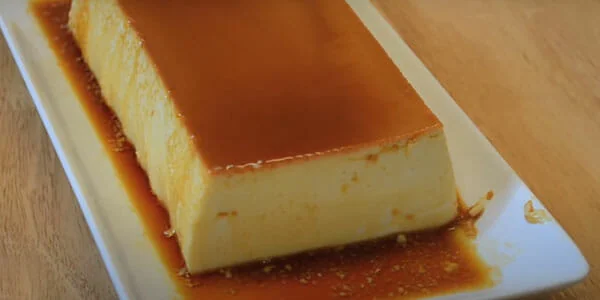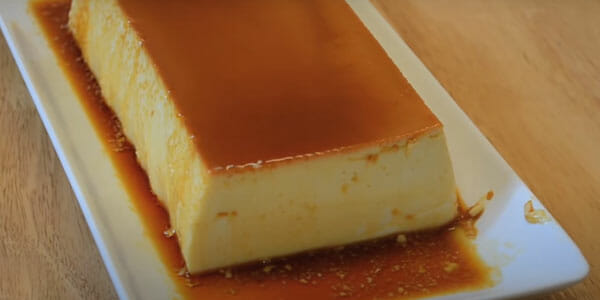 Unlike the regular flan that resembles custard, Mexican flan is made of whole milk. Vanilla extract is absent in the classic flan but it gives a nice aroma to this Mexican flan.
Another variant uses Mexican chocolate giving the flan a spicy dab.
Ingredients:
Eggs – 5
Orange zest – 1 cup
Whole milk – 2¼ cups
Condensed milk – 14 oz
Evaporated milk – 12 oz
Granulated white sugar – 1 cup
Vanilla extract -1 tsp
Salt – a pinch
Directions:
Blend eggs, vanilla extract, orange zest, evaporated milk, condensed milk, whole milk, and a pinch of salt.
Pour sugar in a skillet on medium heat and stir it constantly. The sugar should melt into brown caramel. Transfer it into a bowl.
Pour the caramel all over the bottom of a baking pan. Let it sit for a minute.
Pour the blended mixture and put this baking pan in a larger tray.
Place the set up in a preheated oven and fill the larger baking tray with hot water up to half.
Bake the flan for 1 hour at 350 degrees F. When you insert a knife into it, it should come out clean.
Let it sit for 1 hour and chill it in the refrigerator for 4 hours.
Once the flan is cold, run a sharp around the edges.
Place a plate on top of the flan tray and flip to unmold it onto the plate.
---
2. Yoyos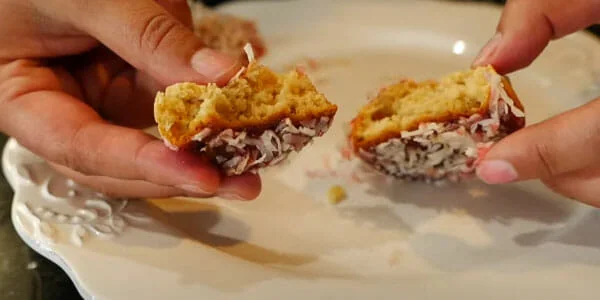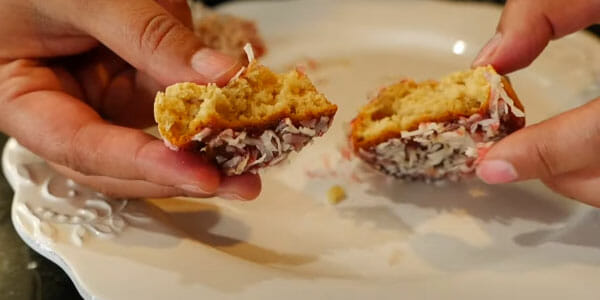 This Mexican pastry is named after the toy.
Yoyo as a pastry refers to soft cookies glued with jam and rolled in coconut bits. Raspberry jam is a traditional choice but you can also use strawberry jam.
Ingredients:
all-purpose flour – 4 cups
Milk – 1 cup
Eggs – 2
Sugar – ¾ cup + 1 cup (for jam)
Vegetable shortening – ½ cup
Shredded coconut – 1 cup
Butter – ¼ cup
Mexican vanilla blend – 1½ tbsp
Instant yeast – 1½ tbsp
Baking powder – 1½ tbsp
Baking soda – ½ tsp
Salt – ½ tsp + a pinch (for jam)
Fresh raspberries – 2 cups
Water – 1 cup
Lemon – 2 tbsp
Directions:
In a bowl, mix all-purpose flour, baking powder, baking soda, salt, instant yeast, and sugar.
Mix with your hand to make it clump-free.
Add butter and vegetable shortening. Mix well.
Make a dent and add eggs. You can use a mixer to combine them or do it with your hand.
Add milk and knead it into a sticky dough.
Make the dough into small portions (like cookies) and put them on a baking tray. Bake them in the oven at 350 degrees F for 20 minutes.
For the jam, add raspberries, a cup of water, a cup of sugar, lemon juice, and a pinch of salt in a saucepan. Strain the blend and transfer it to a bowl.
When your cookies are done, sandwich each pair with the raspberry jam. Pour a generous amount of jam on the surface and roll them in shredded coconut.
---
3. Orejas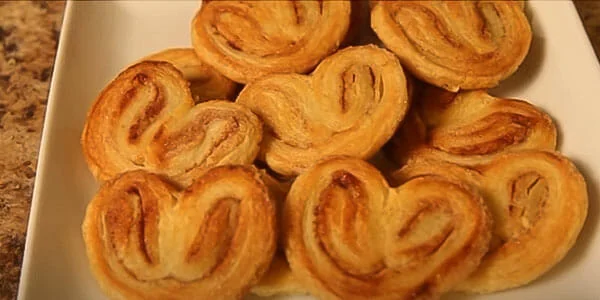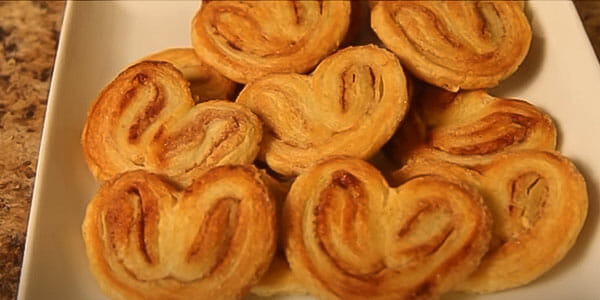 They're from French but they're pretty popular in Mexico and every bakery has these on their menu.
All the rolling involved in the making gives orejas their signature flaky texture.
Ingredients:
Puff pastry sheets – 1
Sugar – 1 cup
Cinnamon – ¼ cup
Egg – 1
Directions:
Sprinkle sugar and cinnamon on rolled puff pastry.
Roll the bottom side up to half and do the same with the upper edge. Both the edges should meet at the center.
Brush the pastry with egg wash.
Fold lengthwise one side of the pastry with the other and press with your hand. Chill the pastry in the fridge for 15 minutes.
Use a sharp knife and cut the pastry into slices.
Roll each slice in sugar, place it on a baking pan, split the ends and flatten the cookie with your thumb.
Bake each side in a preheated oven for 7 minutes at 400 degrees F. (Flip when one side is golden.)
Let them cool to room temperature before you serve.
---
4. Tres Leches Cake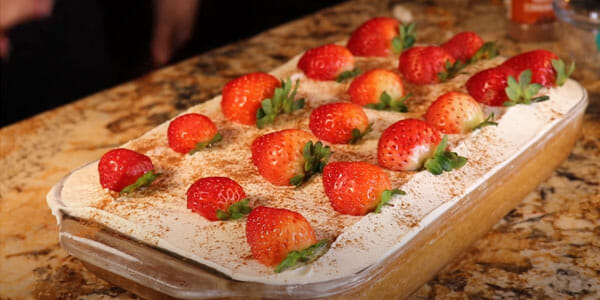 Tres leches cake is one of the best Mexican desserts.
This cake is moist and melts in your mouth. The recipe is too easy to believe for its succulent taste.
Ingredients:
Vanilla cake mix – 1 box
Mexican vanilla – 1 tbsp
Whipping cream – 2 cups
Half-and-half – 2 cups
Condensed milk – 14 oz
Evaporated milk – 12 oz
Sugar – 3 tbsp
Ground cinnamon
Fruit of your choice
Directions:
Add egg yolk, whites, water, and vanilla to the cake mix. Pour it into a greased baking pan.
Bake it as stated on the box.
Let the cake cool down for an hour.
In a bowl, mix half-and-half, evaporated milk, and condensed milk.
Make the cake flat by cutting off the excess. Poke it with a fork.
Pour the milk onto the cake and chill it overnight in the refrigerator.
In a mixer, blend whipping cream, 3 tablespoons of sugar, and 1 tablespoon of Mexican vanilla.
Top your cake with whipped cream, cinnamon, and fruit of your choice.
---
5. Empanadas de Calabaza / Pumpkin Empanadas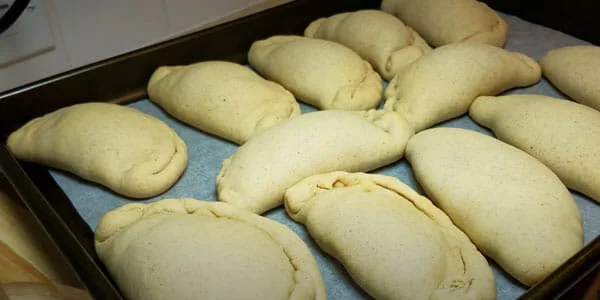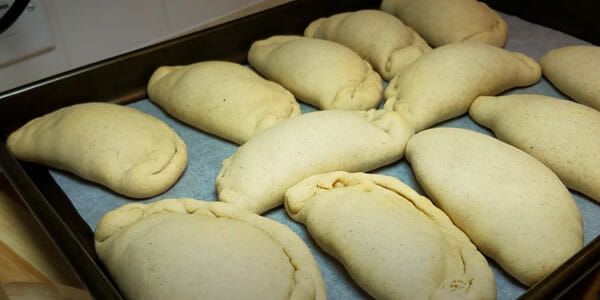 Empanadas are turnovers that are baked or fried.
Why make pie alone with pumpkins when these pumpkin empanadas are yummy to satisfy any sweet tooth?
Ingredients:
All-purpose flour – 2 cups
Egg – 1
Softened butter – ⅓ cup
Whole milk – ⅓ cup
Water – ¼ cup
Sugar – ⅓ cup
Dry active yeast – 1 tsp
Ground cinnamon – ½ tsp + ½ tsp
Ground anise – ½ tsp + ¼ tsp
Ground clove – ¼ tsp
Salt – ½ tsp
Freshly roasted pumpkin – 1½ cups
Piloncillo – ½ cup
Directions:
Mix roasted pumpkin with piloncillo, cinnamon, anise, and salt. Set it aside.
Add a teaspoon of sugar to warm water. When the sugar is dissolved, add yeast and let it sit for 10 minutes.
Add anise, cinnamon, clove, salt, and granulated sugar to the flour. Add butter and yeast.
Mix milk and egg in a cup. Add this to the flour and knead into a dough. Cover it for 30 minutes.
Divide the dough into 12 portions and roll each like a tortilla.
Place the filling in the center and fold it over. Close the edge by twisting through the curve.
Bake them for 15 minutes at 350 degrees F.
Cool your empanadas for 10 minutes before you serve.
---
6. Bunuelos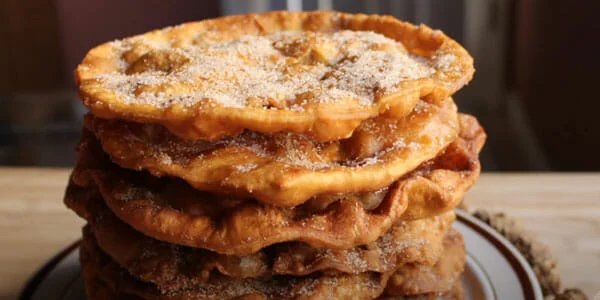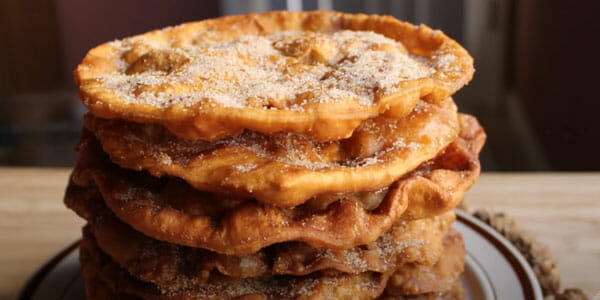 These fried pastries are made with yeasted dough and are coated with cinnamon sugar.
If you find cinnamon sugar mundane, you can serve bunuelos with a scoop of Mexican vanilla ice cream.
Ingredients:
all-purpose flour – 2 cups
Eggs – 2
Sugar – ¼ cup
Vegetable oil – 2 cups
Cinnamon powder – 2 tsp
Baking powder – 1 tsp
Vanilla extract – 1 tbsp
Melted butter – 1 tbsp
Warm water
Directions:
Whisk flour and baking powder in a large bowl.
Make a dent in them and add vanilla, butter, and eggs. Mix them well.
Gradually add water (one or two spoons at once) and mix it into a soft dough.
Cover the dough with a damp cloth and let it sit for at least 30 minutes.
On a plate, mix cinnamon and sugar. Set it aside.
Cut the dough into two portions.
Roll each portion as thin as possible.
Use a plate to trace and cut the rolled dough into circles.
Heat oil over low heat and drop a small ball of dough to check.
Drop one bunuelo and fry until each side turns golden brown.
Transfer the bunuelos onto a paper towel to drain excess oil.
Sprinkle the cinnamon sugar on both sides of each bunuelo and serve warm.
---
7. Marranitos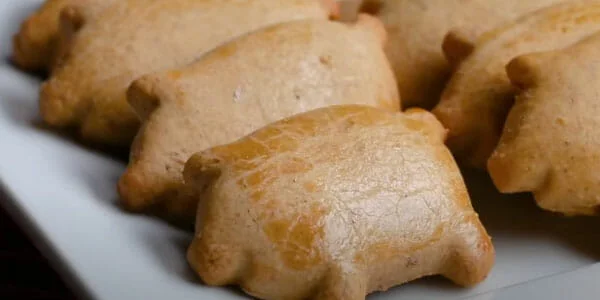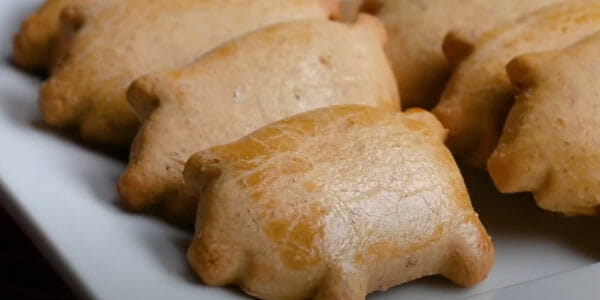 Marranitos are humble gingerbread cookies shaped like little pigs.
They're a type of Mexican traditional pastries, pan dulce usually served during holidays in Mexico, but you can bake them whenever you feel like munching a treat.
Ingredients:
all-purpose flour – 2 cups
Unsalted butter – 4 tbsp
Chopped piloncillo – 1½ cups
Cinnamon – 2 tbsp
Baking powder – 1 tsp
Eggs (divided) – 2
Water – ½ cup
Kosher salt – ¼ tsp
Orange zest – 1 tsp
Vanilla extract – 1 tsp
Directions:
Boil piloncillo in water until it dissolves completely. Set it aside to cool down.
Sift flour, cinnamon, baking powder, and salt into a bowl.
Add butter and orange zest. Stir until combined.
Make a dent to add egg, vanilla, and piloncillo syrup. Mix well.
Cover the dough and chill it for 30 minutes in the refrigerator.
Roll the dough and cut cookies with a pi-shaped cutter.
Transfer the cookies onto a baking sheet in a baking tray.
Brush with egg wash and bake them for 10 minutes at 350 degrees F.
---
We hope these recipes fixed your sweet tooth and gave the sugar rush you needed.