What comes to your mind when you think of food? Probably breakfast or lunch or dinner!
Don't forget the snacks between these meals. Snacks can be anything good enough to keep your hunger away. Mexican snacks carry the classic blend of flavors, just like every other dish from Mexican cuisine.
Let's take a look at the tastiest Mexican snacks tout de suite. And they're perfect for any time of the day.
1. Takis Fuego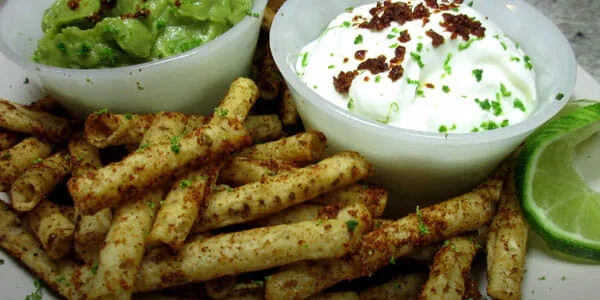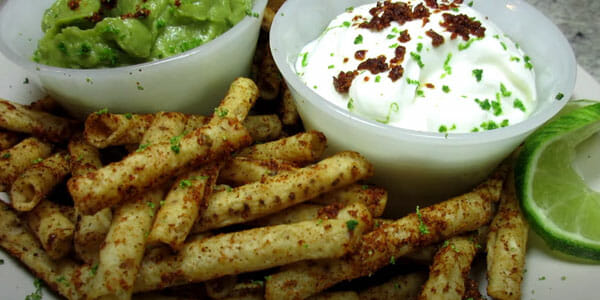 Takis are one of the most popular packaged Mexican snacks and are available in many flavors. Takis Fuego is the spiciest version that makes you lick fingers. Rolled tortilla chips are coated well in a spice blend giving them a good aroma.
They are available in all Mexican snack stores, but you can prep them in a few minutes at home. We also got you a cheat recipe, in case you aren't an expert in rolling your tortillas.
The seasoning in this recipe is for Fuego, but feel free to try out new spice blends with your takis.
Ingredients:
Masa flour – 1 cup
Sugar – ½ tsp
Salt – 1 tsp + 1 tsp
Water – ½ cup
Vegetable oil – 4 cups
Powder cheddar cheese – 1 tbsp
Ancho chili powder – 1 tsp
Dark chili powder – 1 tsp
Chili lime powder – 1 tsp
Cayenne pepper – 1 tbsp
Onion powder – ¼ tsp
Directions:
Pulse powder cheddar cheese, ancho chili powder, dark chili powder, chili lime powder, onion powder, cayenne pepper, and a teaspoon of salt in a food processor. Set aside.
In a mixing bowl, add sugar, salt, and enough water to the masa and knead into a dough.
Divide the dough into marble-sized balls.
Place each ball between a flat surface and a plastic wrap. Press it down using any flat surface utensil.
Roll one end into the other to make the tube-shape.
Heat vegetable oil in a deep pan.
Drop 8-10 chips at a time and fry until golden. Each batch will take about 3 minutes.
Place them on a paper towel to drain excess oil.
While the takis are still warm, transfer them into a bowl and coat with the seasoning mix.
Tip 1: You can store the seasoning mix in a Ziploc bag or an air-tight container for a week.
Tip 2: For a simpler cheat recipe, coat Tostitos rolled tortilla chips with lime juice and the seasoning mix.
---
2. Donas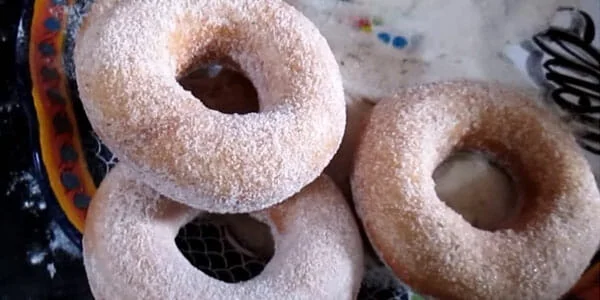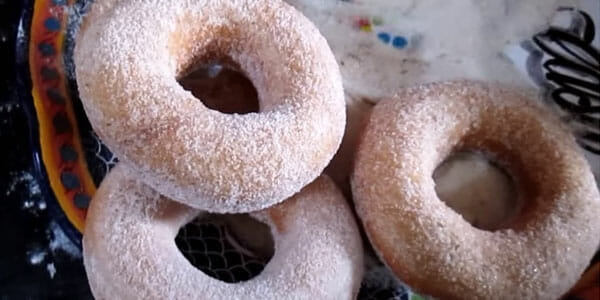 Donas!
Does that sound familiar? Yeah, these are donuts but as made in Mexico.
Mexican vanilla blend and cinnamon give these donuts a sweet aroma. The preparation is similar to that of regular donuts.
For additional sweetness, frost your donas with Mexican chocolate syrup. Or try filling donas with melted Mexican chocolate after frying.
Ingredients:
Flour – 1 kg
Shortening – 125 g
Sugar – 140 g
Fresh yeast – 15 g
Salt – 5 g
Mexican vanilla blend – 10 ml
Water – 500 ml
Sugar – 250 g + Cinnamon – 5 g (for dusting)
Directions:
Knead all the ingredients except the dusting ingredients into a soft dough.
Wrap the dough in a plastic sheet and let sit for at least 2 hours.
Dust the kitchen counter with flour and roll the dough into a thick sheet.
Cut the sheets into donuts with the mold.
Knead the leftover dough into a ball and wrap it in a plastic sheet. Let it sit for 30 minutes.
Repeat the rolling and cutting with this dough too.
Heat oil in a pan and fry donuts in batches.
Transfer them on to a paper bowl to drain excess oil and dust them with cinnamon sugar.
---
3. Spicy Tamarind Balls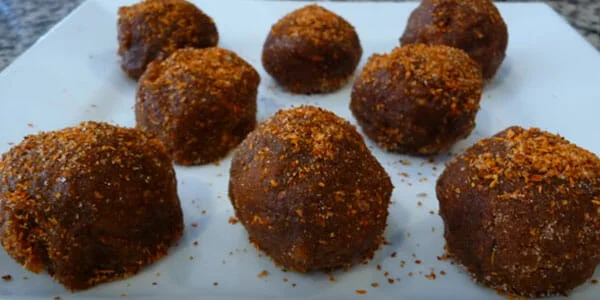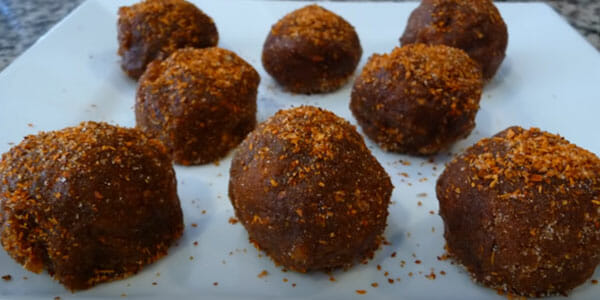 Tamarind is a staple ingredient of Mexican cuisine. Tamarind balls are a favorite treat throughout Mexico with their sweet and tangy taste. Give them a spicy twist with chili powder and chill them in the freezer. Cool, sweet, tangy, and slightly spicy, these spicy tamarind balls need ingredients that are probably already present in your pantry.
You can buy deseeded tamarind to reduce fuss in making these balls. Tamarind can be hard to work with. Though we used chili powder as the spicy ingredient, you can replace it with cayenne or ancho chili powder.
Ingredients:
Tamarind – 1 lb
Water – 1 cup
Sugar – 1 cup + 1 cup (for dusting)
Tajin powder – 3 tbsp
Chili powder – 1 tbsp
Directions:
Peel the tamarind and remove the seeds.
Heat water in a saucepan over medium heat. Add sugar and chili powder. Bring them to a boil.
Add in the tamarind. Reduce the heat to low and cook it for 20 minutes.
When the water reduces, mash it with a fork. Set it aside to cool.
On a plate, combine sugar, chili powder, and Tajin mix. Set it aside for a minute so that the flavors incorporate well.
Spray your hands with cooking spray. Roll the tamarind paste into balls.
Roll the balls in the sugar mixture. Sprinkle them with more sugar mixture if you like to.
Chill them in the fridge for an hour. Serve when they're soft and firm.
---
4. Tostilocos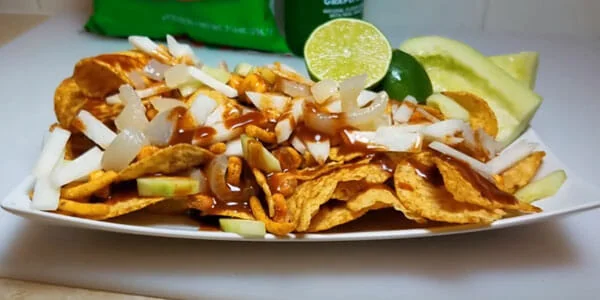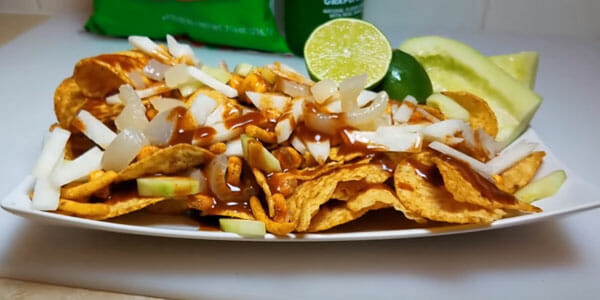 Tostilocos are also called dorilocos in some Mexican regions. Usually, dorilocos have Doritos as the base but tostilocos imply any tortilla chips as the base. These are sold by street vendors and juice shops all over Mexico.
The original recipe is made by adding the toppings in the opened bag of tortilla chips. But now, they're assembled on a plate.
Tortilla chips are topped with cucumber, jicama, and finally with Japanese peanuts. You can also include veggies or fruits of your choice. This dish has no rules and it works fine with customization.
Ingredients:
Crunchy spicy Mexican corn churritos – 1 bag
Salsa verde tostitos – 1 bag
Chamoy – 3 tbsp
Lime halves – 2
Chopped cucumber – 1 cup
Chopped jicama – 1 cup
Corn nuts – 1 cup
Directions:
On a plate, place tostitos and churritos.
Add chopped cucumber and jicama.
Squeeze lime juice and chamoy.
Place more tostitos on top and drop in a handful of corn nuts.
Repeat the layers as you like them.
Dig in!
---
5. Manzanas Locas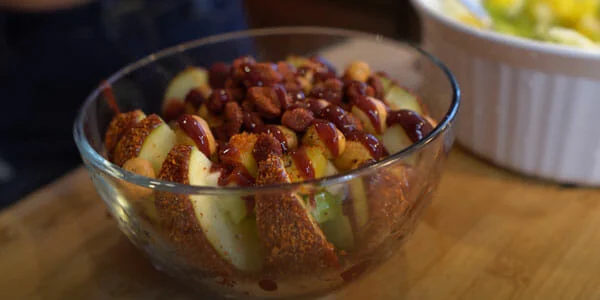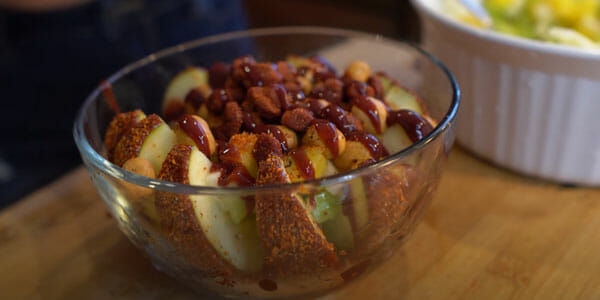 Manzanas is the Spanish word for apples. This recipe has apples as the base with a rich filling of fruits and nuts. Apples are wrapped in sticky tamarind paste and coated generously with Tajin or similar fruit seasoning. They are then sliced equally and arranged along the serving bowl's edge. A filling made with cucumbers and mangoes is placed in the center and served with toppings.
Manzanas Locas means 'crazy apple' in Spanish and sure this snack looks crazy and colorful.
Ingredients:
Green apples – 2
Tamarind paste – 2 pieces
Tamarind pieces – ¼ cup
Diced cucumber – 1 cup
Diced mango – 1½ cup
Cocktail peanuts – ¼ cup
Chopped jicama – ½ cup
Lime halves – 2
Tajin – 2tbsp
Chamoy – 2 tbsp
Salsaghetti – for garnish
Hot sauce – to taste
Directions:
In a bowl, add cucumber, jicama, and mango. Squeeze juice of half lime. Give it a quick mix.
Wet 2 tamarind paste strips and microwave them for a minute.
Press the softened tamarind strip to stretch it and wrap each apple in it by slowly pulling it up. Smoothen the outer surface.
Sprinkle Tajin on apples and coat them evenly.
Use an apple cutter to slice the apple. Put the slices around a bowl.
Place the fruit mango mix in the center of the bowl.
Top with peanuts and tamarind pieces.
Squeeze juice of another half of the lime onto this and top it with Tajin, salsaghetti, and hot sauce.
---
6. Corn Croquettes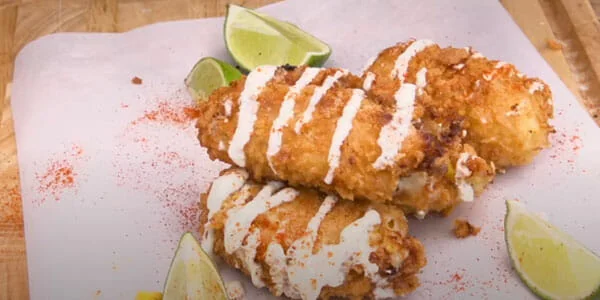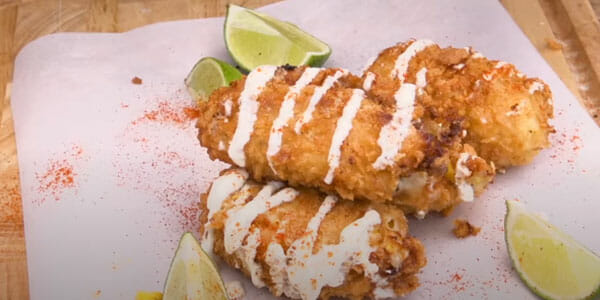 Corn croquettes are a popular Mexican street food that looks golden and is best served with lime cream.
Mexican dishes are popular for including corn and this street snack is another example of it. The kernels of grilled corn are chopped up and combined with flour in greasy butter. The batter is shaped with the help of spoons and coated in three layers before dropping the croquettes in piping hot oil.
Remember to freeze the batter for a few hours before shaping so that it won't make a mess with its stickiness.
Ingredients:
Corn ears – 1
Flour – 1 cup
Full fat milk – 1 cup
Butter – 50 g
Sour cream – 1 cup
Queso fresco – ¼ cup
Whole eggs – 1 or 2
Bread crumbs – 1 cup
Lime – 1
Oil -enough for frying
Nutmeg – a pinch
Salt – to taste
Pepper – to taste
Directions:
Melt butter in a hot pan.
Add plain flour gradually to it and mix without clumps. Cook it on medium heat without letting it color.
Lower the flame and add full-fat milk. Mix it until it looks creamy.
Season it with salt, pepper, and nutmeg. Take the pan off the heat.
Grill the corn and cut the kernels.
Add the kernels and queso fresco. Stir well and chill it in the fridge.
When it is firm, shape the mixture into small balls and coat each one in flour, egg wash, and lastly bread crumbs.
Fry them in batches.
Squeeze lime juice into sour cream in a bowl. Add a few drops of oil and season the dip with salt and pepper.
Serve the croquettes alongside lime cream.
---
7. Chocolate Covered Banana Bites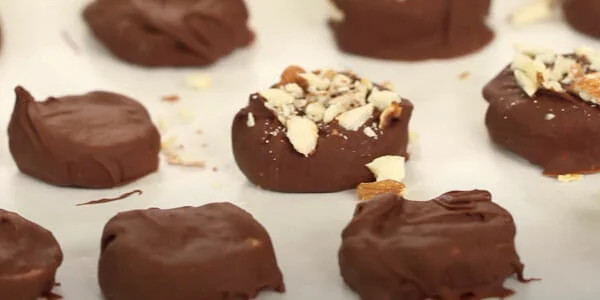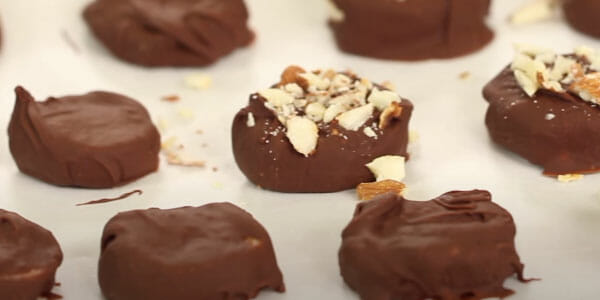 The snack needs only 3 ingredients and is gluten-free. Making chocolate covered banana bites is straightforward.
You slice ripe (but not mushy) banana into bite-sized pieces and dip them in sweet chocolate sauce. Then, top them with nuts, coconut flakes, or rainbow sprinkles.
You can store these chocolate treats for up to a week and grab a bite whenever you crave some chocolate. Chocolate covered banana bites are great for dessert too.
Ingredients:
Bananas (sliced into coins) – 1 cups
Toasted almonds (chopped) – ½ cup
Semi-sweet chocolate chips – ½ cup
Directions:
Melt chocolate chips in the microwave for 40 seconds. Stir and send them back into the microwave for another 20 seconds.
Dip a banana coin in the chocolate and coat it nicely.
Place them on a tray covered with parchment paper.
Press almonds on each banana coin.
Send the tray into the freezer for an hour to firm the chocolate on bananas.
Serve them immediately or freeze them in an air-tight container for up to a week.
---
8. Crispy Pork Skin Crackers / Chicharones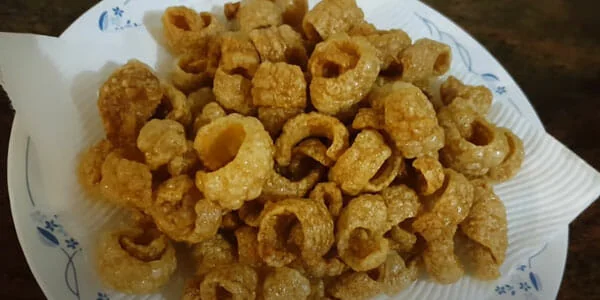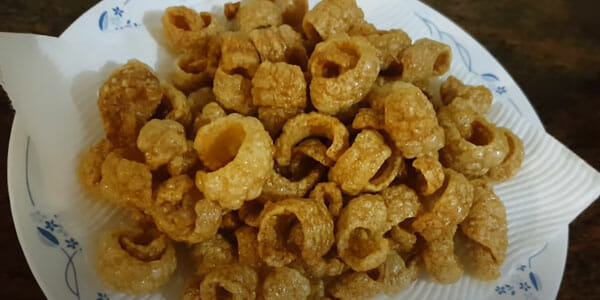 Chicharrones are made of fried pork meat (skin or belly) flavored with spices. In commercial versions, lime and chile powder are used to spice them up. You can buy ready-to-eat chicharrones from supermarkets and snack stores.
Crispy pork skin crackers are a great snack with chilled beer or cocktails. If you're craving for something crunchy and crispy, try these pork skin crackers with chicken powder.
Not adding enough salt or not drying them properly can make your pork skin less crispy.
Ingredients:
Pork skin – 1 kg
Chicken powder – ½ tbsp
Salt – 1½ tsp
Directions:
Clean pork skin.
Heat water in a deep saucepan. Add pork skin to the water and bring it to a boil.
Add a tablespoon of salt and cook it for 30 minutes.
Wash it with cold water and drain.
Slice the skin into small pieces.
Put the slices in a bowl and season it with chicken powder.
Mix well and let it rest for 2 hours.
Dry them under the sun for at least 2 days.
Heat oil over medium heat. Fry the pork skin until light brown.
Transfer them on to a paper towel to drain excess oil and serve.
---
9. Corn In A Cup/ Elote En Vaso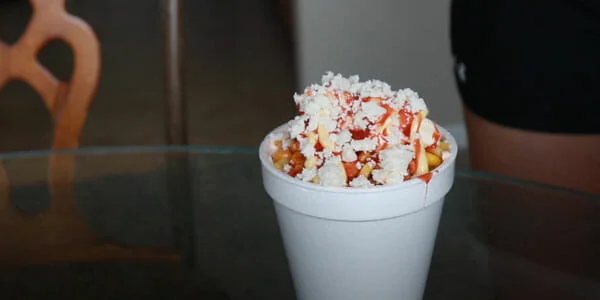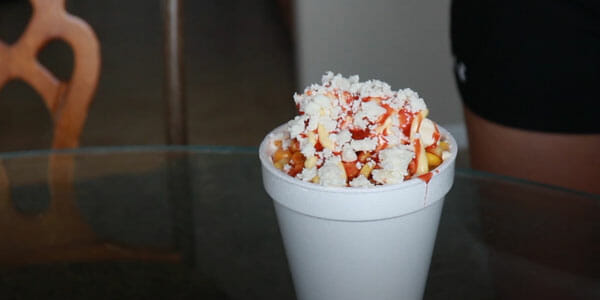 A traditional Mexican snack, corn in a cup, or elote en vaso is served by street vendors in Styrofoam cups.
Creamy corn with mayo, butter, cheese, and salsa is a warm snack for your taste buds. And it's really filling. Whip this up in authentic Mexican style with this recipe. This is a good snack for kids' birthday parties or Cinco de Mayo.
Ingredients:
Cream style sweet corn – 2 cans
Mayonnaise – 2 tbsp
Butter – 100 g
Queso blanco – 1 tsp
Hot cheetos – 1 pack
San Luis Salsa hot sauce – 1 tsp
Chile arbol powder – a pinch
Directions:
Heat pan over medium heat.
Add sweet corn and butter. Set it aside when it's soft.
Crush hot cheetos in a blender.
Coat the inside of the serving cup with mayo, butter, and lime juice.
Pour corn in the cup and add a spoon of mayo and some butter.
Drizzle hot sauce and fill the rest of the cup with corn.
Top it with mayo, hot sauce, queso blanco, and crushed cheetos.
---
10. Pepinos Locos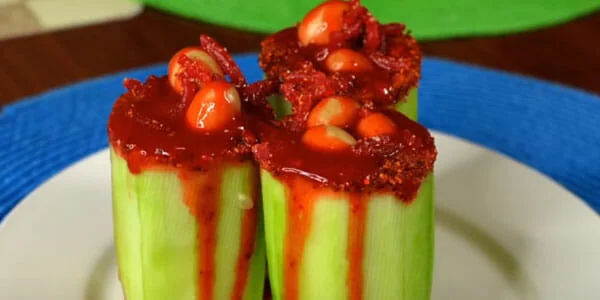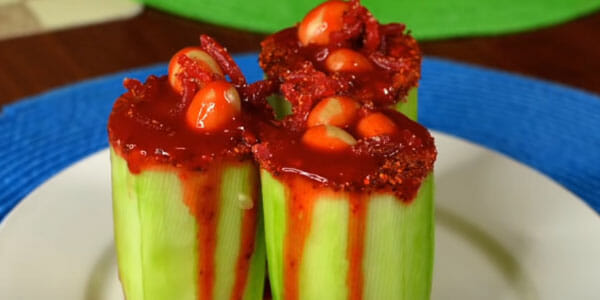 Pepino locos is a Mexican party snack made by stuffing cucumbers.
Cucumbers are cut into 4-inch pieces and their core is removed. They are then filled with chamoy sauce and Japanese peanuts. Pepinos locos are never overlooked when talking about Mexican snacks.
Ingredients:
Cucumber – 1
Japanese peanuts – ½ cups
Salsagheti – 1 pack
Lime halves – 2
Salsa clamato
Chili powder
Chamoy sauce
Directions:
In a bowl, mix chamoy sauce, salsa clamanto, and freshly squeezed lime juice.
Peel the cucumber and cut it into three cylinders. Scoop out the pulp and seeds from one side. Keep the other face closed.
Coat the open rim of the cucumber with sauce and chili powder.
Put them on a plate. Pour sauce in the cucumber and top it with salsagheti pieces and Japanese peanuts.
---
11. Strawberries covered in Tamarindo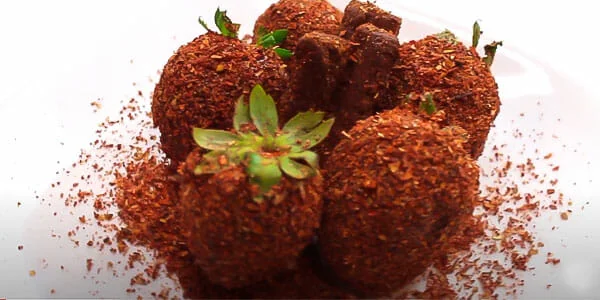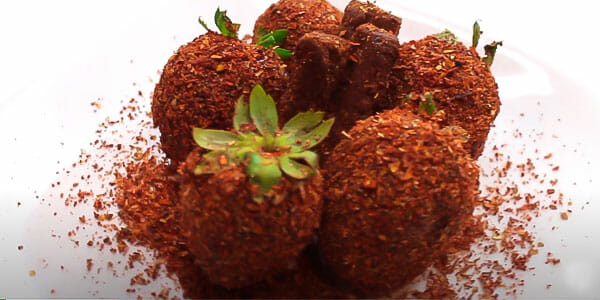 Like banana bites dipped in chocolate, strawberries covered in tamarindo are easy to make and take only 3 ingredients. Fresh strawberries are washed and pat with a towel. They are then covered in tamarindo paste (which you can buy from any supermarket) and coated with chili powder for a hot touch.
Let's spice up our strawberries, shall we?
Ingredients:
Strawberries – 6
Tamarind paste – 1 cup
Chili powder – 1 cup
Directions:
Take a small portion of tamarind paste and stretch it.
Cover each strawberry with a sheet of tamarind paste. Smooth the edges.
Roll the coated strawberries in chili powder.
Serve immediately.
---
12. Chamango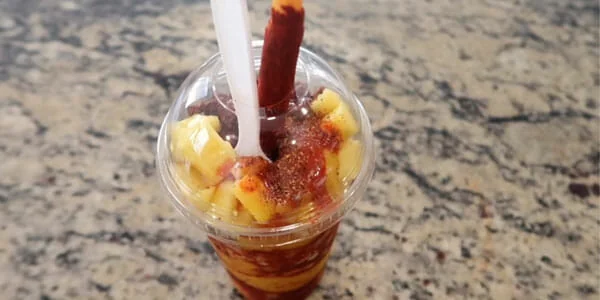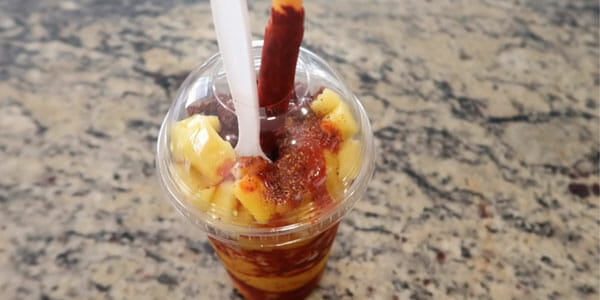 Spicy and tangy snacks are delicious. But on a hot summer noon, they won't suffice to quench your thirst and hunger at once. Presenting you the chamango!!!
Chamango is Mexico's take on mango sorbet. It has hints of chamoy and Tajin 'cause you can't make a Mexican delicacy without flavoring it. Use ripe mangoes to make your chamango sweet and smooth.
To give yourself a restaurant-like experience at home, get a tamarind straw to serve with your chamango. The tamarind straw will drop a little tangy flavor gradually and you'll love sipping it.
Ingredients:
Diced ripe mangoes – 4 cups
Sugar – ¾ cup
Water – ¼ cup
Lime juice – 4 tsp
Mango concentrate – 1 tbsp
Tajin – to taste
Chaca Trozos candies – to taste
Chamoy sauce – to taste
Tamarind candy straw – 1
Directions:
Freeze mangoes for five hours.
To make simple syrup, boil water in a saucepan and add sugar. When the sugar is completely dissolved, set it aside to cool completely.
Blend mangoes, lime juice, and simple syrup into a puree.
Add mango concentrate to the puree and blend again.
Strain the puree into a bowl.
Churn it in an ice cream maker to make the sorbet.
Chill in the refrigerator for at least 2 hours.
To assemble, line the glass with chamoy sauce and Tajin. Place scoops of sorbet and top with mango slices and chaca trozos candies.
Place the tamarind straw in the center of the glass and serve.
---
13. Roasted Garbanzo Beans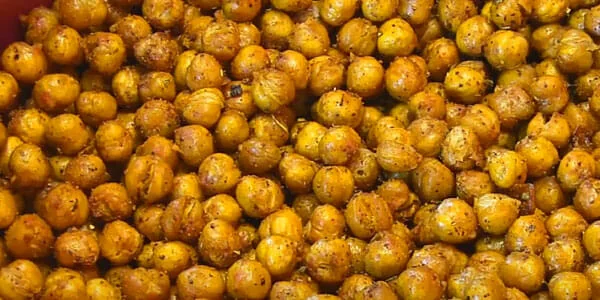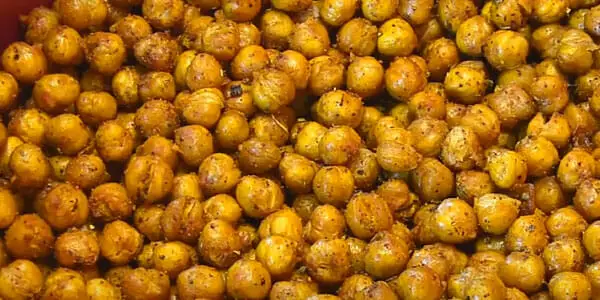 Garbanzo beans are nothing but chickpeas.
You think there's nothing exciting you can make with chickpeas? Well, that's not true. You can make crispy roasted garbanzo beans that are salty and savory.
Dry the garbanzo beans completely and toss them in spices and oil. Roast them in the oven and serve yourself a bowl. Even though you're on a diet, don't try to omit oil as it will make your garbanzo beans less crispy.
Ingredients:
Garbanzo beans – 3 cans
Olive oil – 3 tbsp
Chili powder – 1 tsp
Ground cumin – 1 tsp
Dried oregano – 1 tsp
Salt – to taste
Pepper – to taste
Directions:
Line a baking tray with aluminum foil.
Drain and rinse the garbanzo beans. Pat them dry.
Place the beans evenly on the prepared tray.
Whisk olive oil, chili powder, cumin, and oregano in a bowl.
Sprinkle the seasoning mixture, salt, and pepper on the garbanzo beans and coat them evenly.
Bake them at 400 degrees F for 45 minutes.
Cool them to room temperature.
---
14. Potato Cakes / Tortitas de papa y queso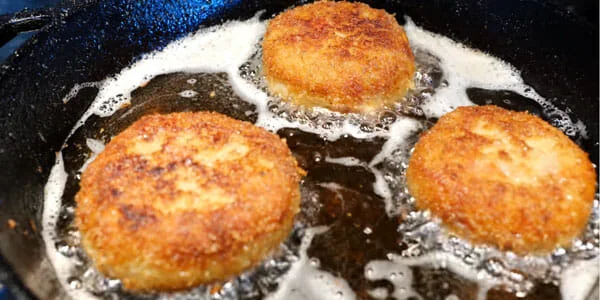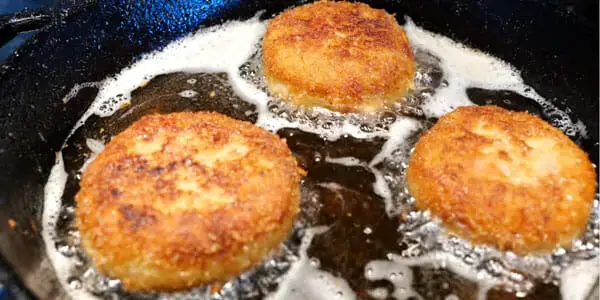 Tortitas de papa y queso or potato cakes are great for breakfast and as an evening snack. They include Mexican cheese and onion powder making you feel Mexico in every bite.
Ingredients:
Chopped potatoes (put them in saltwater to prevent browning) – 4 cups
Panko crumbs or bread crumbs – 1½ cups
Whole eggs – 2
Mexican cheese blend – 1 cup
Onion powder – ½ tsp
Salt – ½ tsp
Pepper – ¼ tsp
Protein vegetable of your choice (chopped) – to taste
Oil – enough for frying
Directions:
Boil water with a pinch of salt.
Add the potato cubes and bring them to a boil.
Drain the potatoes and mash them in a bowl or a pan.
Add chopped veggie, salt, onion powder, pepper, and Mexican blend. Mix them into a smooth dough.
Make the dough into patties and coat them in egg wash. Immediately follow it with a coat of panko crumbs with chicken bullion.
Heat oil in a thick and deep pan.
Drop the patties into the oil and fry them until golden. Each batch can take anywhere between 15 to 20 minutes.
Transfer them on to a paper towel to drain excess oil.
---
15. Mexican Pinwheels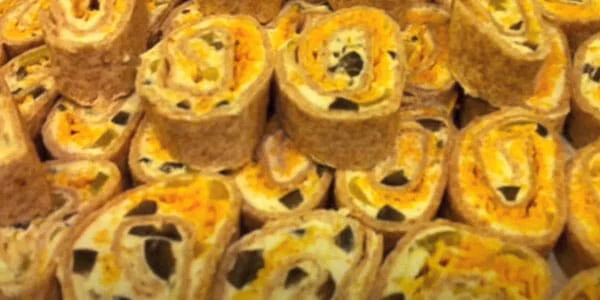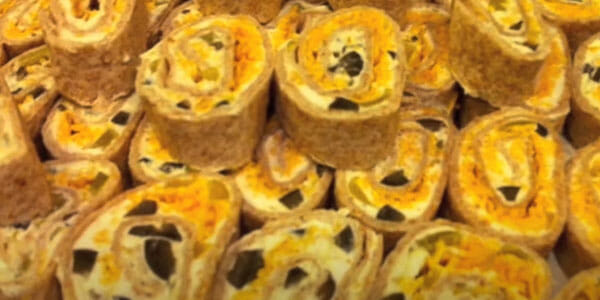 One can never say no to pinwheels. You can serve them at a football game night or a movie night alongside other snacks.
A soft tortilla is filled with cheesy and creamy stuffing and olives before it is rolled up and chilled in the refrigerator. It is then sliced into pinwheels and served. Making Mexican pinwheels is as easy as that!
Ingredients:
Flour tortilla – 1
Sour cream – ½ cup
Cream cheese – 8 ounces
Garlic powder – ½ tsp
Cumin – ¼ tsp
Minced green chiles – ¼ cup
Chopped white olives – ¼ cup
Shredded cheddar cheese – ¼ cup
Directions:
In a bowl, mix cream cheese and sour cream until soft.
Add green chiles, cumin, and garlic powder. Give them a good mix.
Drop white olives into this mixture and combine well.
Leave it in the freezer overnight for a good blend of flavors.
Spread the cream cheese mixture on a tortilla and top it with shredded cheese. Roll it up and wrap it in a plastic sheet. Freeze it for an hour.
Unwrap and slice the tortilla into pinwheels. Insert a toothpick to each for a better snacking experience.
---
16. Baked Bean and Cheese Taquitos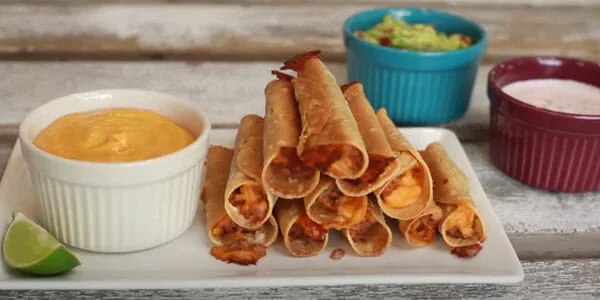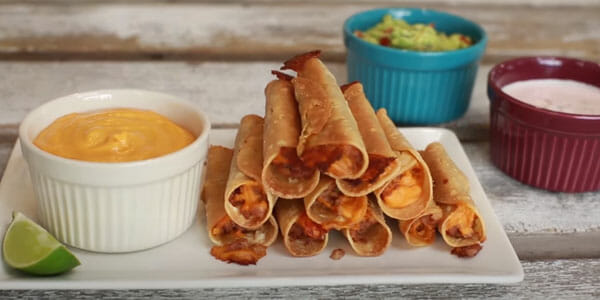 Taquitos are rolled-up tortillas fried until crispy. The definition was first made clear in 1929 in a book and later mentioned in the 1932 issue of the Los Angeles School Journal.
Guacamole is a common topping for taquitos. Other toppings include cabbage, red chili salsa, queso fresco, and Mexican sour cream.
Flautas are the larger counterparts of taquitos.
Ingredients:
Corn tortillas – 15
Refried beans  – 1 cup
Cheese sauce – 1 cup
Olive oil – ½ cup
Sour cream – ½ cup
Salsa – ¼ cup
Chopped jalapenos – 2 tbsp
Directions:
Preheat your oven to 350 degrees F. Grease a baking tray with olive oil.
Heat the corn tortillas in the microwave for 30 seconds to soften them.
Spread a spoon of refried beans and a spoon of cheese sauce on each tortilla.
Roll it to the center and secure it with a toothpick.
Lay the taquitos on the prepared baking tray and brush them with olive oil.
Bake them for 15 minutes in the oven. Flip them and bake for another 5 minutes.
For the dip, whisk sour cream, salsa, and jalapenos in a bowl.
Plate your taquitos alongside the dip or even guacamole.
---
17. Chilindrina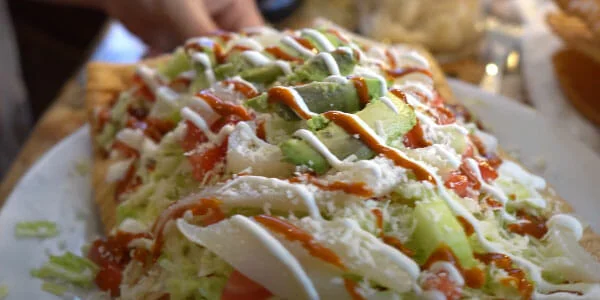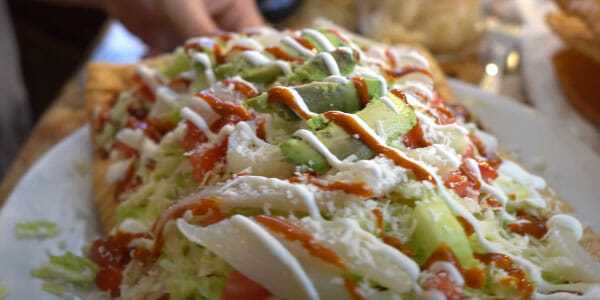 To make chilindrinas, fry chicharrones in oil and top them with veggies, pork, and hot sauce.
Unfried chicharrones look small and flat. But when you drop them in hot oil, they expand and curl up. But you will have to prevent the curling to make your chicharrones suitable for chilindrinas.
This recipe uses Valentina hot sauce, but any sauce will do the job fine.
Ingredients:
Wheat chicharrones – 6
Diced pork skin – 1 cup
Diced cucumber – ½ cup
Diced tomato – 1 cup
Avocado – 1
Finely chopped cabbage – 1 cup
Queso cotija – 1 cup
Crema mexicana or sour cream – 1 cup
Valentina hot sauce – 1 cup
Lime – 1
Oil – enough for frying
Directions:
In a large frying pan over medium heat, pour enough oil to cover the chicharrones completely.
Fry each chicharrone carefully by preventing it from curling up. Take the help of two spoons or forks.
To assemble, drizzle sour cream as the first layer on a chicharron.
Follow it with hot sauce.
Add chopped cabbage, tomatoes, cucumber, pork skin, and queso cotija.
Squeeze lime juice and top it with freshly cut avocado.
Drizzle more cream and hot sauce.
Do the same with all chicharrones and serve.
---
18. Crispy Baked Tortilla Chips Recipe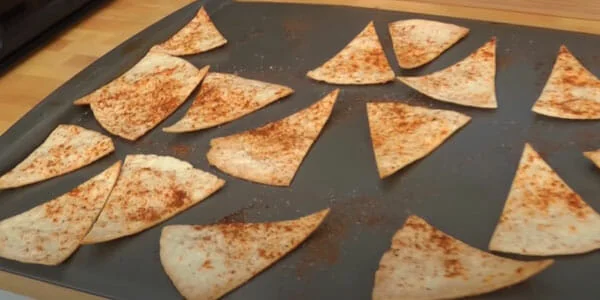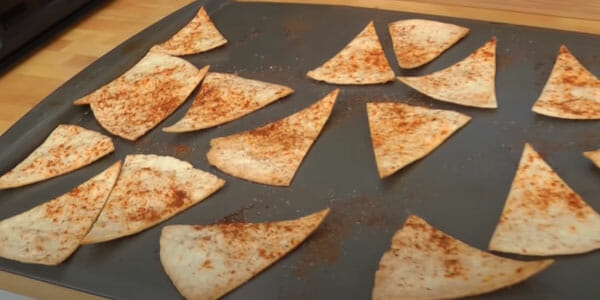 Tortilla chips are Mexican from the heart. They are usually fried in oil but try this baked recipe that needs less oil and treats you right when you're on a diet. Serve them with hot salsa, guacamole, or yogurt dip.
Ingredients:
Flour tortillas – 8
Vegetable oil – 1 tbsp
Cumin – 1 tsp
Chili powder – 1 tsp
Salt – to taste
Pepper – to taste
Directions:
Brush the tortillas with oil on both sides.
Stack them together and cut them into chips.
Place them in a single layer on baking sheets.
Sprinkle cumin, chili powder, salt, and pepper on them.
Bake them in the oven for 5 minutes at 350 F. Flip them and bake for another 5 minutes.
Serve with any dip or salsa.
---
19. Cheese Quesadilla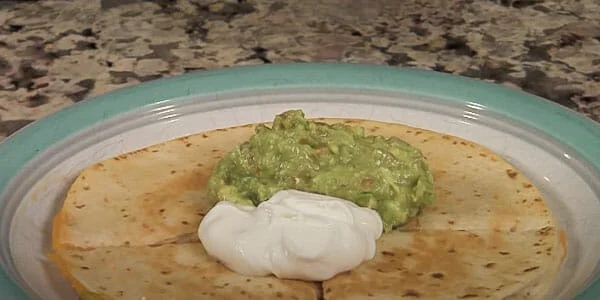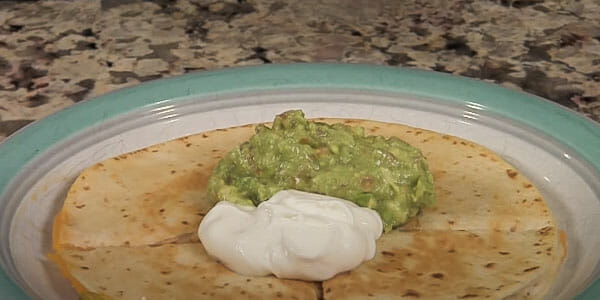 You can stuff quesadillas with pretty much anything.
Here is a kid-friendly snack cheese quesadilla you can make with a cheesy filling. Adjust chilis according to your spice tolerance levels.
Serve them for breakfast or a snack. Or pack them for school lunch.
Ingredients:
Flour tortillas – 4
Shredded cheese – 2 cups
Butter – 100 g
Butter – 1 cup
Chopped onion – 1 cup
Chopped green chiles – ½ cup
Guacamole – 1 cup
Sour cream – ½ cup
Directions:
Put a tortilla on a plate and spread a handful of shredded cheese. Leave about half an inch around the edge.
Sprinkle some green chiles and onions on the cheese.
Place another tortilla on top of it.
Heat the skillet to medium and coat it with melting butter.
Place your quesadilla on the skillet and put a glob of butter on the quesadilla.
When the bottom starts to turn golden brown, lower the heat and flip the quesadilla.
Cook the other side over a low flame and slide it onto the serving plate.
Use a pizza cutter to slice it, and place a spoon of sour cream and guacamole in the center.
---
20. Arroz Con Leche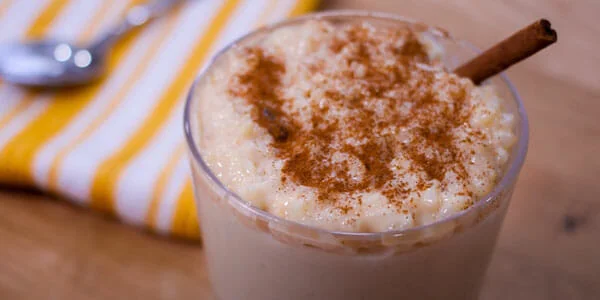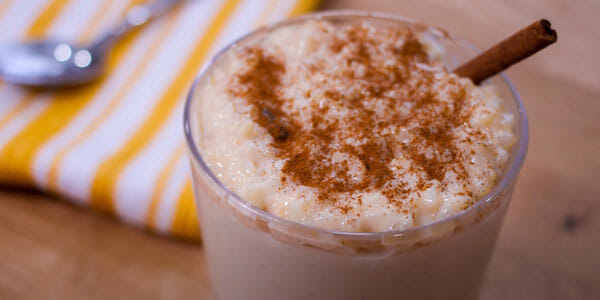 Who said puddings are only for dessert? They can be a yummy snack too.
Arroz con leche is rice pudding flavored with cinnamon and cloves. Cloves are smokey but is it even Mexican if it doesn't have a spicy note?
You can make it more traditionally by replacing sugar with piloncillo.
Ingredients:
Rice – 2 cups
Water – 4 cups
Cinnamon sticks – 2
Evaporated milk – 3 cups
Sugar – 1 cup
Vanilla extract – 1 tbsp
Butter – 1 tbsp
Cloves – ½ tbsp
Salt – ¼ tsp
Cinnamon powder – ¼ tsp
Lime wedge – 1
Directions:
Pour water in a large pot and add cinnamon sticks.
Bring it to a bowl and add rice. Stir it constantly so that the rice doesn't stick to the bottom of the pan.
When the rice is soft, add evaporated milk, cloves, vanilla extract, salt, and a lime wedge.
Bring it to a simmer and add sugar. Give it a good mix.
Let the pudding come to the thickness of your desire and add cinnamon powder.
Turn the heat off and serve it warm. You can also chill it before serving.
---
21. Bionico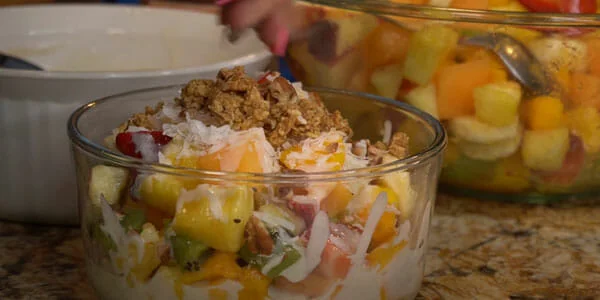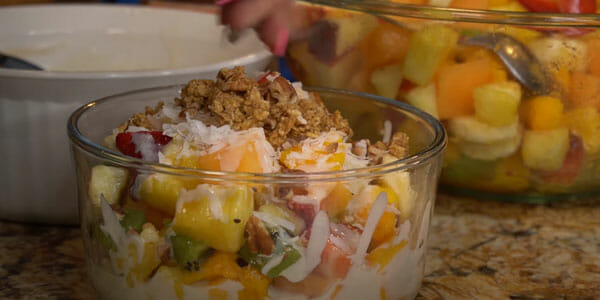 Bionico is a Mexican fruit salad that originated in the 1990s. You can use any seasonal fruits but cantaloupe is a staple ingredient. Other ingredients are cream, condensed milk, and yogurt.
Another variant is made with cottage cheese (instead of yogurt) and fruits, topped with honey.
Serve it after dinner for dessert or as a healthy evening snack.
Ingredients:
Cantaloupe – 2 cups
Pineapple – 1 cup
Kiwis – 1 cup
Apples – 1 cup
Mangoes – 1 cup
Papaya – 1½ cup
Bananas – 1 cup
Strawberries – ½ cup
Vanilla yogurt – ½ can
Mexican cream – ½ can
Sweetened condensed milk – ½ can
Mexican vanilla blend – 1 tsp
Granola – for topping
Coconut flakes – for topping
Chopped pecans – for topping
Directions:
Cut all the fruits into bite-sized pieces.
Put them all in a large bowl.
Give them a good mix so that all the fruit flavors blend nicely. Set the fruit mix aside.
In another bowl, add condensed milk, vanilla yogurt, Mexican cream, and Mexican vanilla blend. Mix to combine them well.
To serve, pour cream in a bowl as a thick layer. Fill the bowl with fruit mix up to the top.
Drizzle more cream and sprinkle grated coconut, pecans, and granola for a nutty touch.
---
22. Fresas Con Crema / Strawberries and cream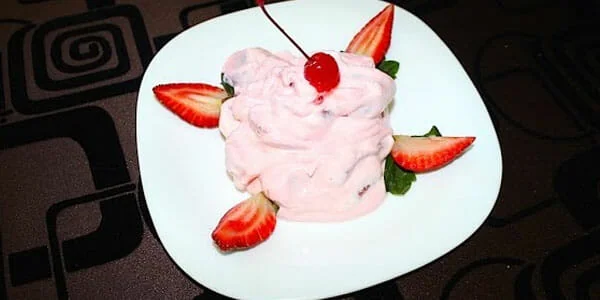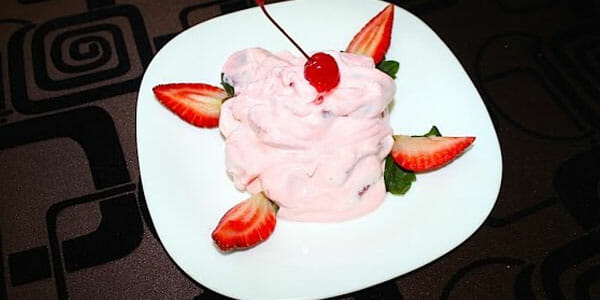 Fresas con crema a.k.a strawberries and cream!
Strawberries covered in tamarindo are for tang lovers. But strawberries and cream are a classic match made in heaven. Follow this recipe and leave your result in the freezer overnight. By the morning, you will have pink color transferred from strawberries to the cream and the flavor of cream incorporated beautifully to the strawberry slices.
Add some amaretto liqueur to complement the sweetness of your fresas con crema, though the traditional recipe doesn't call for it.
Ingredients:
Strawberries – 450 g
Sour cream or fresh cream – 1 cup
Sugar – 3 tbsp
Directions:
Wash the strawberries and cut each one into four pieces. Take them into a bowl.
Add the cream and sugar. Give them a good mix without mashing the strawberries.
Cover it with a plastic wrap and chill it in the freezer overnight (or at least for 3 hours). Serve it cool.
---
Tip: You can replace sugar with sweetened condensed milk.
23. Dulce De Leche Caramel Candy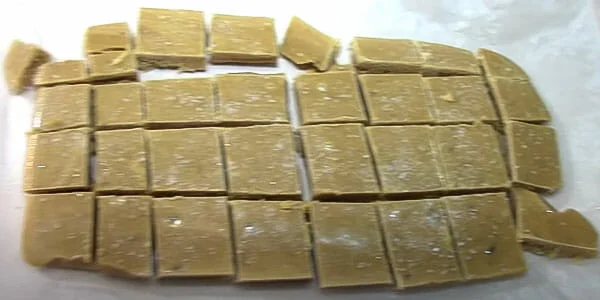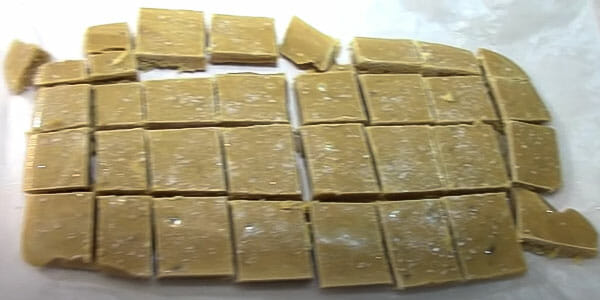 Dulce de leche is made by heating milk with sugar until it caramelizes by the Maillard reaction (a chemical reaction between amino acids and sugars to give a unique flavor to browned food).
This confection is used in a wide range of foods like ice creams, cakes, cookies, custard, and flans. But dulce de leche caramel candy is made with dulce de leche as the key ingredient and therefore carries the complete flavor without the domination of any other taste.
Ingredients:
Sugar – ¼ cup
Condensed milk – ½ can
Evaporated milk – 3 ounces
Butter – 1 tsp
Vanilla extract – ½ tsp
Kosher salt – ½ tsp
Directions:
Grease a deep tray with olive oil and line it with parchment paper.
To the saucepan on medium heat, add sugar, condensed milk, evaporated milk, butter, and vanilla extract. Stir them well with a wooden spoon.
Bring it to a boil on medium heat. The temperature should hit 240 degrees F.
Pour this into the prepared tray. Sprinkle some kosher salt.
Give time for the candy to set.
Cut it into equal bars.
You can store the candy in an air-tight container for a week.
---
24. Spicy Peanuts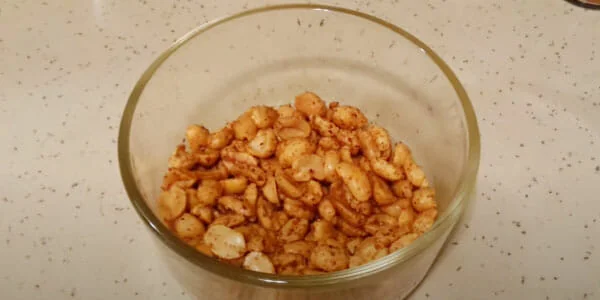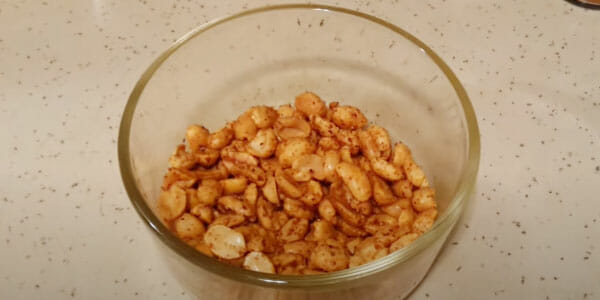 Peanuts are tasty, but tastier if you spice them up. This Mexican snack does exactly that. Roasted peanuts are tossed in different Mexican pepper powders and oil. Serve spicy peanuts alongside drinks during a movie night.
Ingredients:
Dry roasted unsalted peanuts – 1 cup
Tajin chile – 2 tsp
Habanero pepper powder – ¼ tsp
Chipotle pepper powder – ¼ tsp
Chile de arbol powder – ¼ tsp
Olive oil – ½ tsp
Salt – ½ tsp
Directions:
Take peanuts in a bowl and add a few drops of olive oil.
Season it with salt and Tajin chile hot sauce. Mix well.
Add the pepper powders and mix them for another minute.
Ta-da. you're done!
25. Capirotada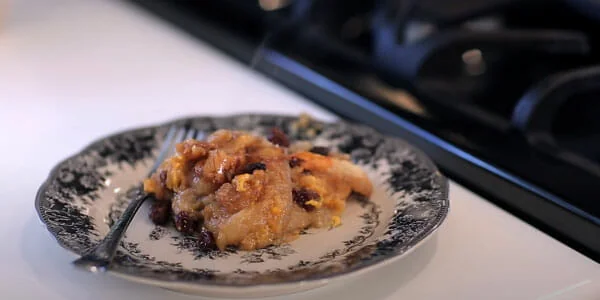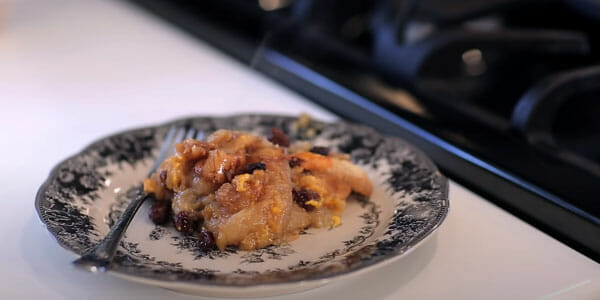 Mexican bread pudding. That's what capridota is.
This is a traditional holiday dish, best eaten as a warm snack. Bread is sweetened with piloncillo syrup and flavored with Mexican spices like cinnamon and cloves. Cloves are hot, but they add a smokey twist and balance the piloncillo's sweetness.
This also goes well as breakfast alongside your morning coffee.
Ingredients:
White bread rolls – 4
Piloncillo – 12 ounces
Water – 4½ cups
Shredded cheese – 3 cups
Raisins – 1 cup
Butter – 100 g
Cinnamon sticks – 4
Cloves – 6
Directions:
In a huge pot, pour water and place piloncillo in it. Drop in the cinnamon sticks. Bring this mixture to a boil.
Slice the rolls and place them on a baking sheet.
Brush each slice with melted butter on both sides.
Preheat the oven to 350 degrees F and toast each side for 3 minutes.
Strain the syrup to remove cinnamon and cloves.
In a wide pan, place the bread slices and drop one-third of the raisins and cheese.
Pour the syrup over them evenly and let it sit for 15 minutes.
Repeat the layers with bread, raisins, and cheese. Pour the syrup and wait for another 15 minutes.
Finish with the third layer and cover the dish with an aluminum foil sprayed with nonstick fry.
Bake at 350 degrees F for 40 minutes.
Cool it down for 15 minutes. Serve it warm.
---
Snacking is not a bad habit as long as you do it in moderation. These Mexican snacks will stop you from feeling peckish whether you're at work or at home.