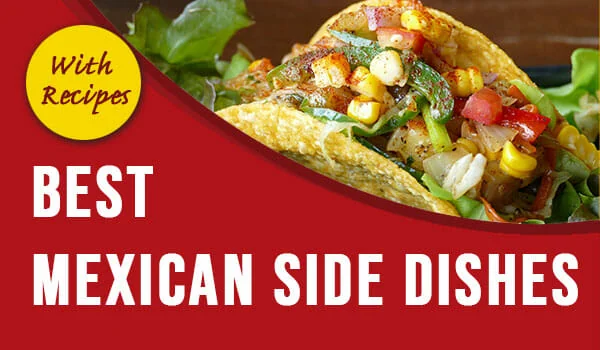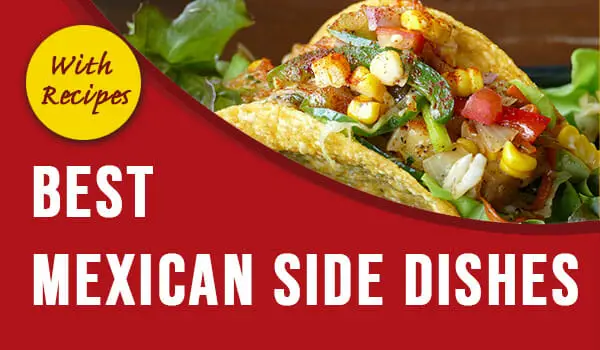 Side dishes primarily balance your diet. The entree's glory alone cannot give you the pleasure if the accompanying sides don't go with it.
A side dish can be something you eat as an appetizer or for breakfast, but when paired with an entree, it matches the main dish in terms of flavor.
What's better than a versatile cuisine like Mexican, whose side dishes you should try for your next brunch or potluck?
Let's get started.
1. Classic Guacamole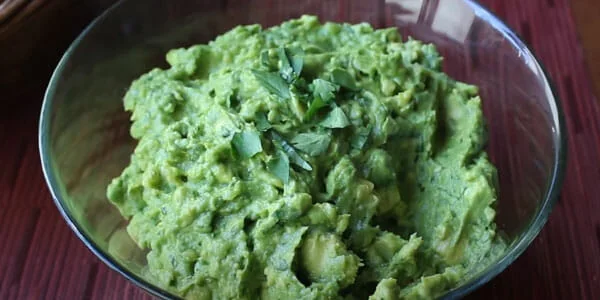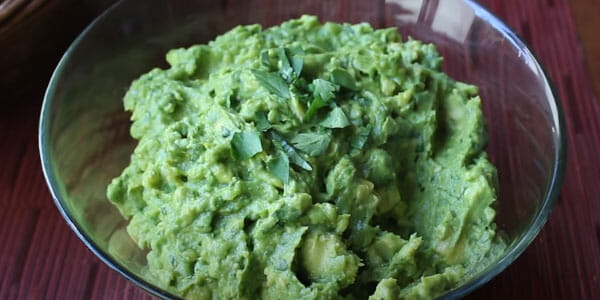 Why begin with something other than everyone's favorite guacamole? Guacamole can take up many roles like a dip, a salad, and a spread.
Avocado, which is high in fat and protein, is the base of guacamole, and the classic recipe is always a hit.
Once you've mastered the traditional method, feel free to experiment by adding other spices.
Ingredients:
Fresh avocados – 6
Diced Serrano peppers – 3
Chopped cilantro – 2 tsp
Diced onions – ⅓ cup
Lime – 1
Salt – to taste
Directions:
Take Serrano peppers, cilantro, and onion on a chopping board and mince them together till they become a mixture. (You can do this by chopping them one by one, as well.)
Set it aside.
Scoop the flesh of avocados in a bowl and add it to the pepper and onion bowl.
Mash them together using a masher or a fork.
Squeeze in the juice of half a lime and season your guacamole with salt.
Mash again and do a taste-check. Adjust salt and lime juice according to your taste.
Garnish with cilantro.
---
2. Blueberry & Red Bell Pepper Salsa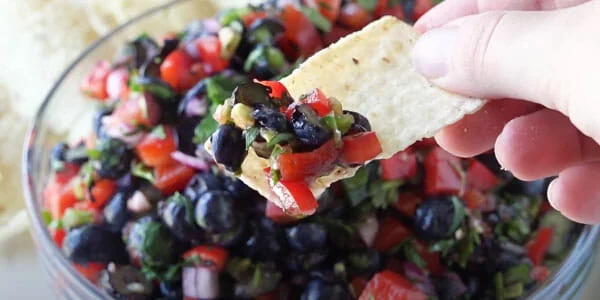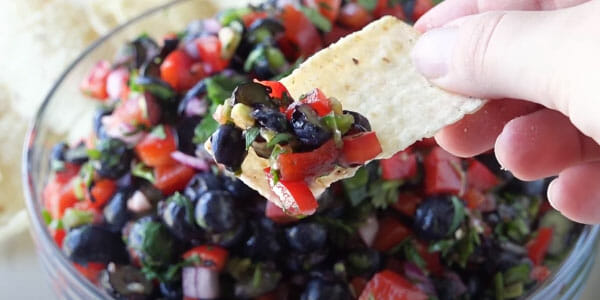 You often hear about salsas when the subject is Mexican food. Red bell peppers are sweet, and blueberries are luscious.
Make a salsa by combining them both, and you'll love it as a side to meat entrees. You need no flame for this blueberry and red bell pepper salsa.
Ingredients:
Blueberries – 3 cups
Chopped jalapenos – 2
Chopped red onions – ½ cup
Chopped red peppers – 2
Chopped cilantro – 1 bunch
Lime – 1
Salt – to taste
Directions:
Pour the blueberries on a cutting board and chop with a knife.
Shift the chopped blueberries into a large mixing bowl.
To this bowl, add jalapenos, onions, peppers, and cilantro.
Give them a good mix and season with salt and lime juice.
Cover it and let it chill for a few hours.
---
3. Mexican Rice (Spanish Rice/ Arroz Rojo)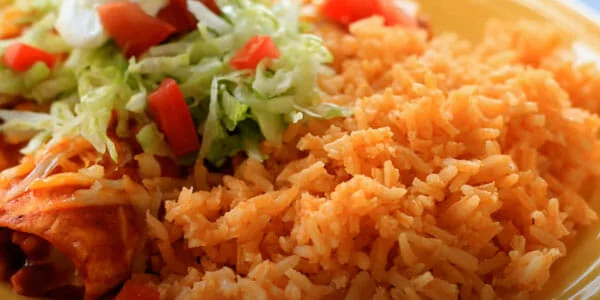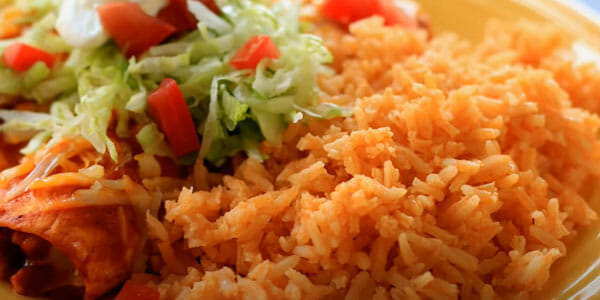 Mexican rice, also called Spanish rice is a Mexican side dish, that is not at all related to Spain (despite its other name). Its primary ingredients are rice and tomatoes.
Native Mexicans call this arroz rojo, which means red rice. This dish goes as a side to tacos or as a stuffing for Mexican breakfast burritos. You can also serve Mexican rice along with baked beans.
Ingredients:
White Rice – 1 cup
Tomato puree – 1 tbsp
Onion – ⅛
Garlic – 1 clove
Water – 1 ¾ cups
Caldo de pollo – 1 tsp
Oil – 3 tbsp
Salt – to taste
Directions:
Blend tomato puree and onion with enough (¼ cup) water.
Preheat a pan and add oil. When the oil gets hot, saute rice with constant stirring until it looks golden brown.
Add the blended mixture to the sauteed rice and stir for a minute.
Pour the remaining water, caldo de pollo and salt.
Cover the pan with a lid and put it on low flame. Let it get cooked for 20 minutes.
Turn the heat off and remove the lid so that the excess steam evaporates.
Cover it again and let it sit for another 10 minutes. Done!
---
4. Carlota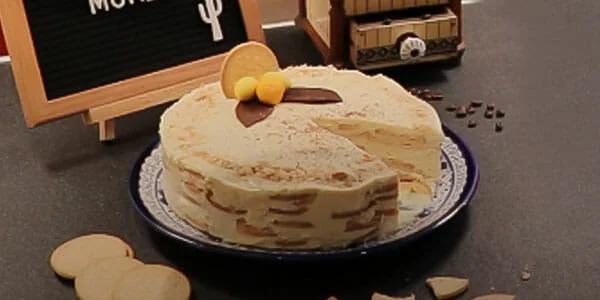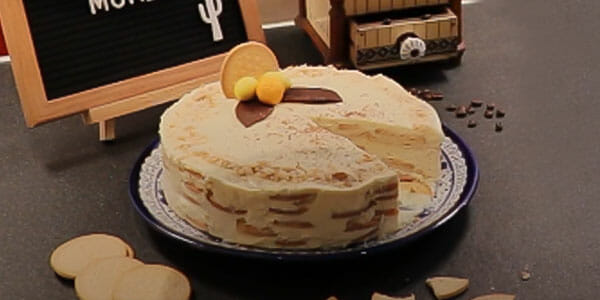 This authentic Mexican dessert is fun to make and tastes delicious. No time to cook when you have people over and looking for easy Mexican side dishes? Make this in a few minutes and serve.
If your crowd can wait, freeze it and serve on hot noon. Traditional carlota is lemon-flavored. If you aren't a lime person, replace lemons in this recipe with the fruit of your choice.
Stick to one fruit, though.
Ingredients:
Lemons – 7
Condensed milk – 1 can
Evaporated milk – 1 can
Maria cookies – 2 packets
Directions:
Blend evaporated milk, condensed milk, and lemon juice into a batter.
In a springform pan, spread some batter using a spatula.
For the next layer, use Maria cookies and make sure the layer is even. You can break the cookies to fit them at the edge.
Repeat the batter layer and cookie layer for 3 more times or as many times as you want. It depends on the depth of your springform pan.
Finish with a last layer of batter and let it set in the refrigerator for at least 3 hours. (Serving it right away is acceptable too.)
Transfer it to a plate and cut slices to serve.
---
5. Frijoles Borrachos a.k.a Borracho Beans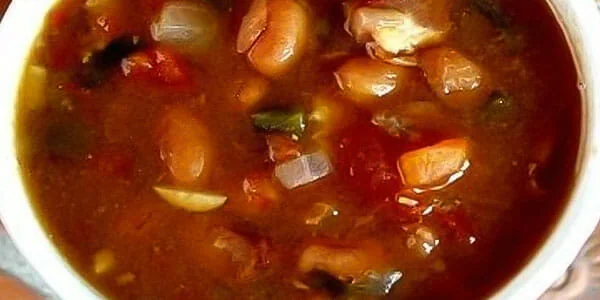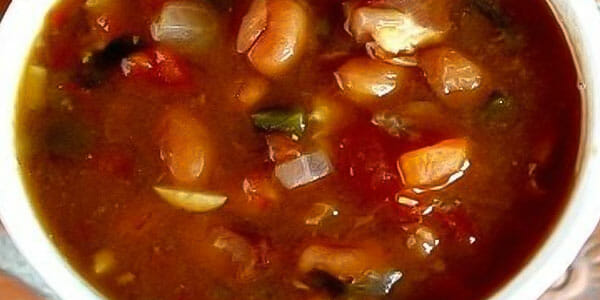 Also called borracho beans, Frijoles Borrachos is a traditional side dish to tacos, tortillas, and enchiladas. Frijoles Borrachos means drunken beans in Spanish, and that explains this dish.
They acquire their characteristic taste from the dark beer you soak them in. You can serve this either as a side or a soup.
Ingredients:
Pinto beans/ black beans – 1 lb
Chopped cilantro – 1 bunch
Diced onion – 1 cup
Chopped bacon slices – 4
Garlic cloves – 2
Oregano – 2 tsp
Salt and black pepper – to taste
Directions:
Soak beans overnight in dark beer and water.
Rinse and drain them in the morning.
Add beer and water to beans and simmer them for an hour in a pressure cooker.
Heat a pan and cook bacon until it is rendered off but not completely cooked.
Add bacon to the beans and stir. Add onion, garlic, tomatoes and green chillies and stir.
Add cilantro and let it simmer for another hour.
Season it with salt and black pepper. Serve hot.
---
6. Refried Beans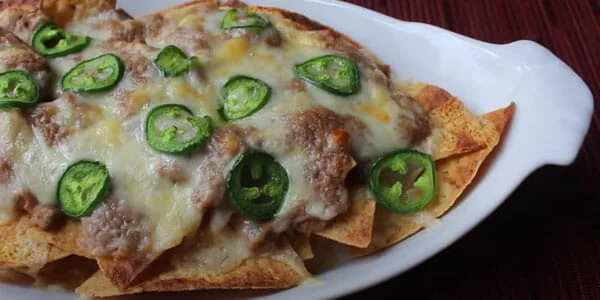 Frijoles refritos, that's what you call refried beans in Spanish. This dish is a traditional staple food of Mexico which gained popularity in other Latin American countries and in Tex-Mex cuisine.
Though the name refried beans makes you think that they are fried more than once, it actually involves only one frying session. The term refried, in the case of this dish, comes from refritos which means "well-fried". Beans are boiled, mashed and fried intensely in lard.
Refried beans are a popular side for Mexican breakfast too.
Ingredients:
Beans – 2 cups
Lard – ½ cup
Epazote – ½ tsp
Garlic cloves – 4
Chopped onion – 1½ cup
Chopped serrano peppers – 2 tbsp
Chipotle – 1 tsp
Queso fresco – 50 g
Salt – to taste
Directions:
Soak beans overnight in cold water.
Boil them with garlic and epazote (or oregano instead) and simmer until they are soft. This can take around 1½ hours.
Heat lard in a pan on medium heat.
Fry onions till they're golden brown and add Serrano peppers. Give it a little touch of chipotle.
Drain the boiled beans and add them to the pan. Save the boiled water.
Mash them with a potato masher by adding a ladle of boiled water.
Keep stirring and when the water level drops, add salt, turn the flame off and pour the refried beans in a bowl.
Top with fresh queso Fresco and cilantro.
---
7. Cheesy Chicken Chimichanga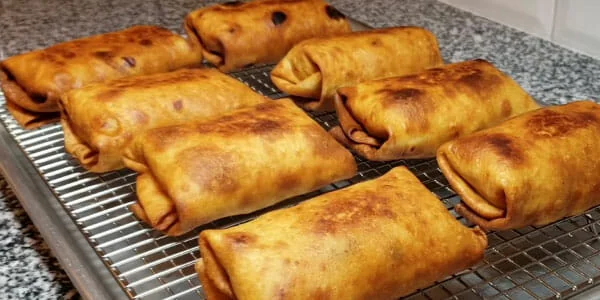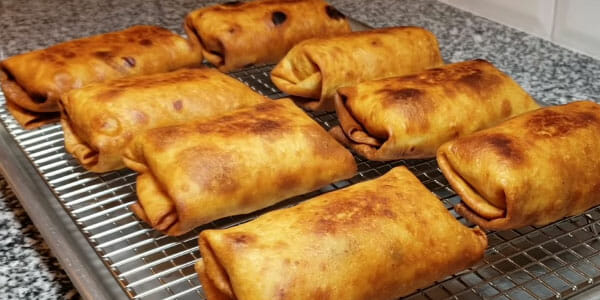 Chimichangas are Mexican appetizers that can be described as deep-fried burritos and are tortilla-based (that's obvious). You can stuff chimichangas with proteinaceous veggies or meat of your choice (or even mushrooms).
When you want to bring Mexican side dishes for a potluck, make these cheesy chicken-stuffed chimichangas and win compliments.
Ingredients:
Flour tortillas – 8
Cooked shredded chicken –  1½ lbs
Chilli powder –  1½ tsp
Garlic powder – ½ tsp
Onion powder – ½ tsp
Ground cumin – ¼ tsp
Cheese – 9 oz
Oil – for frying
Salt – to taste
Garnishing options:
Salsa
Mexican cream
Pico de gallo
Avocado
Lettuce
Directions:
Boil chicken with a cube of chicken bouillon till soft and tender. Shred the boiled chicken in a bowl. You can save the boiled water as a broth for other recipes.
Season it with chili powder, garlic powder, onion powder, ground cumin, and salt. Mix it thoroughly and add a few spoons of broth to prevent the chicken from drying out.
Prep your cheese by cutting into as many slices as your chimichangas.
Heat the flour tortillas.
To assemble, take a tortilla and place chicken in the center. Place a cheese slice and cover it with more chicken. Fold the loaded tortilla into a tighter roll making sure there are no cracks.
Heat oil enough for frying in a pan and carefully drop the first chimichanga.
After around 20 seconds, your first chimichanga stays intact in the oil and you can drop the next chimichanga.
Garnish them with cheese or salsa or fresh avocados and lettuce before serving.
---
8. Mexican Street Corn Salad (Elote Salad)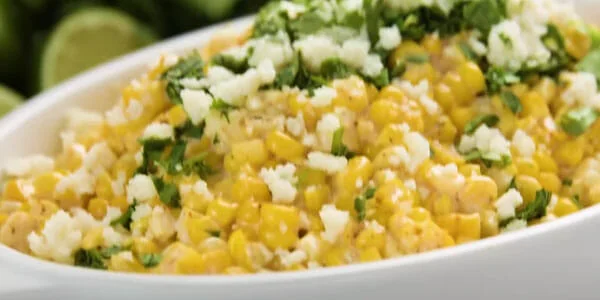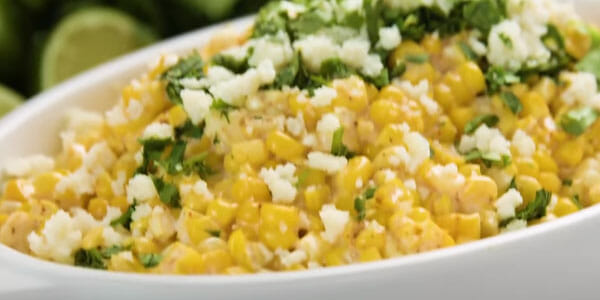 There are plenty of healthy Mexican side dishes, and Mexican street corn salad is one of them. Don't let the word "street" fool you.
Corn cob has a fancy name elote in Spanish, and you can call this side elote salad. Traditionally, this salad is dressed in mayonnaise and served warm at home.
But if you're taking it to a potluck, the chilled version is the best.
Ingredients:
Shucked corn – 6
Mayonnaise – ¼ cup
Mexican cream – ¼ cup
Cotija cheese – ½ cup
Chilli powder – ½ tsp
Chopped cilantro – ¼ cup
Mexican hot sauce – 1 tbsp
Salt – to taste
Directions:
Wrap each corn in aluminum foil and place them on the grill at 400F for 15 minutes. If you don't have a grill, bake for 15 minutes in the oven at the same temperature.
After the corn is cooked, cut the kernels with a sharp knife and transfer them to a large mixing bowl.
In another bowl, whisk mayonnaise, Mexican cream, Cotija cheese, chili powder and salt. This covers all the flavors for your Mexican street corn salad.
Add this to the corn kernels and stir them together.
Garnish with cilantro and queso fresco.
---
9. Mexican Grilled Zucchini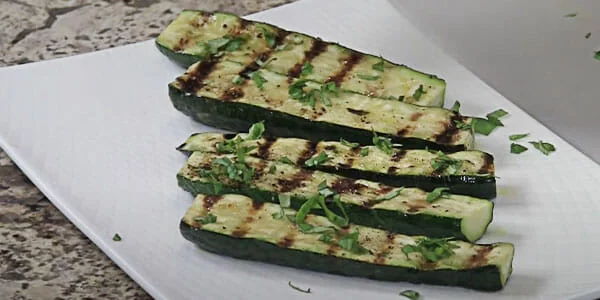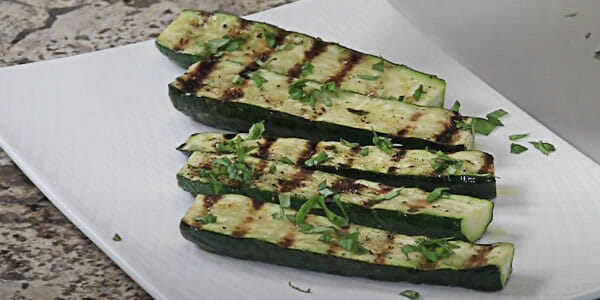 Are you looking for Mexican vegetable side dishes without rice or beans?
Then try this low-carb grilled zucchini, which doesn't taste any less than the routine sides. Zucchini is easily digestible and helps you shred down weight.
Mexican grilled zucchini takes less than 20 minutes of prep time and is similar to street corn, and you can create a twisty recipe by combining them both.
If you're vegan, replace Cotija cheese with garlic cheese.
Ingredients:
Vertically halved zucchini – 4
Lime – 1
Chopped basil – 2 tbsp
Olive oil – 2 tbsp
Salt and pepper – to taste
Directions:
Zest lime onto the zucchini halves.
Drizzle oil and spread it with a brush on the zucchinis.
Squeeze about two teaspoons of lime juice on them.
Brush the zucchinis with oil again and sprinkle some salt and pepper.
Heat the grill pan on the stove at a medium heat.
Place the zucchinis with the seasoned side down on the grill.
When that side is cooked, flip them to the other side.
Transfer to a tray after they're soft and crisp.
Garnish with chopped basil and that's it. Your Mexican grilled zucchini is done.
---
10. Mexican Coleslaw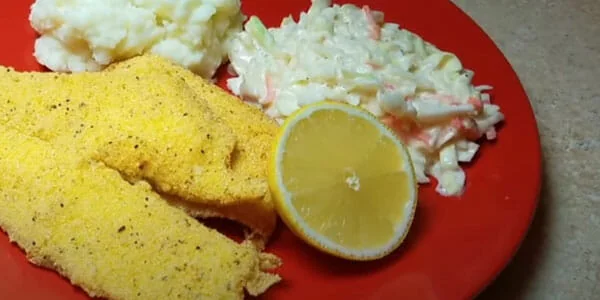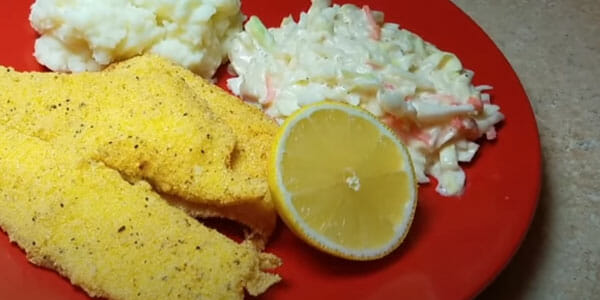 Alright! Coleslaw is of Dutch origin, but Mexicans adapted it to their cuisine, and the result is the creamy Mexican coleslaw. This goes well with fried chicken, fried fish, and barbequed meats.
You know how popular fish and chips are. Serve them with Mexican coleslaw, and it becomes a drill whenever you're making fish again. Well, if you love coleslaw, you can use it as a sandwich stuffing too.
Ingredients:
Cabbage – 500 g
Grated carrot – 1
Grated onion – 1 tsp
Onion powder – ¼ tsp
Sugar – 3 tbsp
Milk – ½ cup
Buttermilk – ½ cup
Lime juice – 1 tbsp
Mayonnaise – ¾ cup
Salt and pepper – to taste
Directions:
To make the dressing, whisk mayonnaise, milk, buttermilk, sugar, onion, onion powder, salt, pepper and lime juice in a bowl.
To another bowl, add cabbage and carrot, and pour the dressing.
Give it a good mix.
Chill it overnight or for 12 hours. It is essential to chill before you serve coleslaw. So, don't attempt to serve it immediately.
---
11. Taco Salad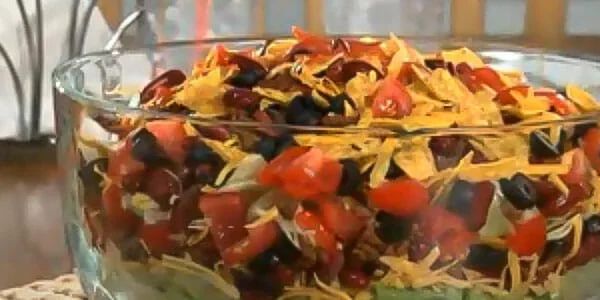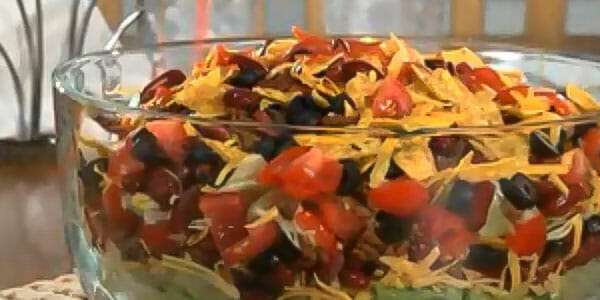 Taco salad, also called a taco bowl, is a common side served in Mexican restaurants. Its primary ingredients are tortilla chips and ground beef.
You can replace the beef with chicken or other meats of your choice. If you are a vegetarian, replace meat with Mexican rice (the third recipe in this list).
Yeah, two sides together make another side dish. For aesthetics, assemble this salad in a trifle bowl or any transparent bowl.
Ingredients:
Ground beef – 2 cups
Chopped lettuce – 8 cups
Diced tomatoes – 2 cups
Sliced black olives – ½ cup
Crushed tortilla chips – 1½ cups
Shredded cheddar cheese – 2 cups
Kidney beans – 2 cups
Dry taco seasoning mix – 6 tsp
Sweet and spicy salad dressing
Directions:
In a preheated pan, cook ground beef with taco seasoning till it's brown. For taco salad, your beef should not be pink at all.
Turn the flame off and let the cooked beef cool down.
While it's cooling down, take a trifle bowl and put some lettuce, cheddar cheese and kidney beans in order.
On top of this, put the cooked beef followed by tomatoes and olives.
Repeat these layers one more time and top the salad with crushed tortilla chips.
Remember to coat the salad with dressing before you serve it.
---
12. Pollo Guisado / Mexican Chicken Stew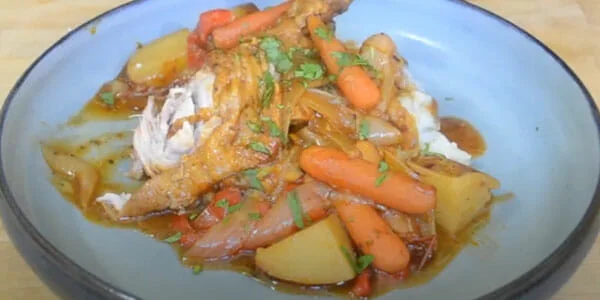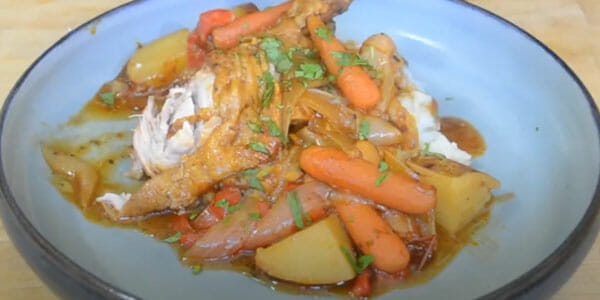 Mexican chicken stew is a one-pan Mexican side dish that needs a long cooking time but less prep.
When the weather is chilly, tender chicken and veggies along with hot soup comfort your taste buds giving you a warm hug.
This dish gives your guests the impression that you spent hours making it, while in reality, it just took you a few minutes.
Ingredients:
Chicken legs, drums, and thighs – 1 kg
Diced onion – 1 cup
Diced potatoes – 1 cup
Baby carrots – 1 cup
Chicken bouillon cube – 1
Diced red pepper – 1
Chopped garlic cloves – 3
Water – 2 cups
Tomato sauce – 1 cup
Chipotle and adobo sauce – 2 tbsp
Cumin – 1 tsp
Oregano – 1 tbsp
Thyme – 1 tsp
Bay leaf – 1
Salt and black pepper – to taste
Oil
Directions:
Heat pan over medium flame.
Add oil and sear the chicken skin side down. After it turns brown, set it aside.
In the same pan, add red pepper, garlic, onion, carrots and black pepper. Cook till they are soft.
Bring the chicken back into the pan and pour tomato sauce and water. Add one chicken bouillon cube.
Add chipotle and adobo sauce, bay leaf, cumin, thyme and oregano. Mix it well and put on the lid. Simmer for 45 minutes so that the flavor is incorporated into the chicken and veggies.
Add potatoes and put back the lid. Simmer for another 30 minutes for the potatoes to soften.
Top it with cilantro before you serve.
---
13. Cilantro Lime Rice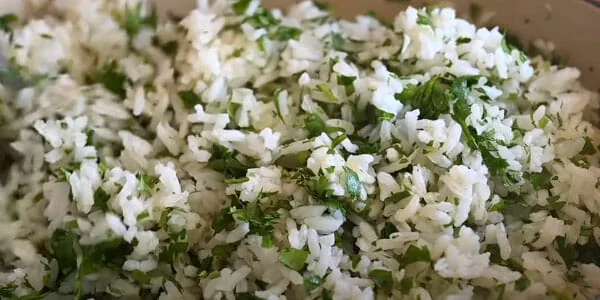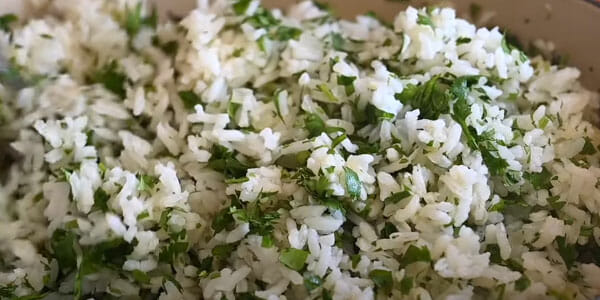 Cilantro lime rice has two of the most exquisite flavors that are lime and cilantro. This is a great side dish for burritos, seafood, and taco bowls.
A rice dish can't be any more versatile than cilantro lime rice. Add a twist to your salads by topping them with this bright and fluffy rice.
You can make this a day ahead and warm it before serving.
Ingredients:
Long grain white rice – 1½ cusp
Minced onion – ½ cup
Minced garlic – 2 tsp
Chopped cilantro – 1 cup
Water – 2¼ cups
Lime juice – 3 tbsp
Oil – 1 tbsp
Salt – to taste
Directions:
Wash the rice with cold water to remove excess starch.
Heat a pan on medium heat and add oil.
Add onions and fry them for a minute. Now, add the rinsed rice and stir it till the onion is soft.
Add garlic and pour water. Season it with salt.
Turn the heat low and close the pan with the lid. Make sure the lid fits the pan tightly. Cook it for 15 minutes. Put it aside and keep it covered for another 10 minutes.
When the time's up, open the lid and fluff the rice with a fork. Be careful to not break the rice.
As a final step, add cilantro and lime juice. Adjust the lime juice based on your taste.
---
14. Mexican Corn on the Cob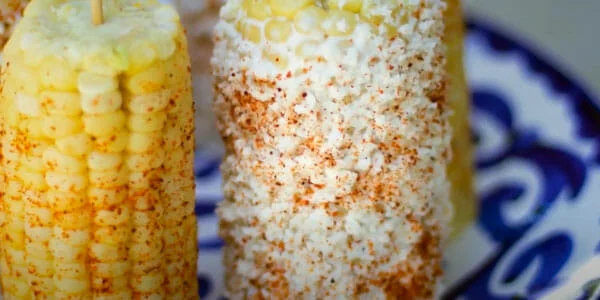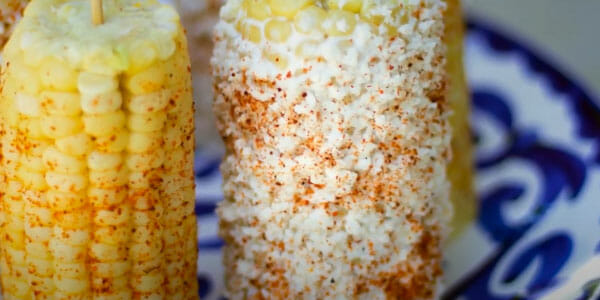 A walk on the streets of Mexico is incomplete without indulging yourself in this pleasure. This humble side dish is great for any brunch or potluck and is extremely easy to make.
You don't have to go crazy in the kitchen. In the traditional recipe, melted butter, salt, chili powder, and lime are the toppings.
However, you can customize it according to your preferences.
Ingredients:
Corn – 6
Mexican cream – ⅓  cup
Cotija cheese – ⅓ cup
Lime – 1
Chilli powder
Salt
Directions:
Remove the husk from the corn and trim the ends. Cut each corn in half.
Rinse them in cold water.
Bring water to a boil and drop the corn into it.
Reduce the heat and cover the pan with a lid. Cook for 8 to 10 minutes.
Remove the corn halves from water and let them cool down.
Insert a skewer on one end of the corn.
Rub half a lime on the corn. Sprinkle salt and chili powder throughout the corn surface.
Coat the corn with Mexican cream and sprinkle cheese. This is an optional step.
---
15. Fiesta Ranch Dip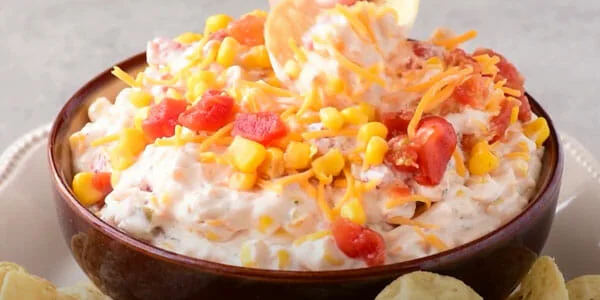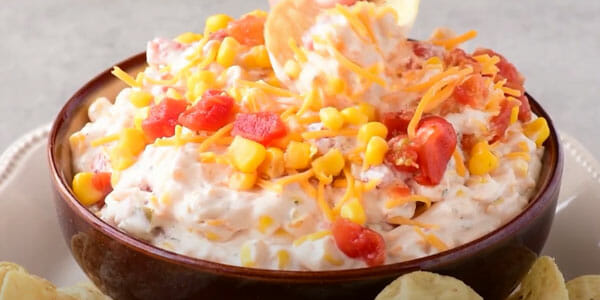 A great party has the best dips for the appetizers.
Fiesta ranch dip stands true to its name and pulls crowds towards it. This tasty dip takes a couple of minutes, and you don't have to spend a lot of bucks to buy the ingredients, either.
Remember the few ingredients you use in this because your friends aren't going to leave without asking you for the recipe.
Ingredients:
Sour cream – 16 oz
Diced tomatoes with green chillies – 10 oz
Mexicorn – 15 oz
Shredded cheddar cheese – 1 cup
Dry ranch dressing mix – 2 tbsp
Tortilla chips
Directions:
In a bowl, add tomatoes, green chillies, corn, cheddar cheese, ranch dressing mix and sour cream. Give them a good mix.
Shift it into the serving bowl and top with cheddar cheese and corn.
Refrigerate for 3 hours and serve with crunchy tortilla chips for a flavorful party.
---
16. Mexican Chicken Wings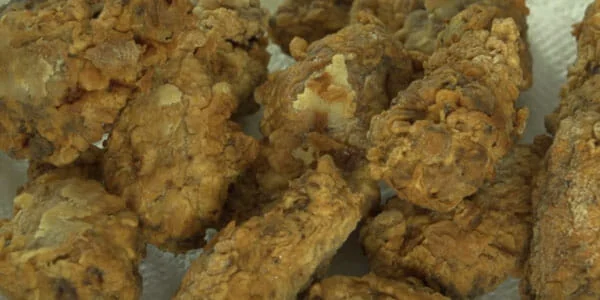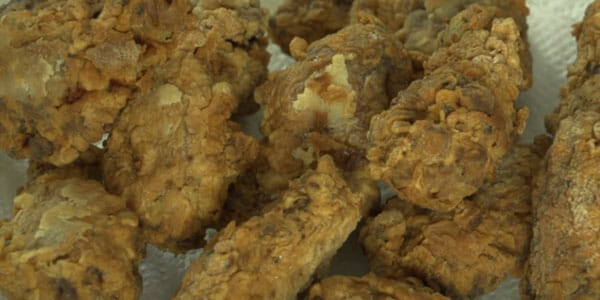 There are chicken wings and then there are Mexican chicken wings.
These appetizers are flavored sassily in cayenne pepper. Though this recipe involves frying, any beginner can make them with minimum effort. Gather your ingredients and follow the steps.
You won't have any leftovers after the party.
Ingredients:
Chicken wings – 12
Eggs – 4
All-purpose flour – 2 cups
Cumin seeds – 3 tsp
Paprika – 3 tsp
Dried oregano – 1 tsp
Cayenne pepper – 1 tsp
Garlic powder – 1 tsp
Dried coriander leaves – 3 tsp
Salt – to taste
Directions:
In a spice blender, add cumin seeds, dried coriander leaves, paprika, oregano, cayenne pepper, garlic granules and salt. Blend them to make the Mexican spice blend.
Slice through the center joint of each wing.
In a container, spread some Mexican spice blend and add a layer of chicken wings. Repeat this for 2 more layers. Sprinkle the remaining spice blend on the top after all the wings are packed.
Seal the lid of the container and shake it a little. Set the wings aside for 30 minutes.
Put all-purpose flour in a wide bowl and whisked eggs in another.
Sprinkle some flour on another platter to put the coated wings.
Coat the wings with flour, whisked eggs and flour again. The order is important.
Place the coated wings on the platter for 20 minutes allowing it to set.
Heat oil in a deep pan and drop the wings in oil. Fry each side for 6 to 8 minutes.
Transfer them onto a paper towel to drain excess oil.
Tip: You can make the spice blend and store it in an airtight container to use whenever you're making Mexican chicken wings.
---
17. Shrimp Ceviche Verde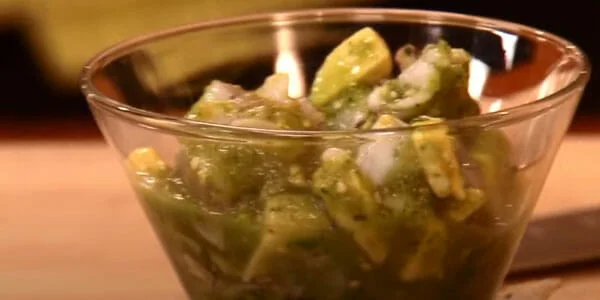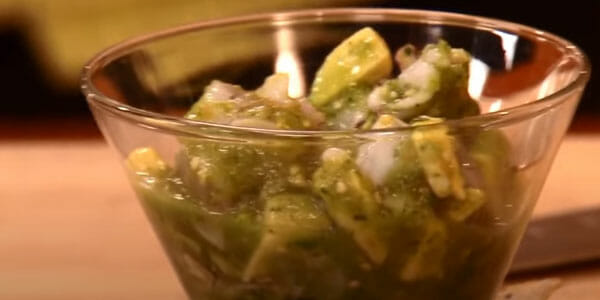 Ceviche is a seafood side dish that is made by marinating diced fish in citrus (usually lemon) broth.
Another variant is shrimp ceviche verde with marinated shrimp instead of fish. The citrus flavor along with shrimp gives you a blast of taste that you won't regret.
Ingredients:
Shrimp (deveined and chopped)  – 1 pound
Green onions – ½ cup
Chopped tomatillos – 4 ounces
Chopped cilantro – 1 cup
Chopped chives – 2 tbsp
Chopped Serrano chili – 1
Chopped Habanero chili – ½
Avocado cubes – ½ cup
Lime juice – ½ cup
Salt and peppers – to taste
Directions:
Scoop shrimp in a bowl and set it aside.
Blend lime juice, cilantro, tomatillos and salt. Don't blend them too smooth. The final mix should look pulpy.
Stir the blended mix into the shrimp. Adjust the seasoning depending on your taste.
Freeze it overnight or at least for 30 minutes.
Before you serve, add chilis, chives and avocado and give them a mix.
Tip: You can use tomatoes in the marinating broth if you like to. But used freshly chopped tomatoes instead of ketchup or sauce.
---
18. Chicken Tortilla Soup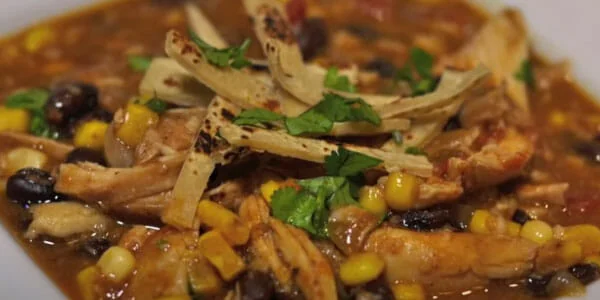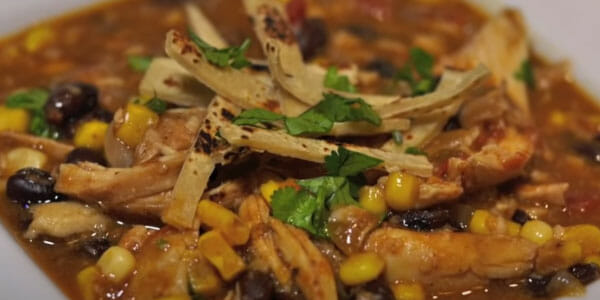 Why make soup with chicken alone when you can add some tortilla chunks too?
Plus, tortilla chunks make this soup more filling. No, you aren't going to top with tortilla chips and call it chicken tortilla soup.
Of course, you can do that, but this recipe's blend includes tortillas too. Make this comfort food for a weekday's dinner and enjoy it!
Ingredients:
Whole Rotisserie chicken – 1
Corn tortillas – 4
Diced onion – 1 cup
Black beans – 2 cups
Can corn – 2 cups
Chopped cilantro – 1 cup
Garlic cloves – 3
Salsa – 2 cups
Chipotle pepper – 1
Adobo sauce – 1 tsp
Oregano – 1 tsp
Cumin – ½ tsp
Oil – 1 tbsp
Salt – to taste
Directions:
Shred all the meat of the chicken.
Bring water to a boil, add bones and skin, and boil them on low flame. The stock is done.
Roast tortillas on both sides. Slice a few tortillas for garnish and chop the rest.
In a preheated pot, add oil and fry onions with cumin.
Add black beans, corn salsa and oregano. Bring them to a boil on high flame for 10 minutes and follow it by slow boiling for 20 minutes.
Blend the stock with tortillas, garlic and chipotle pepper.
Add this to the pot and cook for 5 minutes.
Garnish with cilantro and tortilla chips before serving.
---
19. Mexican Vegetable and Bean Soup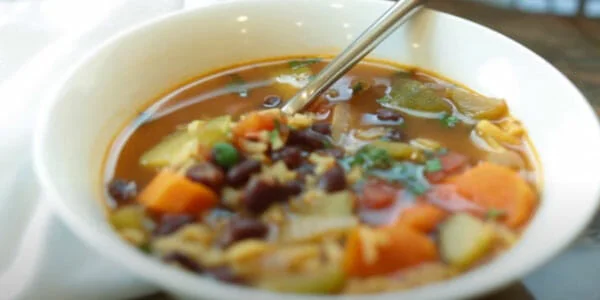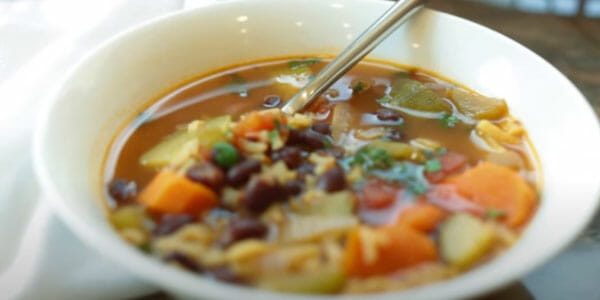 Here is an authentic Mexican vegetable side dish for you to not miss. Just because it is vegetarian, doesn't make it any less.
You can serve it for any meal of the day or a weekend brunch. This vegetable and bean soup is healthy, low-fat, and tastes great.
Diet-friendly and delicious! What more could we ask for?
Ingredients:
Uncooked rice – ½ cup
Diced onions – ½ cup
Pureed tomatoes – 2 cups
Black beans – 2 cups
Chopped zucchinis – 1 cup
Minced garlic cloves – 2
Diced carrots – 1 cup
Diced green pepper – ½ cup
Cilantro – 1 tsp
Ground cumin – 2 tsp
Dried oregano – 1 tsp
Chili powder – 1 tsp
Vegetable broth – 4 cups
Water – 1 cup
Oil – 2 tbsp
Salt and pepper – to taste
Directions:
Saute carrots, pepper, onion and garlic for five to seven minutes.
After they become soft, add zucchini. Season with cumin, oregano and chili powder.
Stir them and cook for a minute.
When you can smell the spices, pour tomato puree and broth. Add beans and pour water.
Cover it with a lid and cook for 20 minutes.
Add rice and cook for another 20 minutes. If you don't like your soup with rice, end the recipe at the previous step.
---
20. Pickled Red Onions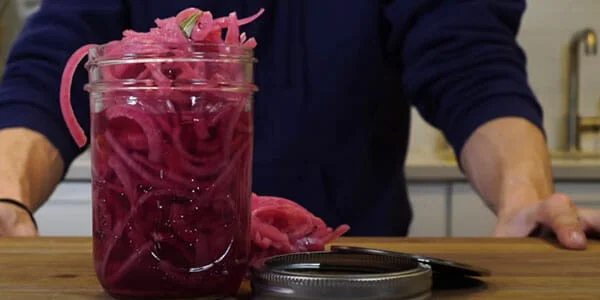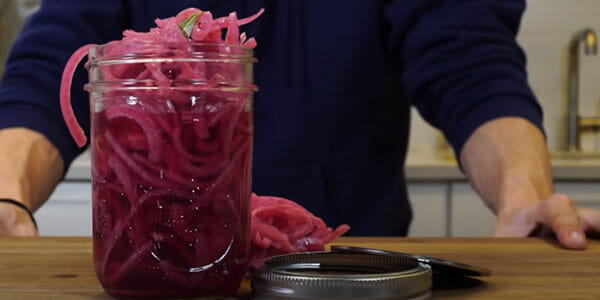 Pickled onions are healthy and good for your heart. We don't mean you should binge-eat them, but they are a great addition to your meal.
Thinking what to serve with guacamole toast or tacos or any other Mexican food? Pickled red onions!
This Mexican side dish goes well with foods of other cuisines as well.
Ingredients:
Sliced red onion – 1
Water – ½ cup
Red wine vinegar – 1 cup
Coriander seeds – 1 tsp
Bay leaf – 1
Sugar – 2 tbsp
Salt – to taste
Directions:
Slice the onions into half-moons. They should be ⅛ of an inch in thickness.
Heat a pot and pour water and vinegar. Add sugar and salt and bring it to a boil. This is the pickling liquid.
In a preheated pan, toast coriander seeds and the bay leaf for 5 minutes. Toasting for a long duration can burn the spices which is terrible for pickled onions.
Load a mason jar fully with onion half-moons.
Add the toasted spices and garlic. Pour the pickling liquid and seal the jar.
After they're completely cooled down, store them in the fridge.
---
21. Mexican Sweet Corn Cake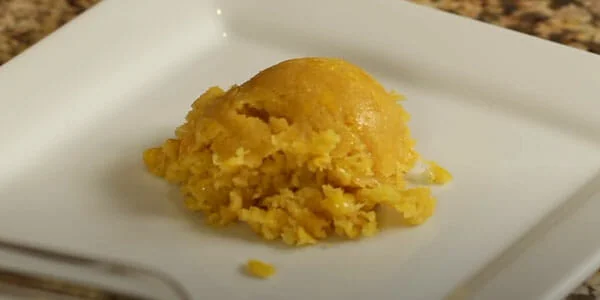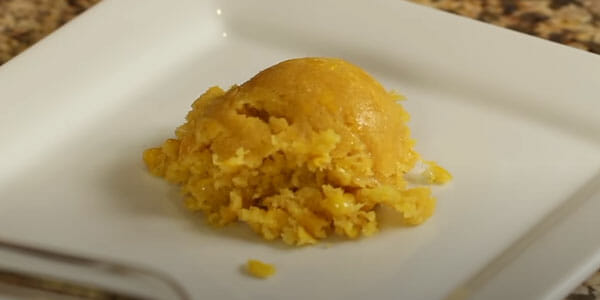 Sweet corn cake is a soft and moist cake loaded with corn flavor. This is a traditional Mexican side dish baked like cheesecake (in a water bath) and served in scoops.
Mexican sweet corn cake goes well as a warm side to many dishes.
This recipe will tell you how to make cream style corn and yummy yellow scoops of corn cake.
Ingredients:
Corn kernels – 2 cups
Cornmeal – ⅓ cup
Softened butter – ⅓ cup
Brown sugar – ⅓ cup
Whole milk – ¼ cup
Baking powder – ½ tsp
Vanilla extract – ½ tsp
Salt – ¼ tsp
Directions:
Blend cornmeal to a fine consistency like flour. Set it aside.
Blend corn kernels with enough milk to cream style corn. Skip this step if you're using store-bought cream style corn.
In a large mixing bowl, whisk cornflour, brown sugar, salt and baking powder.
In another bowl, whisk butter lightly and add vanilla extract. Whisk again until it's smooth.
To the butter bowl, add some dry ingredients mix and some cream style corn. Beat it and repeat the same until all ingredients are mixed together. Pour the batter in an ungreased baking tray. Spread it evenly and seal it with aluminum foil.
Shift this sealed tray to a larger baking tray. Fill the larger baking tray with hot water upto half.
Send this into the oven at 375°F and bake for an hour.
Let it cool down for 15 minutes and serve it warm in scoops.
---
22. Chicken Quesadilla Pie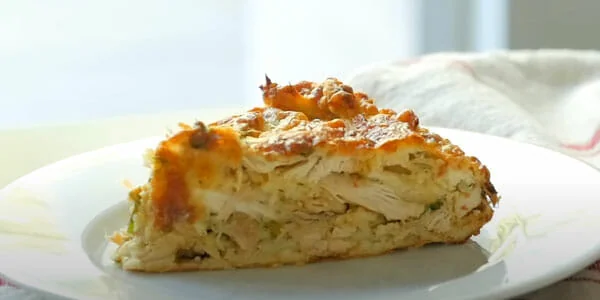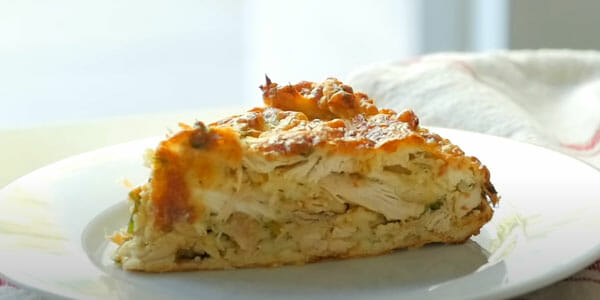 Quesadillas make a scrumptious breakfast and pies are delicious as a snack. This dish unites them both in a cheesy method and you'd love it.
Serve this pie warm for breakfast or dinner. Chicken quesadilla pie features simple Mexican flavors blended in a soft tortilla crust.
Ingredients:
Shredded Rotisserie chicken – 2 cups
Mexican cheese – 1 cup
Flour tortillas – 1
Flour – 1 cup
Milk – 1 cup
Eggs – 2
Green chiles – ½ cup
Cilantro – ½ tsp
Baking powder – 1 tsp
Salt and pepper – to taste
Directions:
In a large bowl, add Rotisserie chicken, Mexican cheese, green chillies, cilantro, chili pepper, salt and pepper. Mix them till all ingredients are coated well with the seasoning.
Grease a springform baking tray with butter and place the tortilla as the base. Stick it to the edges by pressing.
Fill the tray with the chicken.
In a bowl, add flour, milk and eggs. Beat them and add baking powder and salt. Pour this mixture on the ingredients in the baking tray. Bake at 425°F for 25 minutes.
Loosen it on a plate and serve it warm.
---
23. Mexican Pinwheels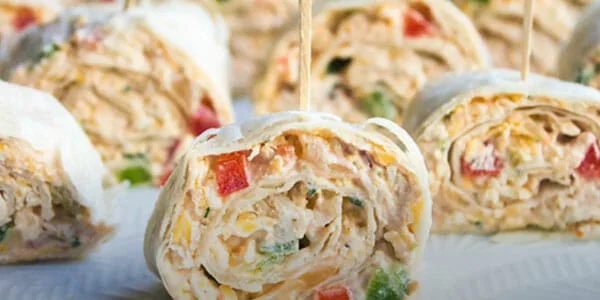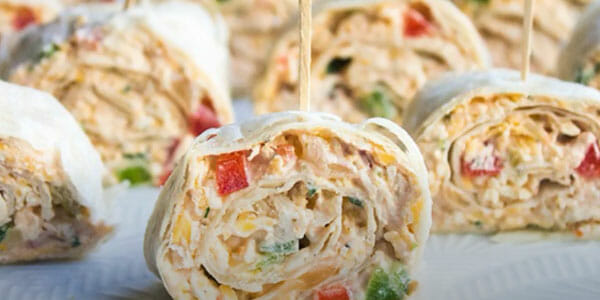 The food list for your next backyard party must include Mexican pinwheels. You can make them a day ahead as cream cheese retains moisture even when you store them in the fridge. Moisture is important as tortilla tips are prone to dry out quickly. You can customize the filling in your tortilla but chicken filling gives the best pinwheels.
Ingredients:
Cream cheese – 1 cup
Cooked chicken breast (shredded)- 1 cup
Shredded cheddar cheese – 1 cup
Flour tortillas – 3
Chopped red bell pepper – ½ cup
Chopped green bell pepper – ½ cup
Salsa – ½ cup
Cilantro – 3 tbsp
Dried oregano – 1½ tsp
Garlic powder – ½ tsp
Ground cumin – ¼ tsp
Salt and pepper – to taste
Directions:
In a bowl, mix cream cheese, oregano, garlic powder and ground cumin.
Add shredded cheese, chicken and salsa. Give a good mix and add cilantro and bell pepper. Stir until the flavors are incorporated.
Take a flour tortilla and spread the filling on it. Roll up the tortilla.
Repeat the same with all the tortillas and cut them into pieces of ½ inch thickness.
Hold each in place with the help of a toothpick.
Serve immediately or store them in the fridge.
---
24. Loaded Chicken Fajita Nachos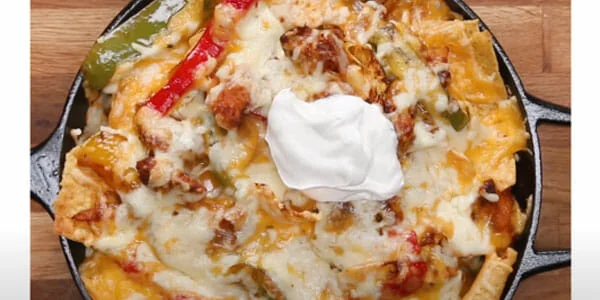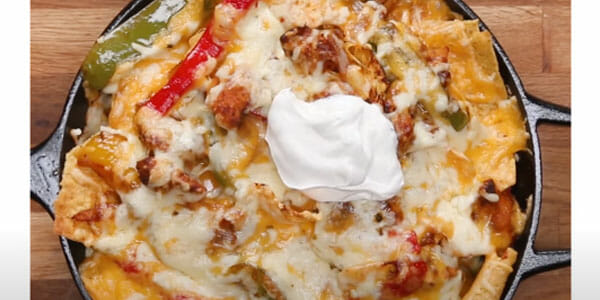 Fajitas or Nachos? We'd say "Both!"
Join fajitas with nachos and make these loaded chicken fajita nachos. But remember to take them out of the oven only a few minutes before the party lest they become soggy.
Ingredients:
Chicken breasts (skinless and boneless) – 3
Tortilla chips
Sliced onion – ½ cup
Shredded pepper jack cheese – 2 cups
Shredded sharp cheddar cheese – 1 cup
Lime juice – 2 tbsp
Deseeded and sliced bell peppers – 3
Sliced garlic cloves – 4
Chili powder – 2 tsp
Garlic powder – 2 tsp
Cumin – 2 tsp
Oil – 3 tbsp
Salt and pepper – to taste
Directions:
Take chicken in a bowl. Add salt, chili powder, garlic powder, and cumin and mix with your hand to make sure the chicken absorbs all the seasoning.
Heat oil in a pan and cook chicken in it until it is slightly charred. Transfer the chicken on to a paper towel.
In the same pan, heat a tablespoon of oil and fry onions till golden.
Add garlic and bell pepper. Cook for 2 minutes and transfer them to the chicken bowl. Squeeze lime juice into them and give a good mix.
In a skillet, make a layer with half of the tortilla chips, veggies, shredded cheese and pepper jack, in order. Repeat the layers again. Top with extra cheese.
Bake at 350°F in a preheated oven for 15 minutes.
Let it sit for a minute before serving.
---
25. Mexican Pasta Salad with Chipotle Lime Dressing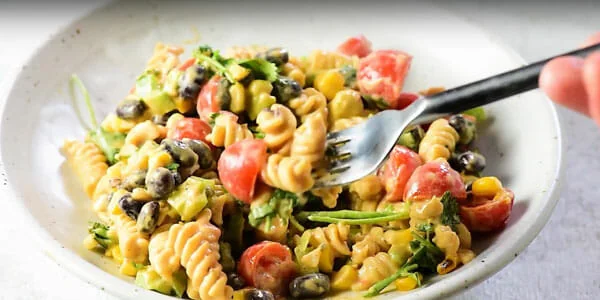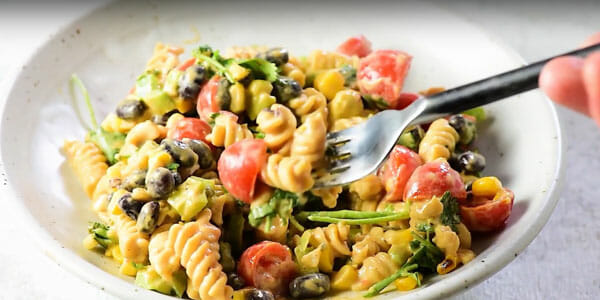 Chipotle lime dressing is a delicious salad dressing, particularly for Mexican pasta salad. This combination is loaded with protein and striking flavors. The creamy dressing adds up to its awesomeness. You can replace these ingredients with vegan products based on your diet.
Ingredients:
Pasta spirals – 8 ounces
Corn cobs – 2
Halved cherry tomatoes – 2 cups
Black beans – 2 cups
Minced red onion – ¼ cup
Minced green pepper – 1
Minced jalapeno – 1
Diced avocado – 1
Chopped cilantro – ¼ cup
Yogurt – ¾ cup
Grated garlic clove – 1
Avocado oil – ¼ cup
Adobo sauce – 3 tbsp
Lime juice – ½ cup
Oregano – 1 tsp
Salt and black pepper – to taste
Directions:
Boil water in a pot and add corn cobs and pasta spirals. Cook them for 10 minutes.
Separate the corn and drain the pasta. Rinse the pasta in cold water.
Cut the corn kernel with a sharp knife.
Shake yogurt, lime juice, avocado oil, adobo sauce, grated clove, salt, pepper and oregano in a mason jar. Dressing is done.
Put cooked pasta in a bowl. Add corn, cherry, tomatoes, black beans, onions, green pepper, avocado, jalapeno and cilantro to it.
Pour the dressing and mix everything together. Serve immediately or cover with a plastic wrap until you serve.
Aren't these recipes easy yet mouth-watering? There are many other Mexican side dishes for you to try but we picked the top 25 to keep it short.
Good luck with your potluck!