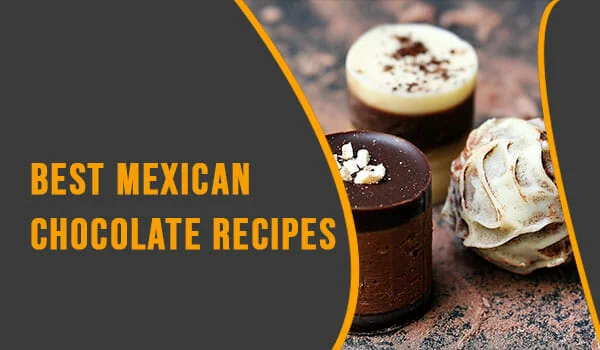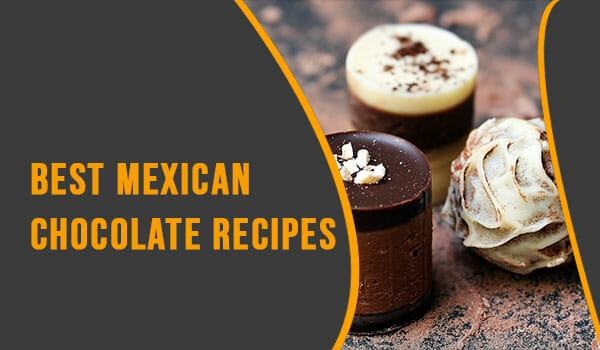 Mexican chocolate is rough and spiced up, differing a lot from the regular smooth chocolate. That doesn't mean it is an average Joe. Mexican chocolate is famous for its chalky texture and complex flavor.
But, it's flavor doesn't seem to go well with non-Mexican recipes. That means you cannot replace the usual chocolate with Mexican chocolate in a recipe.
However, many recipes demand the exclusive Mexican chocolate tang, and they'll surely satiate your cravings.
1. Classic Mexican Chocolate Truffles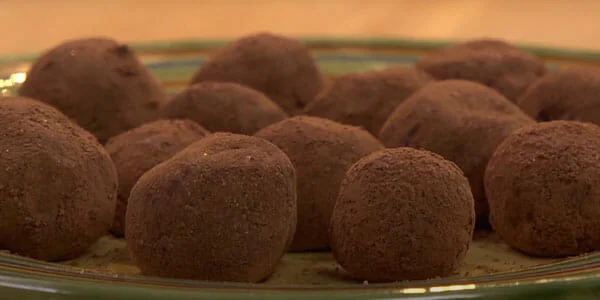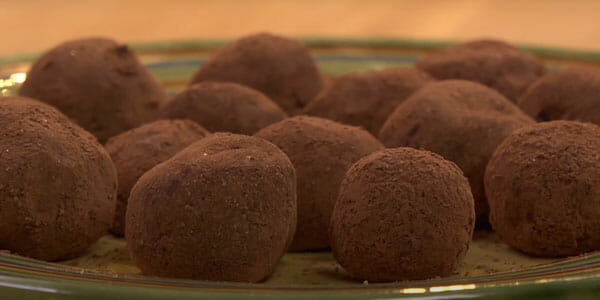 Unlike the French dark chocolate truffles, these classic Mexican Chocolate Truffles have a distinctive non-sweet flavor, thanks to the Mexican chocolate. Serve this Mexican dessert for the weekend's dinner or during Christmas!
Ingredients:
Chopped bittersweet chocolate – 4 ounces
Chopped Mexican chocolate – 4 ounces
Unsweetened cocoa powder – ½ cup
Whipping cream – ½ cup
Sugar – ½ cup
Directions: 
In a food processor, add bittersweet chocolate and Mexican chocolate and blend them into a fine powder.
Microwave whipped cream for a minute.
Process the chocolate again by pouring cream slowly. The chocolate should be smooth without any lumps.
Transfer the ganache (chocolate and cream mixture) to a flat bowl and cover it with a plastic wrap. Refrigerate it for at least 30 minutes or until the ganache is hardened.
Clean the food processor and add cocoa powder along with sugar. The mixture should be blended to a coarse texture. Else, your truffles feel sticky to the roof of your mouth.
Get the firmed chocolate mixture and scoop it into balls on a baking sheet.
Coat the balls in cocoa and sugar mixture.
Serve immediately or store them in a refrigerator. Before you serve, let them get warmed to room temperature.
Tip: If you don't have a food processor, you can use a stand mixer and the result won't be bad.
---
2. Champurrado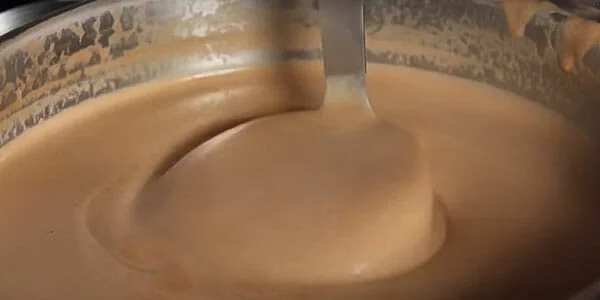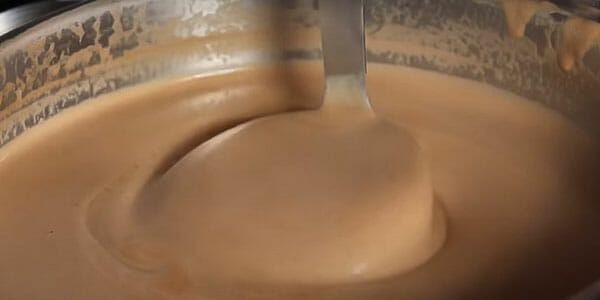 Champurrado is a Mexican drink made with maseca (corn flour). It is hot, thick, filling, and yummy. Serve a traditional Mexican breakfast of tamales and champurrado and everyone will love it.
Though many describe champurrado as Mexican hot chocolate, champurrado is made in a different way from hot chocolate and they don't taste similar either.
Ingredients:
Cloves – 10
Piloncillo – 2
Cinnamon sticks – 2
Evaporated milk – 1 can
Maseca – 1 cup
Water – 6 cups
Milk – ½ gallon
Vanilla extract – 1 tbsp
Directions: 
Bring four cups of water to a boil and add the chocolate tablets, piloncillo, cloves, cinnamon sticks, and vanilla extract.
While it's melting, take maseca in a large mixing bowl. Use water and make a batter.
Mix the boiling chocolate and piloncillo mixture and strain it into a bigger pot.
When it's boiling, pour milk and evaporated milk. Mix it till it's hot.
Add the maseca and keep stirring for 10 minutes to avoid lumps. The maseca will also get cooked in this time.
Serve hot.
---
3. Mexican Chocolate-Pumpkin Seed Cake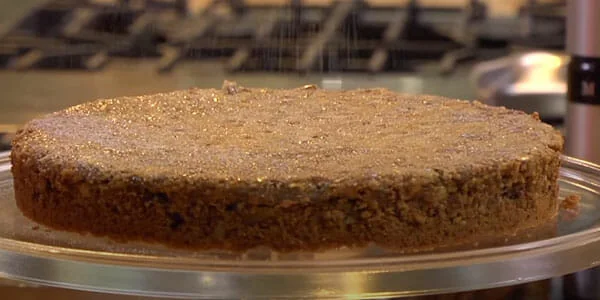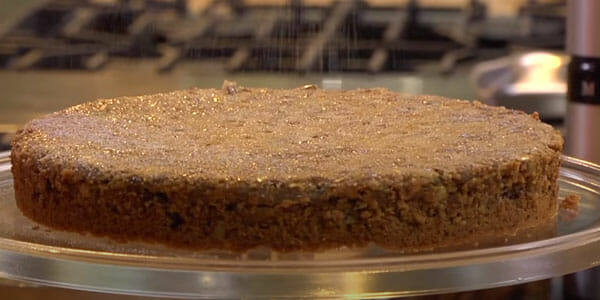 Pumpkin seeds or pepitas are an underrated topping to a chocolate cake. Mexican chocolate-pumpkin seed cake has the cinnamon touch with pepitas and the result is this peppy cake which needs no extra glaze.
Ingredients:
Mexican chocolate (chopped into pea-sized bits) – ½ cup
All-purpose flour – ⅓ cup
Unsalted butter – 1 stick (8 tbsp)
Eggs – 3
Sugar – 1½ cup
Pumpkin seeds (toasted and salted) – 1¾ cups
Baking powder – ¼ tsp
Tequila – 1 tbsp
Directions: 
Grease the cake pan with butter and place a parchment paper in it. Grease the paper too with butter. If you skip greasing the parchment paper with butter, the pumpkin seeds and sugar will stay stuck to it after the cake is done. They may even get burned and transfer the same flavor to the cake.
Sprinkle half cup of pumpkin seeds evenly on the parchment paper. Follow it with 2 tablespoons of sugar.
In a food processor, add pumpkin seeds and sugar. When the seeds are coarsely ground, add eggs and butter. Give a blend and add flour, baking powder and tequila. Process this into a smooth batter.
Add chocolate bits to the batter and run the processor again.
Pour the batter into the baking tray and even the top.
Bake in a preheated oven at 350 degrees F for 40 minutes. When you insert a toothpick or a knife, it should come out clean.
Let the cake cool down for a few minutes before you serve.
Tip 1: If you don't want to add tequila, use cinnamon instead.
Tip 2: If you don't have a food processor, grind the pumpkin seeds separately and follow the instructions using a stand mixer.
---
4. Mexican Chocolate Flan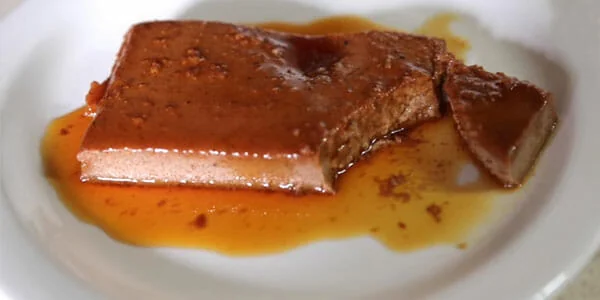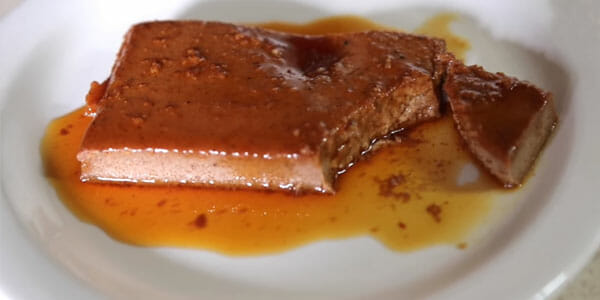 If you're bored by cakes and puddings, and searching for something different, your prayers are answered here.
You might have never tried making your flan with Mexican chocolate but now you will. When you bite into a slice of this Mexican chocolate flan expecting extra-sweetness like a regular flan, you'd be surprised with a combination of spiciness and sweetness instead.
Ingredients:
Grated Mexican chocolate – 1½ tablets
Cream cheese – 1 cup
Half cream – 1 can
Eggs – 6
Evaporated milk – 1 can
Sugar – ¾ cup
Directions: 
Heat sugar in a skillet. Stir it continuously for 7 minutes until it becomes caramel.
Pour the caramel evenly in a flan pan. Let it sit for a few minutes.
Blend the eggs, half cream, evaporated milk, chocolate and cream cheese into a smooth batter.
Empty the mixture into the flan pan which you've prepped with caramel. Cover it with an aluminum foil.
Heat water in a deep pot. When the water is boiling, put the covered flan pan in water. The water level should reach upto half of the pan.
Cover the pot with a lid and cook for an hour on medium heat. When you insert a knife, it should come out clean.
Remove the aluminum foil and let the flan cool down for a few minutes.
Loosen the edges with a knife and unmold the flan onto a plate.
---
5. Mole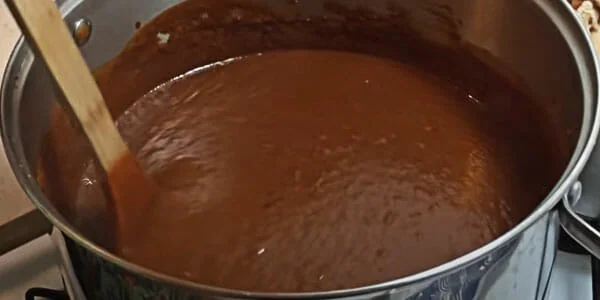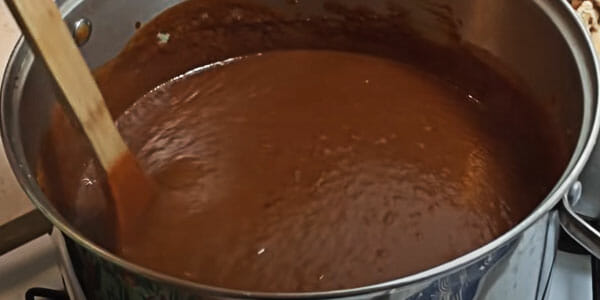 Mole is a traditional Mexican chocolate sauce also used as marinade. Oaxacan mole is a popular variant, often called chocolate stew.
The dish has Mexican chocolate, fruits, nuts and spices which explains its distinctive taste and texture.
Ingredients:
Chicken breast – 9 lbs
Chopped Mexican chocolate – 2 tablets
Ripe plantains – 3
Peanuts – ¼ cup
Almonds – ¼ cup
Onion – 1
Chopped tomatoes – 2 cups
Garlic – 1 clove
Chile guajillos (deseeded) – 10
Chile anchos (deseeded) – 10
Raisins – 15
Sugar – to taste
Salt and pepper – to taste
Directions: 
Boil chicken, half onion and garlic with pepper for 20 minutes. The chicken should be soft and tender.
Fry plantain slices on a pan and peel them.
Roast chiles on a pan with a spoon of oil. Set aside.
Slice the remaining half of the onion and fry them until golden brown.
Add tomatoes to the onions.
Blend plantains, chicken broth, chillies, tomatoes, onions, raisins, peanuts and almonds. Do this in batches if they don't fit the jar in one turn.
Pour the blended sauce into a pot.
Turn the stove on and add chopped Mexican chocolate. When it starts to get darker, add sugar to taste.
Stir for a few minutes and add chicken to the sauce.
Serve this amazing Mexican side dish with tortillas or rice.
---
6. Mexican Chocolate Cookies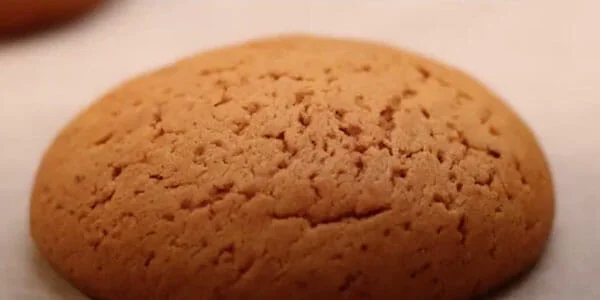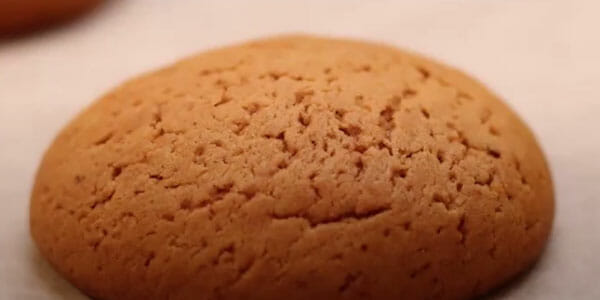 When you can make so many desserts and bites with Mexican chocolate, why leave out cookies?
After all, cookies are one of the yummiest day snack options. Bake these Mexican chocolate cookies and store them in a jar.
Your evening snacks are sorted!
Ingredients:
All-purpose flour – 2½ cups
Granulated Mexican chocolate – ½ cup
Condensed milk – 1 can
Butter – 135 g
Eggs – 2
Baking powder – 1 tsp
Directions: 
Whisk butter and when it's completely soft, add condensed milk and eggs.
Sift the flour, baking powder and granulated Mexican chocolate into the wet ingredients. Don't ignore sifting as it will eliminate any lump.
After some good blending, the cookie dough gets ready.
Cover it with a plastic wrap and let it chill in the refrigerator for at least 20 minutes.
Make balls with the cookie dough and stack them on a parchment paper (on a baking tray) leaving enough space for the cookies to bake.
Bake them in a preheated oven at 355 degrees F for 20 minutes.
Let them sit for 10 minutes and serve.
---
7. Mexican Chocolate Bread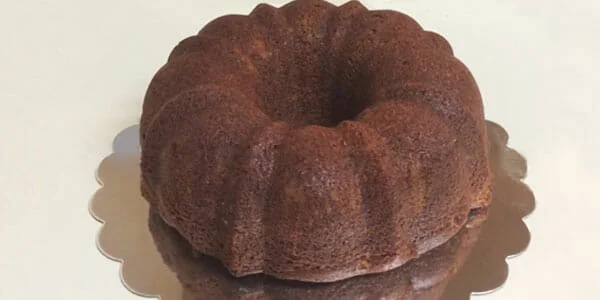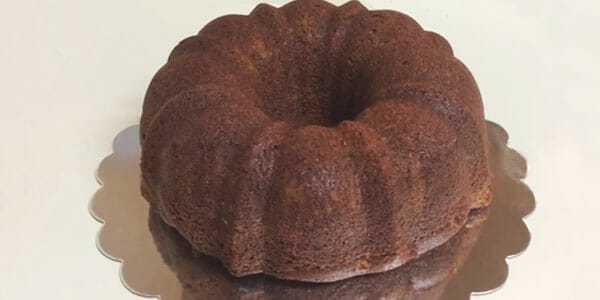 Breakfast? Bread? Add twist to your bread with Mexican chocolate and voila, you have Mexican chocolate bread.
Good thing, you can make this moist bread with pancake mix and it tastes so good.
This bread can be a good Mexican appetizer before you serve the main course to your guests.
Ingredients:
Pancake mix – 1 cup
Milk – 1 cup
Eggs – 4
Sugar – 1 cup
Baking powder – 1 tbsp
Mexican chocolate – 1½ tablets (about 135 grams)
Butter –
Vegetable oil – 1 cup
Directions: 
Add chocolate tablets to milk and stir until they're completely dissolved.
In a large mixing bowl, crack the eggs and add sugar. Whisk until the sugar melts completely.
Add oil and mix until it is incorporated.
Add chocolate milk gradually, and keep whisking.
Sift the pancake mix and baking powder into the bowl in steps, and mix into a batter.
Grease the baking tray with butter and dust it with flour.
Pour the batter into the tray and bake it in the middle rack of the oven for 25 minutes at 400 degrees F.
Cool it down for 10 minutes and unmold it. Cool it completely and serve.
Tip: If you want your bread nutty, top the batter with almonds or pecans before you send it into the oven.
---
8. Churros with Mexican Chocolate Dipping Sauce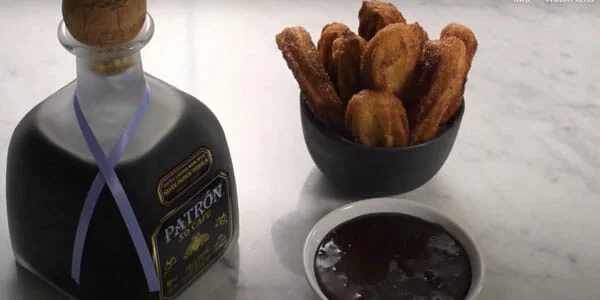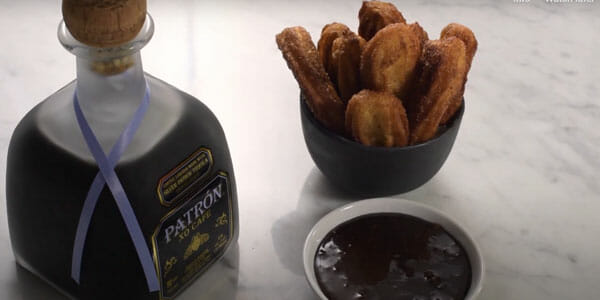 Churros are best eaten with chocolate sauce. The next time you're making churros, make this Mexican chocolate dipping sauce to add novelty.
This will be one of the best Mexican breakfasts you've ever had.
You don't have to limit this dipping sauce for churros. Get creative and use it as a spread or a topping or as a glaze to Mexican pastries.
A little hint of spice and chocolate hurt nobody.
Ingredients:
Chopped Mexican chocolate – 6 oz
Heavy cream – ¼ cup
Liqueur of your choice – 2 tbsp (optional)
Water – 1 cup
Butter – ½ cup
All-purpose flour – 1 cup
Eggs – 3
Vanilla extract – 1 tsp
Brown sugar – 2 tbsp
Sugar – ⅓ cup
Cinnamon – 3 tbsp
Salt – ¼ tsp
Directions: 
To make Mexican chocolate sauce, whisk chopped Mexican chocolate, heavy cream and liqueur in a bowl over a double boiler. The sauce should not have any chunks. Set it aside.
On a plate, mix sugar and cinnamon to dust the fried churros.
In a deep pan, bring water to a boil and add brown sugar, salt and butter. Stir until the butter melts.
Add vanilla extract and flour. MIx it into a dough without lumps.
To the dough, add eggs one by one allowing each to get incorporated into the dough.
Spoon the batter into a piping bag with star nozzle and pipe 3 inch churros in piping hot oil. Fry until golden brown and transfer them onto a paper towel.
Roll them in cinnamon sugar and serve with the Mexican chocolate sauce.
---
9. Mexican Chocolate Chicken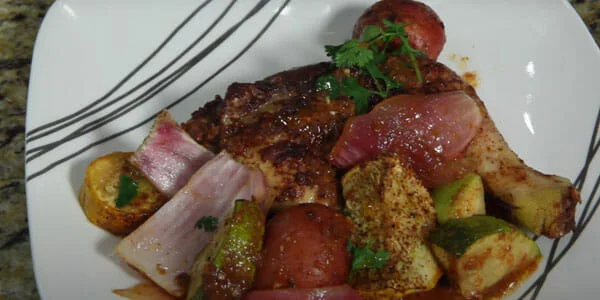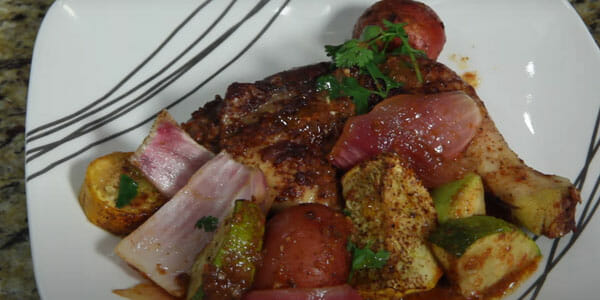 That's right! Mexican chocolate chicken is a thing and you would want to try it immediately.
The recipe does need some quality prep time but the results are worth every minute of it.
Ingredients:
Chicken legs quarters – 4
Halved red potatoes – 1.5 pounds
Cubed sweet potatoes – 2
Quartered red onions – 2
Whole red peppers – 2
Chopped garlic cloves – 3
Chipotle peppers in adobo sauce – 4
Grated Mexican chocolate – 2 oz
Cinnamon sticks – 3
White wine vinegar – 2½ tbsp
Soft brown sugar – 2½ tsp
Olive oil
Salt and black pepper – to taste
Directions: 
Heat the oven to 390 degrees F.
Roast peppers on a baking tray until their skin is black. Transfer them to a bowl and cover them with a plastic sheet. When they're cooled down, peel them and discard the seeds.
Time to make the coating for your chicken! Blend peppers, cinnamon, chili, garlic, vinegar, sugar, a few spoons of oil, water and some water. This coating mixture should be smooth for the chicken to completely absorb the spices. Shift the blend into a bowl.
Add chicken legs and chocolate to it and coat the legs well.
In a large mixing bowl, mix potatoes, sweet potatoes, onions, oil, salt and pepper. The potatoes will need more pepper. So, adjust the seasoning after you mix them.
Add these vegetables to the coated chicken and give them a nice mix without mashing the veggies.
Place the chicken skin side up on a baking tray and arrange the veggies beside it.
Roast them in the oven for 45 to 50 minutes. You'd see the color of the chicken and veggies changed to a good brown shade.
Top with cilantro and serve hot.
---
10. Mexican Chocolate Milkshake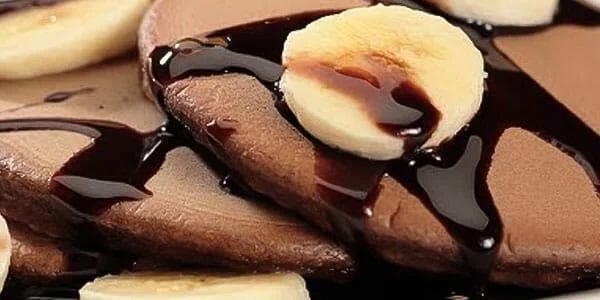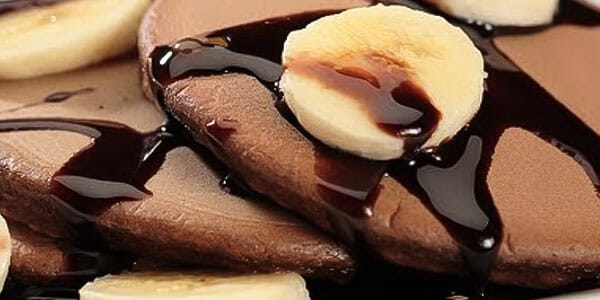 Studies show that having a milkshake between brekkie and lunch keeps you satiated.
Okay, we don't need reasons to try this as we already love it. You'd need to make this recipe in an ice cream blender to get that swirly froth.
Except for that, you can use a blender to make this Mexican chocolate milkshake.
Ingredients:
Whole milk – 4 cups
Cayenne pepper – ¼ tsp
Cinnamon – 1 tbsp
Cardamom – ½ tsp
Heavy cream – ½ cup
Mexican chocolate – 1 tablet
Ice cubes
Directions: 
Pour milk in a hot pan and drop the Mexican chocolate.
Bring the milk to a boil.
When you see froth, chill it in the freezer for at least 30 minutes.
Blend chocolate milk, cayenne, cinnamon, cardamom and cream in an ice cream blender. Don't forget to add ice cream salt to the ice when you're loading it in the compartment.
Relish the shake immediately or serve later with a couple of ice cubes.
---
Try these Mexican chocolate recipes and let us know which of them is your favorite.